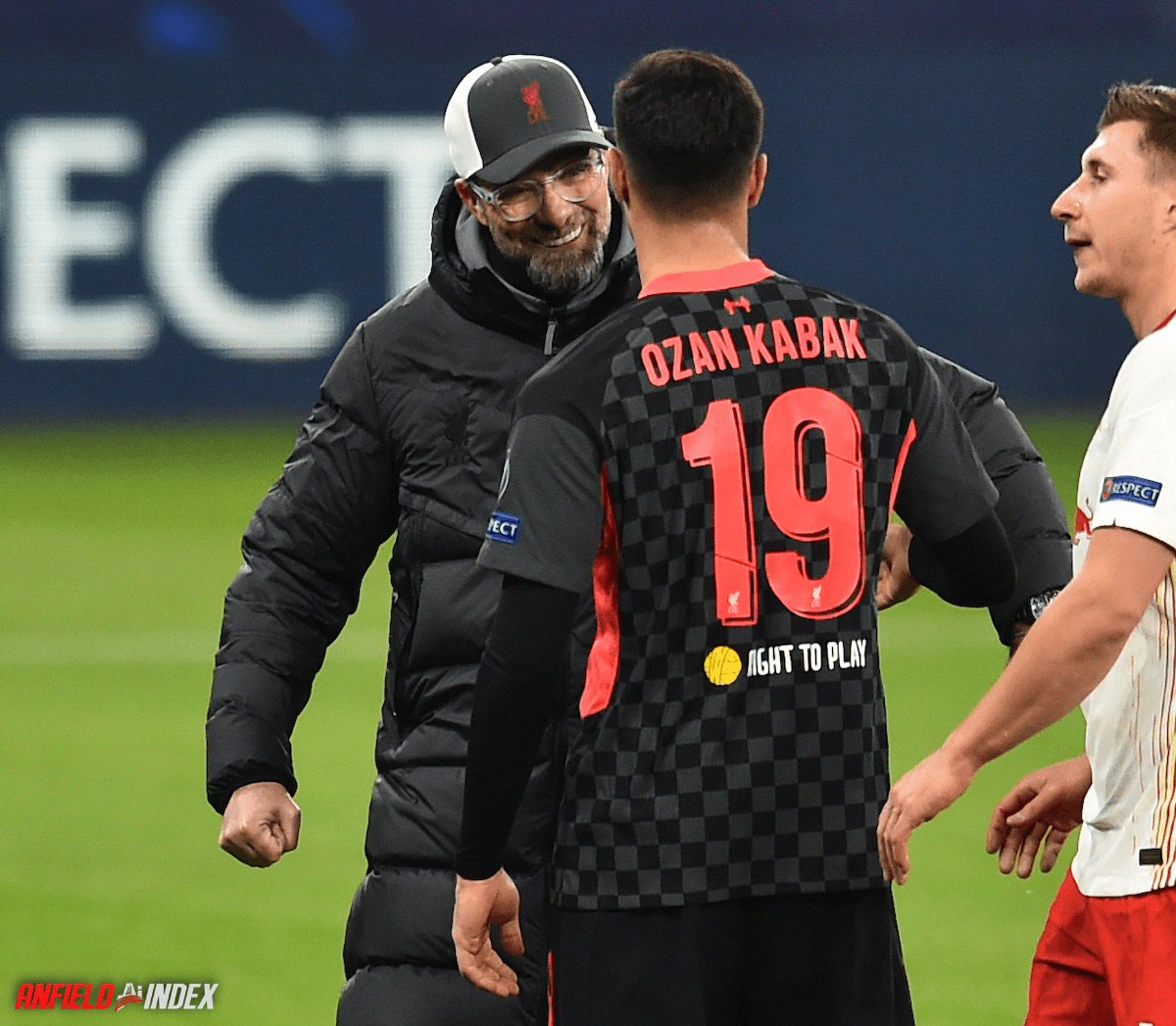 Why Liverpool Fans Need To Kabak Ozan

Let's call a spade a spade: Ozan Kabak's opening two appearances in the Premier League for Liverpool have been nothing short of disastrous.
In his debut, the Reds ruined a good performance and a 1-0 lead going into the final minutes of the game and eventually lost 3-1 to Leicester City, a defeat that could have big ramifications on the race for Champions League football.  The Turk was at fault for at least two goals.
First, he got his communicational wires crossed with Alisson Becker and, when the keeper attempted to sweep a long ball, crashed into the Brazilian and left an open goal for Jamie Vardy to score into.
Then, allowing the Foxes to kill the game, the 20-year old surged out of the defensive line, keeping Harvey Barnes onside and the Leicester forward ran into the space behind and finished with aplomb to win a game that, on the balance of the performance, Liverpool ought to have won.
Following the poor display at the Kingpower Stadium, the young defender had a comparably hard afternoon's work in the Reds' first Merseyside derby defeat at Anfield since 1999 in last weekend's 2-0 defeat by Everton.
After a poor defensive header found its way to James Rodriguez — the Toffees dangerman and hub of creative thrust — Kabak was caught square and flat-footed and Rodriguez played a pass in behind and into the path of Richarlison. The Brazilian then beat his compatriot, Alisson, with a shot and the away team had a lead after only three minutes.
The Turkey international continued to look shaky and — with shades of Dejan Lovren — appeared too keen to contest challenges he didn't have a chance of winning and his positional awareness looked somewhat suspect.
This, however, isn't a Kabak diatribe. The stopper, on loan from Schalke, had a superb outing in Liverpool's 2-0 Champions League last 16 victory over Red Bull Leipzig last week.
He is, like every young defender in the history of the sport, inconsistent and he will be liable to make bad decisions. No position on the field is as mentally taxing as playing in the heart of defence and the only way for a player to smooth out their rough edges and to learn is to make mistakes.
In an ideal world, Liverpool wouldn't be reliant on a 20-year-old learning on the hoof but such is their situation — with all three of the senior centre-halves they started the season without for the rest of the campaign — they need to stick with Kabak and hope that he can learn from his early errors in red.
Fans also need to cut him some slack and consider the following when criticising him:
1: He is 20-years-old and young defenders, as mentioned above, are going to make mistakes. It's not his fault that Liverpool have to rely on him.
2: He has been playing next to Jordan Henderson, who isn't a centre half. Henderson brings his trademark character and grit to the role — as well as the ability to play raking passes from the back — but his positioning has been exposed in recent games.
It's not really a criticism of the captain, he is 30 and learning to play a new position on the fly while having barely any training time to polish up on his understanding, given the compacted nature of the fixture list. Therefore, Kabak isn't being talked and guided through a game like he would be next to, for example, Virgil van Dijk and this has made his adaptation even more difficult.
3: Coming from Schalke, the Turk was used to playing a wholly different style of football and it would take some adjusting to get used to Liverpool's tactical methods. Jurgen Klopp has slowly blooded players of the calibre of Fabinho into his system, but Kabak hasn't had that luxury. He has barely had any training time since he's arrived and has been thrust straight into games where the mistakes he may have made on the training pitch in normal circumstances have been magnified, dissected and have proven costly. You would need to have a bulletproof mentality for these mistakes and the narratives around your quality and suitability to a team to not dent your confidence.
4: Liverpool, as a unit, have been decimated by injuries and it would be wholly unrealistic to expect a 20-year-old, especially given all of the factors listed above, to arrest that slide. His, and the defence in general, performances haven't been helped by the form of Alisson — who has made inexplicable errors in recent games — and the lack of Fabinho, the team's best defensive midfield shield, whose absence from the engine room has been huge.
Yes, Kabak has been up and down so far, but as his performance against Leipzig proved — as well as the fact that he arrived at the club with a big reputation as a former Bundesliga rookie of the year — he has all the tools to be a good Liverpool defender. He will be inconsistent, which is par for the course for his age, but the hope is the team around him can improve and any mistakes — which he will likely learn from — will prove inconsequential.