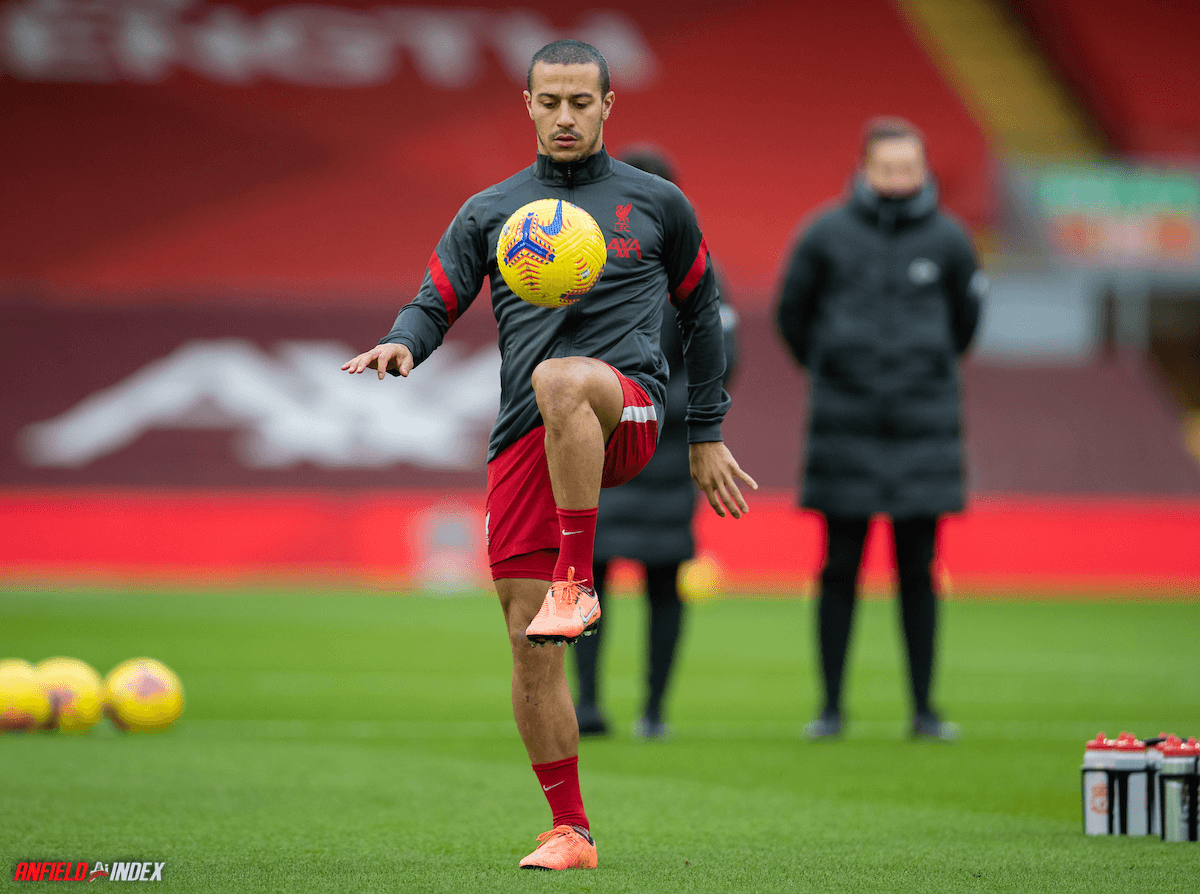 Jamie Carragher Says Thiago Alcantara Isn't To Blame For Liverpool's Slump

Sky Sports pundit Jamie Carragher has rubbished the accusations levelled against Liverpool midfielder Thiago Alcantara, with the former Bayern Munich midfielder having come under fire for slowing the team's play down.
Writing his column for the Telegraph, Carragher claimed the Spain international was a luxury Liverpool never thought they would be afforded. While Carragher accepts the 29-year-old is a liability defensively, he reckons the injuries to Jordan Henderson and Fabinho are to blame for the Reds' slump.
"I never believed Thiago was signed to play every game," the former Liverpool defender wrote. "Klopp would have okayed the deal with a plan in mind as he looked to introduce an extra five or 10 per cent into a winning machine. Instead, the pounding heartbeat of the team was lost. That means Liverpool's results have been poorer than Thiago's performances.
"He is technically better (than what they had), but lacks pace and his tackling is noticeably erratic.
"At times, such as the poor final 12 minutes at the King Power Stadium, Thiago has been a defensive liability. He lost the ball and then sloppily conceded the free-kick in the build-up Leicester's equaliser. He made another clumsy tackle within 60 seconds against RB Leipzig in midweek."
The reigning Premier League champions are now 16 points behind leaders Manchester City, who look poised to wrest the title back this term. Head coach Jurgen Klopp conceded the race following a 3-1 defeat to Leicester City last weekend.
"Yes. I don't think we can close the gap," the German admitted after Saturday's loss. "We have to win football games and big parts of the football were really good. We have to avoid mistakes and misunderstandings.
"Today we didn't do that. The rest of the game was really good. First we have to perform again, results are massively related to the performance. We are not worrying about the title, we are not silly."
Thiago, meanwhile, has struggled for consistency since joining the Reds last year, contracting COVID-19 before suffering an injury in October. The setback saw him ruled out for three months. Liverpool did not lose a game while he was sidelined but have only won once since his return. The Italian-born Spaniard hasn't scored or assisted a single goal for his new team in his 14 appearances so far this season.
The Reds are expected to arrest this slump at some point. But they would have to depend on City dropping points to even think about the title race again. For now, getting back to the top four should be the priority and the upcoming games will be of particular interest to punters. In the meantime, if you want to get some money out of Liverpool, check sportsbetting.ag.
Henderson and Fabinho have both been able to slot into defensive positions for Klopp, with Virgil van Dijk and Joe Gomez nursing serious injuries. Thiago, though, hasn't had much time to develop a playing relationship with his teammates, more so the ones in midfield positions.
Bayern legend Lothar Matthaus has urged his former team to re-sign Thiago as, following a very successful spell at the Allianz Arena that saw him win multiple trophies, he could soon find himself on the periphery at Liverpool.
"How about Bayern bring Thiago back to Munich? He's not getting on at Liverpool and in Munich he is missed by Hansi Flick and the fans," Matthäus told Sky Deutschland, per the Liverpool Echo. "Anyone who says goodbye to Karl-Heinz Rummenigge so emotionally, the door is certainly never completely closed."
Bayern had made it clear that they did not want to lose the player so it wouldn't be that surprising to see them make an approach that would see them get him back in the Summer.
The player told his former teammates he hopes to see them soon in a recent social media post. In a video message posted to Bayern's Twitter page, Thiago congratulated the German giants for their FIFA Club World Cup triumph.
"Enjoy the moment, enjoy the season and I hope to see you soon," he said. "I am proud to be part of, even if it's just a little bit, what you achieved this season."
There's still a lot of football to be played this season and Liverpool could make good on their acquisition with their remaining games. The title appears out of reach at the moment but, should the Spain international return to the heights, the Reds could make the race for the top four the one to watch. Given his talent, though, things should fall into place once Thiago gets games under his belt.