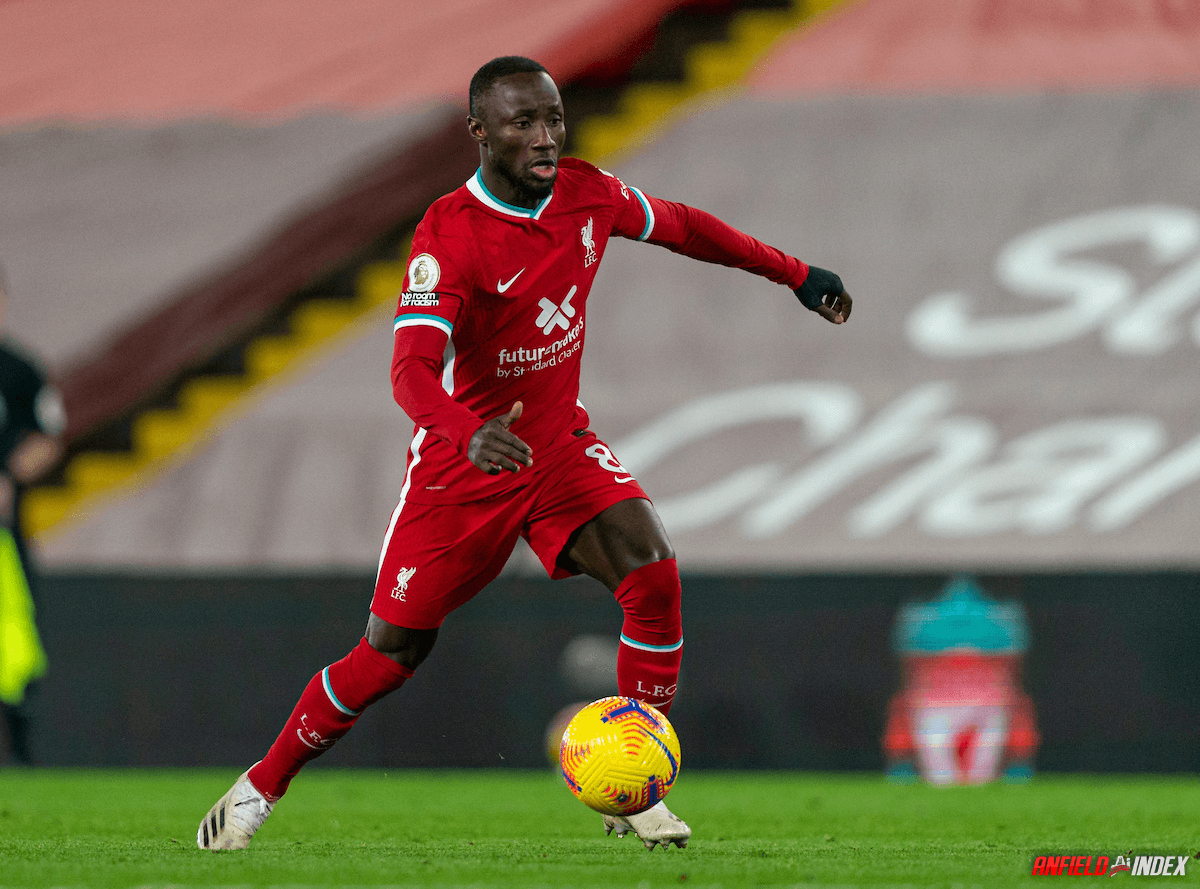 Can Naby Keita help save Liverpool's season?
It's fair to say Naby Keita hasn't set the world alight at Liverpool.
Few players have joined with greater expectations on their shoulders than the Guinean when he arrived at Anfield in 2018, following a superb spell at RB Leipzig.
The fact that Liverpool fans had to wait a whole year to see Keita in the squad only added to the excitement surrounding him, with each month edging closer to finally watching him in a Reds shirt.

The 26-year-old is now in his third season on Merseyside, however, and underwhelming is the term most commonly, and correctly, used work to describe his career in England to date.g
Considering he was tipped to become one of the best midfielders in the world when he joined, Keita has been a disappointment, rarely looking close to that calibre of player.
While it is wholly understandable to feel shortchanged with the diminutive midfielder, it is also unfair to label him as a complete flop, or anything close to that.
The truth is that if Keita hadn't joined amid such fanfare, and with so many 'experts' claiming he was the second coming, the general assessment of him would be far kinder.
Injuries have clearly held him back, halting his momentum, and he has rarely managed to find a rhythm over an extended period. Keita has still produced plenty of promising runs and good performances, though, proving to be a key cog in a Liverpool midfield that is often criminally unsung.
His neat, thoughtful use of the ball has often been underrated, knitting things together effectively in the middle of the park, while his off-the-ball work is far more tenacious that it can sometimes appear on the eye.
Liverpool have only lost once when Keita has played from the beginning this season – admittedly the 7-2 shambles away to Aston Villa – and they avoided defeat entirely in all 16 games he started in 2019/20. He is influential.
Unfortunately, we have reached a point where Keita is either an extraordinary talent who will be a future legend or a waste of space who should be moved on as soon as possible, when in fact there's a middle ground, as always.
He is a very good footballer who has shown glimpses of his best form, when fit, but also been guilty of flattering to deceive too often.
As Liverpool reach a do-or-die moment in an increasingly disastrous season, Keita finds himself back on the training pitch and available for action. It comes at the same time that Jordan Henderson has all but been ruled out for the rest of the season, only heightening the importance of his return.
This feels like a defining moment in his Reds career, with the Guinea international at a point where he could help save Liverpool's campaign.
Jurgen Klopp's midfield looks more leggy and lacking in attacking ideas by the week – they have been overplayed out of necessity and are now exhausted – but Liverpool's No.8 has the ability to give it a new lease of life.
Keita possesses a similar football brain to Thiago, which makes the thought of the pair playing together a mouthwatering one, and he can be dynamic in and out of possession.
He has enjoyed an 89.9 percent pass completion rate in the Premier League this season, which is bettered only by Curtis Jones (92.3%), Fabinho (91.7%) and Gini Wijnaldum (91.7%) from those with 10 or more appearances.
Meanwhile, his average of 1.1 tackles per match is the same as Henderson and superior to both James Milner (0.9) and Jones (0.8), while 1.1 interceptions per game is better than Wijnaldum (0.8).
If Keita has played a supporting role for the vast majority of his time at Anfield – it is hard to think of a single game when he has been the absolute star of the show – now is the opportunity for him to take centre stage and thrive under the spotlight.
He handled the pressure of being a star man at Leipzig, so there is no reason why he shouldn't now back himself and stand tall while others around him are either on the treatment table or on their last legs.
Conversely, this next three months or so could also see injuries yet again hamper Keita, which would arguably cause more frustration than ever, considering how much Liverpool need him.
If he comes back for a few weeks and then disappears, those dissenting voices will only grow louder and it may be time to starting thinking about the Reds cutting their losses and moving him on this summer.
Keita's talent isn't in doubt, but as was the case with the likes of Daniel Sturridge, Adam Lallana and currently Joel Matip, there comes a time when it is pointless keeping hold of someone incapable of staying fit.
Being positive, the African superstar should view this as a wonderful opportunity not to only help steer Liverpool to a top-four finish and even an unlikely Champions League success, but also show that he should be a regular starter and one of the first names on the team-sheet moving forward.
Keita has reportedly been nursed back to full fitness more carefully this time by the club's medics, hopefully bringing an end to his fitness woes and seeing him remain largely injury-free from this point on.
Only time will tell if that pays off, but it is a sensible approach.
When Keita signed, he was seen as the player to take Liverpool to the next level – he will be adored just as much if he returns from injury and plays a major role in rescuing the Reds' near-unrecoverable season.