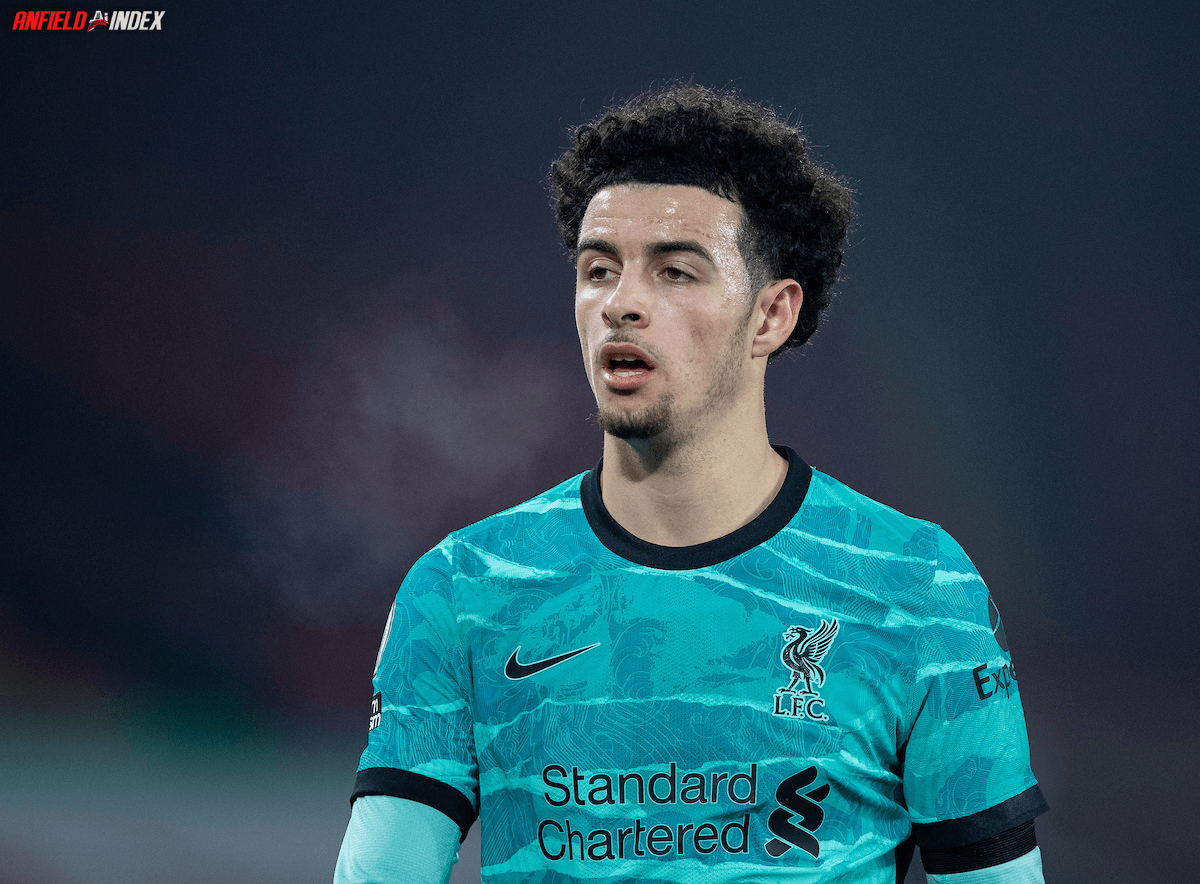 Curtis Jones: Making the next step

Following Liverpool's 2-0 win at Bramall Lane against Sheffield United, many Liverpool fans took to social media to wax lyrical, yet again, over Curtis Jones. During a season of many lows, the bright light has been his emergence. Against Sheffield, Jones showed that he's ready to stand up and be counted. With superb technique, it was not a surprise to see him endear himself to fans early on this season. The one criticism, however, was whether he had the willingness to work off the ball in this Liverpool side. Last night he answered that question emphatically. Not only showing an elite desire to chase his man but also the elite mentality to prove his doubters wrong. It is this mentality that separates the ones who make it from those who don't. Jones is showing the world that, mentally, he has what it takes to play at the highest level.
TAKING HIS CHANCE
You wouldn't find many Liverpool fans predicting Jones as a starter by the end of the season. Now though, most would tell you that he's cemented himself in the starting 11.It's been an incredible rise but not a surprise in the least. With supreme confidence and technique, the question most had was when, not if, he'd be in the first team. As with many youngsters these days, it would come down to injuries allowing him into the team. The lack of consistency in team selection thrust Jones into a baptism of fire. This forced him to try and make a difference immediately with little time to settle. For youngsters, this pressure to deliver can cause them to struggle to impose themselves. Jones always seemed to thrive on the expectation to deliver, however. It was evident in the youth teams and is now in the first team too.
SILENCING THE DOUBTERS
As stated, his rise during the course of this season wasn't without criticism. Some thought they saw a lazy streak and an unwillingness to track back into his own final third. Given the importance Klopp places on midfield tracking, they thought it would cause cause a lack of balance in midfield. Whether or not Klopp and co. addressed this with him behind closed doors is something we'll probably never know. What we do know is that Jones has supplemented his technique with desire to track and harass wherever possible. This ability to use criticism constructively will help him throughout his career.
The other aspect of his game that people questioned was his time on the ball. People said he was cutting off his options by taking too long with it. Once again, this criticism is a sign of the expectation already placed on him. He proved against Sheffield that he can use it too. As an attack-minded player, his decision making will always be questioned. As he continues to work with world-class players and gain experience this aspect will only improve.
UNDERATED QUALITIES
Another encouraging aspect Jones has shown fans during the season is his reliability. His ability to play consecutive games is something Liverpool fans will admire greatly, especially now. This season has seen a crazy amount of injuries and his ability to stay fit could be one of his more underappreciated qualities in future.
Given the type of player Curtis Jones is, it is surprising to see how physical he can be. Many technically gifted players struggle with getting stuck in. Liverpool fans need only look at Phillipe Coutinho as a prime example. Jones relishes the physical battle and often uses his strength to win a 50/50 challenge. Klopp and his staff will be pleased to see the work done on improving his physicality is paying dividends.
Jones' talent is clear for all to see. A calm, technically gifted player who seems to have half a second more time on the ball than those around him. His potential to make a difference in the final third is clear. It is his ability to battle in the other two thirds of the pitch, however, that is really impressive. We all remember the last battling midfield scouser to come through the ranks and Jones is showing those same qualities. If this scouse midfielder is anywhere near as good as that one, Liverpool fans have something to be excited about.