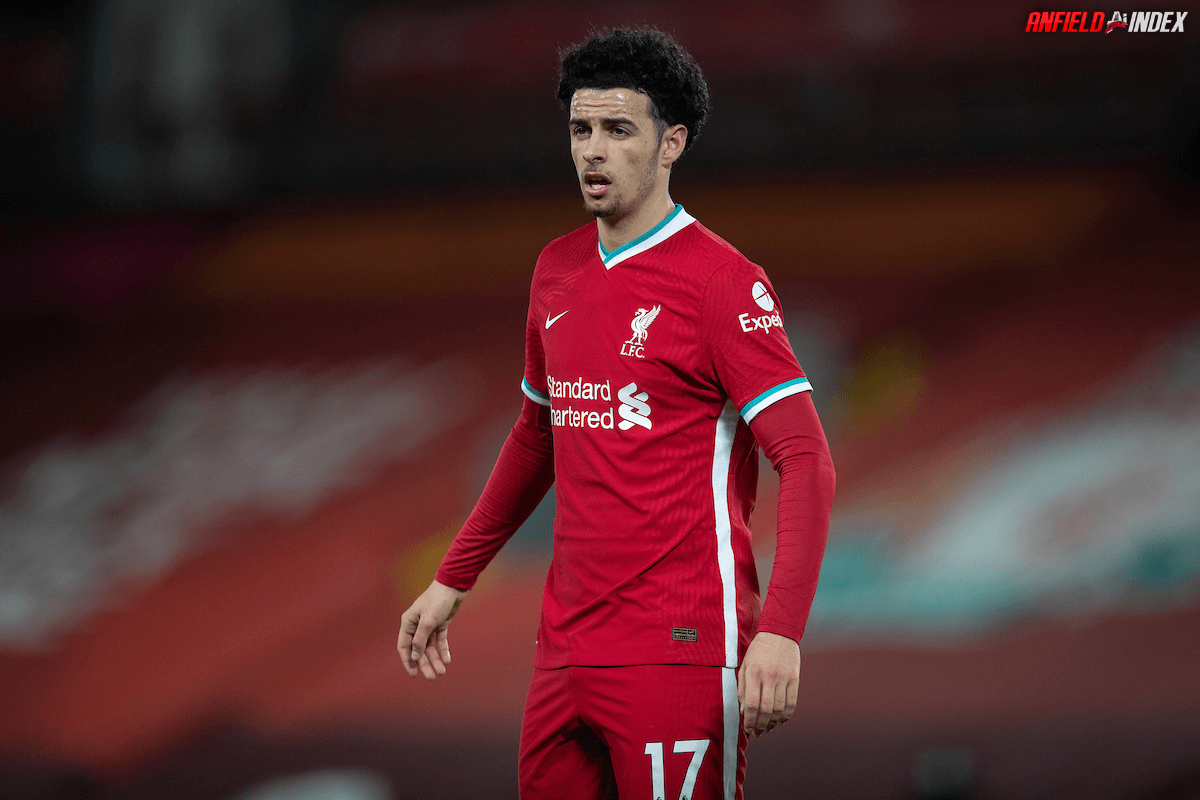 Curtis Jones & The Benefit Of Acting His Age
In many ways, this season has been a trainwreck for Liverpool.
Hampered by a mountainous injury list, mostly concentrated on their central defensive stock, the Reds have relinquished their title to Manchester City without as much as a whimper.
The Anfield team, far from retaining their title, are now primed for a fight for Champions League qualification; a competition that their entire financial model is predicated upon qualifying for. From a play acquisition and monetary perspective, not finding themselves among the European elite next season could be disastrous.

However, it hasn't all been doom and gloom and the emergence of Curtis Jones as a bonafide midfield option has been a huge plus.
Slowly eased in at the back end of the Reds' title-winning season, the 20-year-old has already trebled his appearance total for his debut season; he has played 19 times this season, compared to six last term. True, the injuries to the likes of Thiago and having to play Fabinho in defence has made more room for him, but the England youth international has taken the opportunity with both hands.
In some ways, though, Jones has almost settled too well and acclimated to Jurgen Klopp's demands so well that he lost some of that youthful je ne sais quoi and boldness that was so evident with his winning goal in the Merseyside FA Cup derby in January 2020.
The academy graduate has been functional, tactically intelligent and has stuck to the Klopp midfielder script of covering for the Reds' full-backs, Trent Alexander Arnold and Andrew Robertson, but he hasn't influenced games in an attacking sense as often as he can.
Klopp highlighted this as an area that the former Liverpool U18's captain could improve in recently, telling the assembled media that Jones needed to play with more "cheek".
"The players of course, Jones, coming on and making this run. Actually the last words I told him, 'Please be cheeky, be cheeky and try something, be active and these kind of things," the German said after the victory over West Ham.
Based on his showing in the Reds' recent 2-0 victory away to Sheffield United, it appears as Jones has taken heed of his advice and applied it to his game.
The youngster opened the scoring with a well-executed finish, hitting the bottom corner with aplomb and showing his older team-mates how it was done after the visitors spurned a host of earlier chances.
In total, he took four shots — the most of any Liverpool player — and had the best passing accuracy of any of the Reds' players, with 96%.
Given a free role, with Thiago and Georginio Wijnaldum providing structural discipline in the engine room, Jones thrived and he would have played his part in another goal had Mohamed Salah not missed a relatively good chance from Andy Robertson's cross.
Dribbling with the ball, the 20-year-old bided his time before intelligently releasing Robertson with a pass at the optimum moment in the left-hand channel. The Scot's high paced cross found Salah, but the Egyptian steered it wide.
We have learned a lot about Jones this season and his capability to be a tactically mature all-round midfielder, but his next step could well be going back to basics and regularly showing the "cheek" and the guile that saw him reach the first-team level in the first place. In many ways, he needs to act his age.