Losing and getting beat are two different things entirely. Many things in football are random and this can play a huge part in performances not getting the results they deserve. You can take those losses on the chin, sort of. For example, in some games Liverpool have lost this season, they've been the better side, they've had the better chances, but they've not had the required luck. Play them 100 times over and the Reds win 95 of them, that sort of thing. 
Against Chelsea, however, that wasn't the case. The champions were beaten, comfortably. If anything, with a bit more luck the visitors could've added three or four on the night. Outclassed and tactically picked apart, it was a humbling defeat, but a deserved one. 
The most alarming part was that Liverpool looked like a team trying to learn how to press under a new manager. In many ways, it was similar to the loss to Aston Villa earlier on in the season. Thomas Tuchel's side looked on it from minute one. They looked sharper, quicker and a lot more organised. The hosts, on the other hand, looked sluggish, confused and disinterested. 

Chelsea didn't have to do anything exceptional to create chances. They played through the lacklustre press with relative ease and then exploited the lack of pace in the Liverpool backline. It felt a little like when Roma came to Anfield in 2018 and played a stupidly high defensive line. Every time the Reds went long they looked like scoring. Every time the Blues went long, Klopp's men looked like they'd concede. 
Jurgen Klopp's tactics didn't help things. I've praised him recently for the way he's switched things up in wins over Spurs, West Ham and Sheffield United. But the opening 45 minutes seemed to bypass him and the players. Subtle tweaks earlier on would've wrestled back control.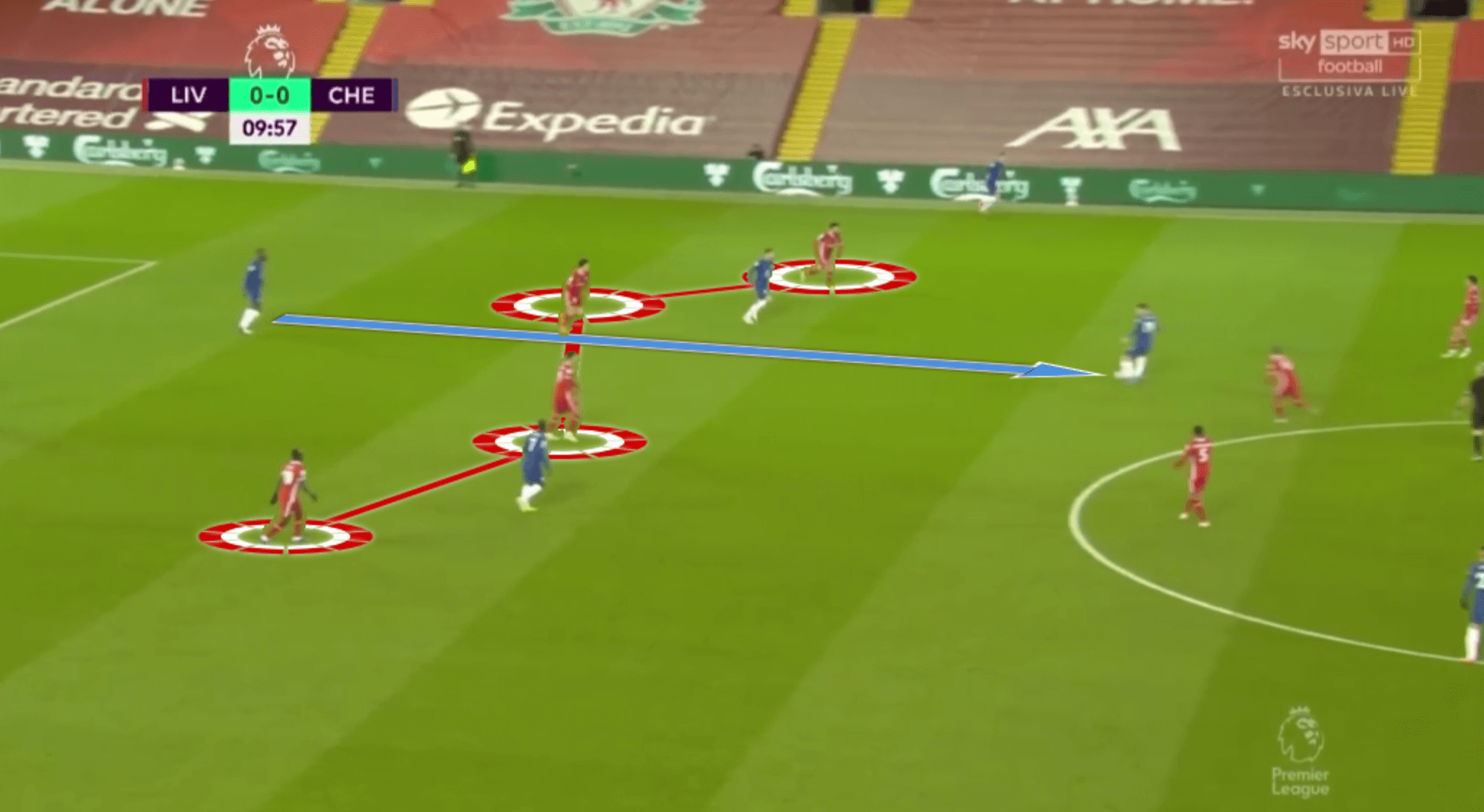 Chelsea, under Tuchel, are a possession-based team. They have confident, press-resistant ball-players. They also have off the ball runners who can really stretch play. If you're going to attempt to press them, you have to commit. A successful press is a team one. 
Liverpool, to an extent, pressed high, but as you can see above, they didn't hem the visitors in. Antonio Rudiger has a simple pass to Mason Mount, who had dropped back from an advanced position. Thiago isn't quick enough to stop the Chelsea man from playing a pass out to Ben Chilwell. Trent Alexander-Arnold, having initially tracked Mount, is now in a central position and can't get out to Chilwell in time. 
A quick ball is played over the top for Timo Werner to run onto and, after bringing it down, his shot is fired over. 
The Reds are usually much more compact. However, you could tell that the pace of Werner was something that was worrying them and their line wasn't as high. It meant they looked a little stretched when they pressed high and this is why it was so easy for Chelsea – they had a lot of room to play in.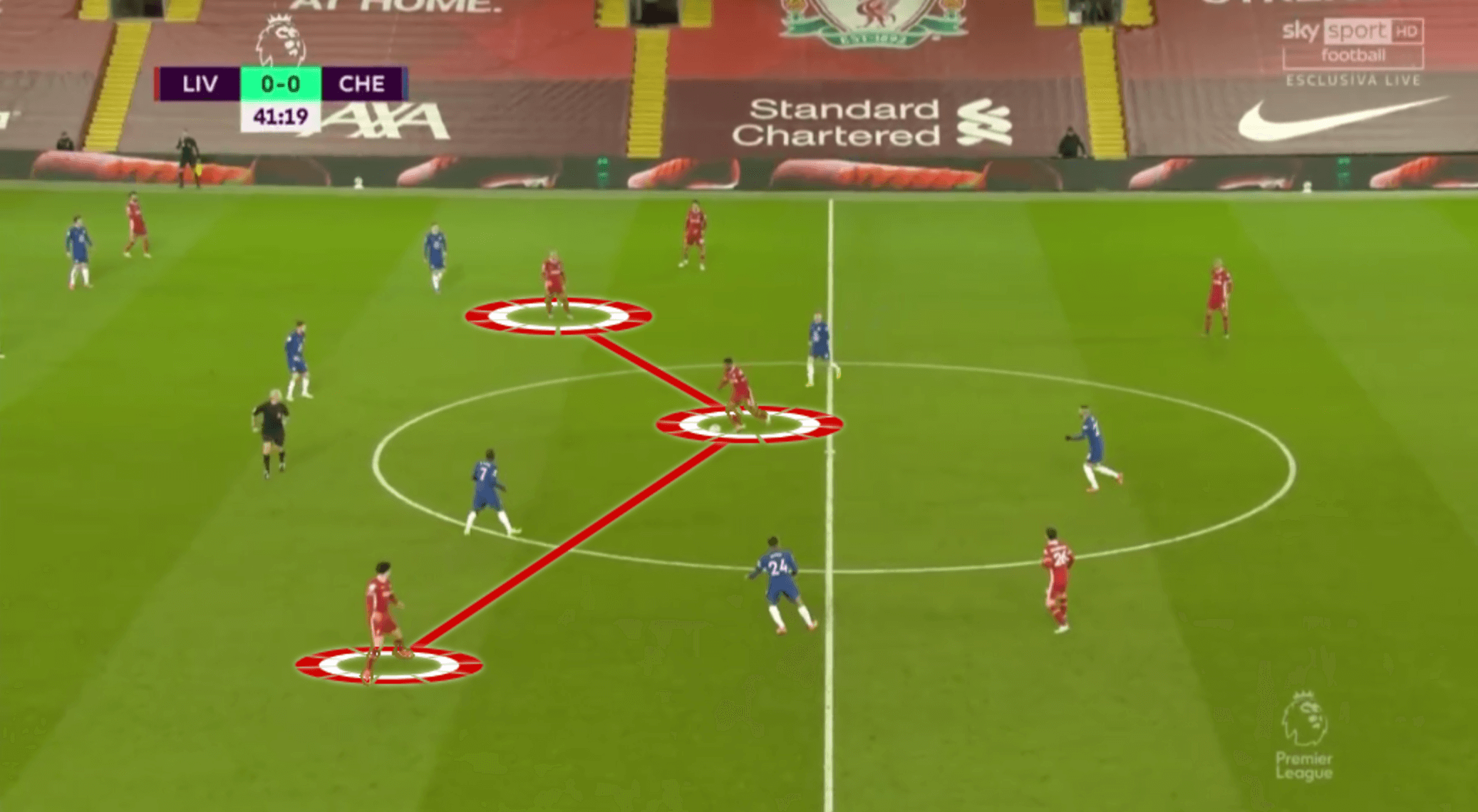 The still above shows the Liverpool shape just prior to the goal they conceded. Wijnaldum picks the ball up and instead of passing, he drives forward. In this scenario, you'd ideally want Jones and Thiago to then sit in order to cover for their No.6.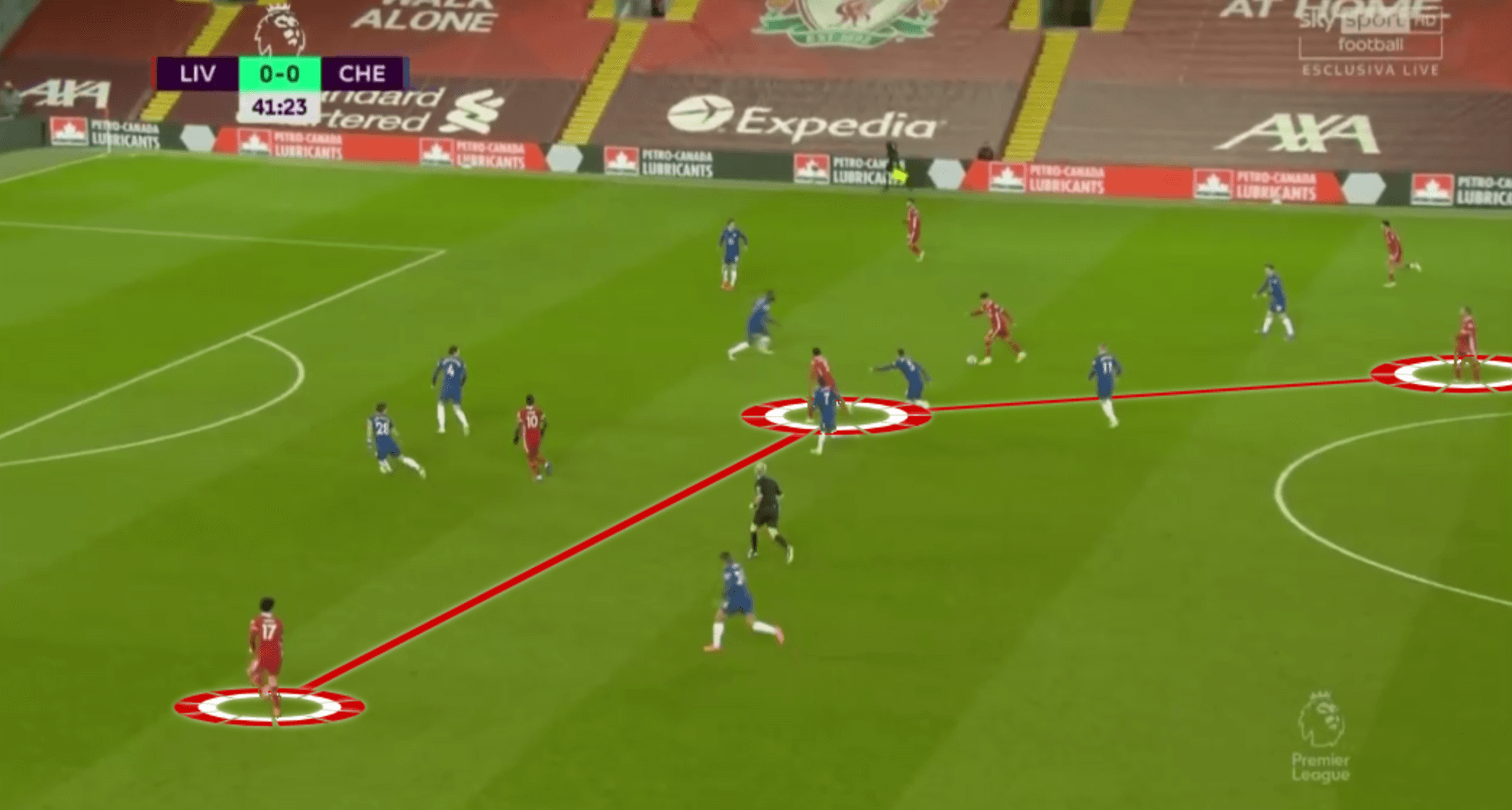 Thiago does, Jones doesn't. He has to push on to occupy the space vacated by Mane on the left. Wijnaldum carries the ball before passing to Roberto Firmino. He then continues with his run to drag Christensen into the left-sided centre-back position and leave Mane and Jones on the left. If the pass is better, Liverpool are in. However, it isn't, and they aren't.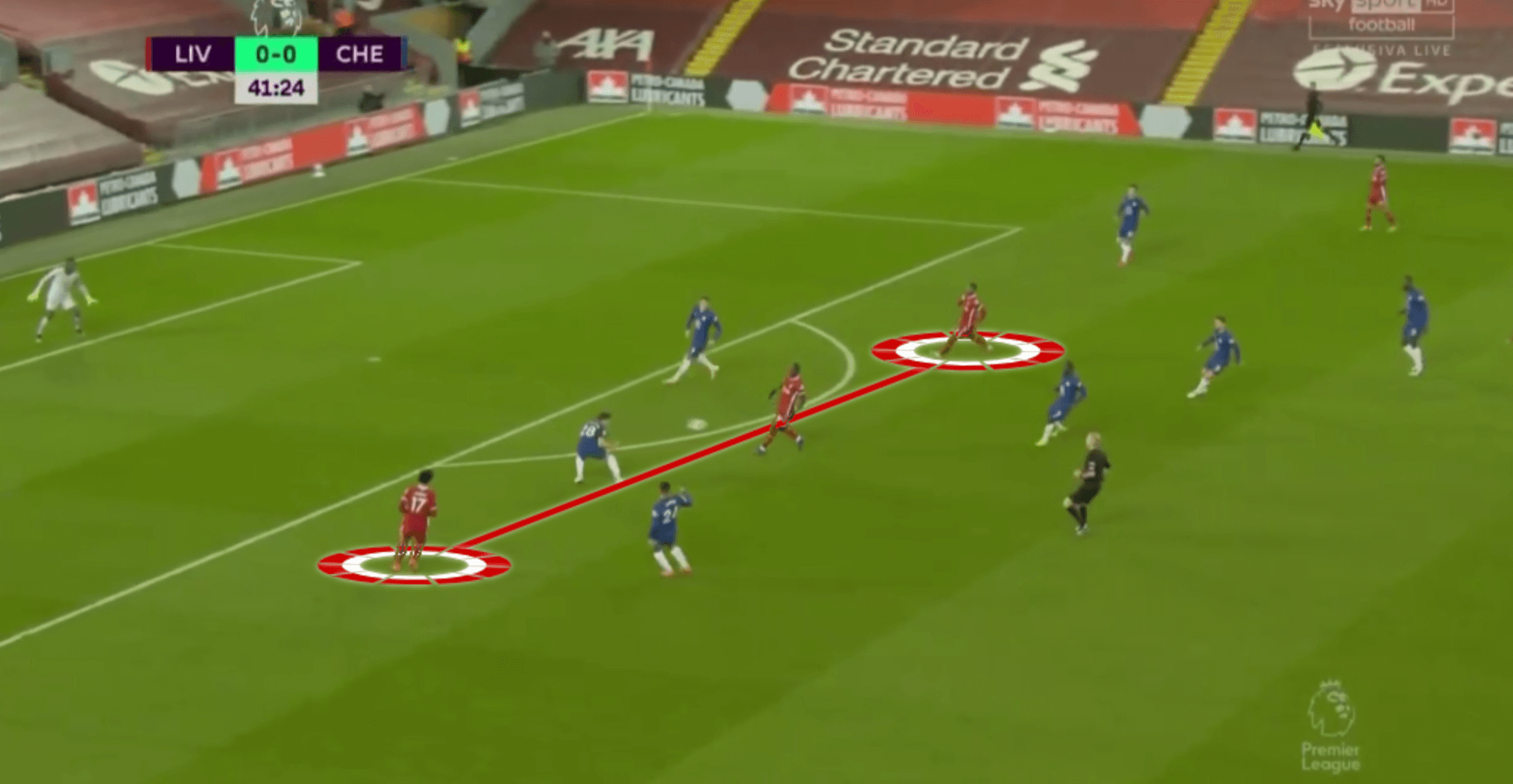 Firmino's pass is easily dealt with and all of a sudden, the Reds have two midfielders in the final third and there's a lot of ground for Chelsea to attack. N'Golo Kante picks up the loose ball and, relatively unopposed, picks out a pass over the top. Mount picks it up and, well, you know the rest. Liverpool rarely commit so many players ahead of the ball and that is why. When the ball is turned over, the Reds aren't in a position to press and Tuchel's team have the time and the space to pick the hosts off