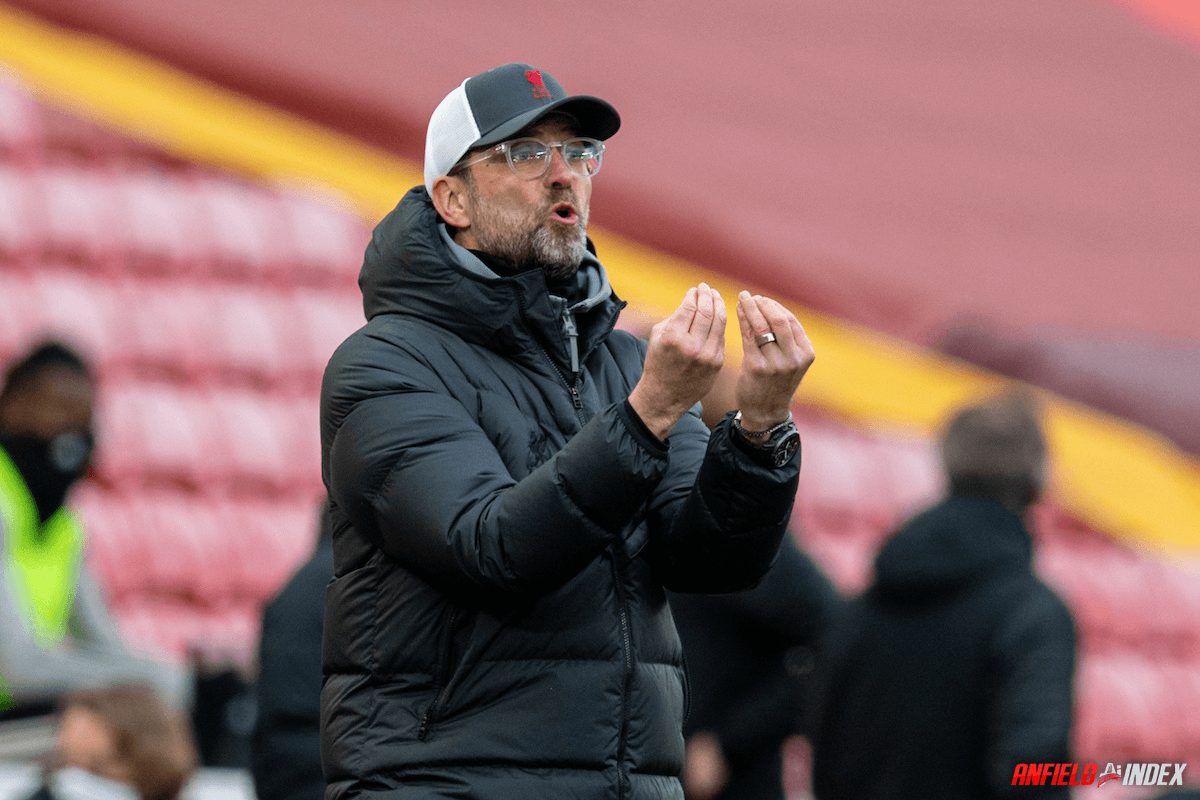 No Champions League football could be blessing in disguise
It feels ridiculous even contemplating starting this article in all honesty.
The reigning champions left licking their wounds as they limp through what has been nothing short of a horror show.
Now, instead of what we all thought would be a season where Liverpool would make a stern defence of the trophy that had alluded them for 30 years.

Instead, it's turned into a battle against the tide and the odds to even secure a top four finish. Things just really haven't gone to plan.
There are 10 games left in the season and there are about six others teams fighting the Reds for a place in Europe's elite competition next season.
And while it would be something of a fall from grace to miss out on the Champions League next season, could it actually be a blessing in disguise?
Yes, missing out on being in Europe's elite competition would be a bitter pill to swallow, but if we're looking for silver linings, there are a few.
More time to rest and recover
Possibly the most obvious advantage would be the reduction in fixtures. Liverpool's injury list has been, to use a buzzword of the pandemic, unpreceented.
Losing three senior centre backs to season-ending ailments is one thing, but the raft of others that have joined van Dijk, Gomez and Matip on the treatment table at various stages of the season is unparralleled.
Keita, Thiago, Jota, Milner, Henderson, Alisson and Oxlade-Chamberlain are among the names, some of which I've probably missed, who've been out of action for periods this season.
Those not expected back until the new campaign I'm sure will be appreciative of not having to juggle mid-week fixtures with lung busting exploits in the Premier League only a few days later and will help the aching, tired legs of those who've featured heavily during this campaign to rest up a little.
Freshness, tenacity and energy have been things that have been notably absent in Liverpoool's play this season, so maybe the extended rest time between games will combat this and allow the side we have become more accustomed to watching in recent seasons make a resurgence.
There's also the small matter of Euro 2021 to take into account, too. Many of Liverpool's key men will be in action for their countries during the summer months, so reduced schedule will help those players avoid burning out.
Refocusing on what makes the side tick
There has also been criticism of the attitude of those players that have been playing regularly and been free from injury, especially more recently as the poor run in forms continues.
The injuries have taken a huge toll of course, but the mentality monsters of the last few years have turned into shadows of their former selves. Early goals against them are usually a damning sign that the game is already beyond them, they look bereft of creativity and more importantly belief.
The old adage of you never know what you've got til it's gone could well apply and serve as a fuel to reignite that fire in the belly of these players. If that doesn't, then there is something seriously wrong.
All top professional players say how they dream of playing in and winning the Champions League, and many of this current squad have been fortunate enough to live that dream in recent years.
So to see their peers and rivals doing just that while they miss out will certainly hurt. Like a phoenix from the flames, it should serve as a timely reminder that that is where these Reds want and need to be.
It's not a nice way to do it, but it could serve the squad well.
Trophy targets reset
Obviously missing out on European football (if that happens – there's still a very good chance it's at least Europa League action next term) would mean one less trophy to compete for, but that again might not be a bad thing.
Firstly, it means a full charge towards regaining the Premier League crown free from other big distractions. It is an almighty effort to go all out to win both the league and Champions League, so removing one of those from the equation will inevitably help to narrow Liverpool's focus on domestic success.
And that shouldn't just be limited to the league, of course. People will try to downplay its significance, but winning the FA Cup would be lovely, wouldn't it?
A trophy that's featured so often in Liverpool's historic success but one which has been absent from the trophy cabinet since 2006. Progress into the competition's latter stages has also been a rarity, with our last appearance in a final coming in 2012. We've also failed to make it past the fifth round since the 2014/15 season.
So without the distraction of the Champions League, surely Klopp has no excuses to not try to wrong his poor record in the competition as Reds boss. And why not the League Cup while we're at it, too?
Some will be quick to talk down these achievements, but silverware is silverware and would still be celebrated as a big success. Trophies are the currency of success in football, so let's start adding a few more the shelves to accompany those claimed in recent years.
Yes, they might not be old big ears, but something is most certainly better than nothing.