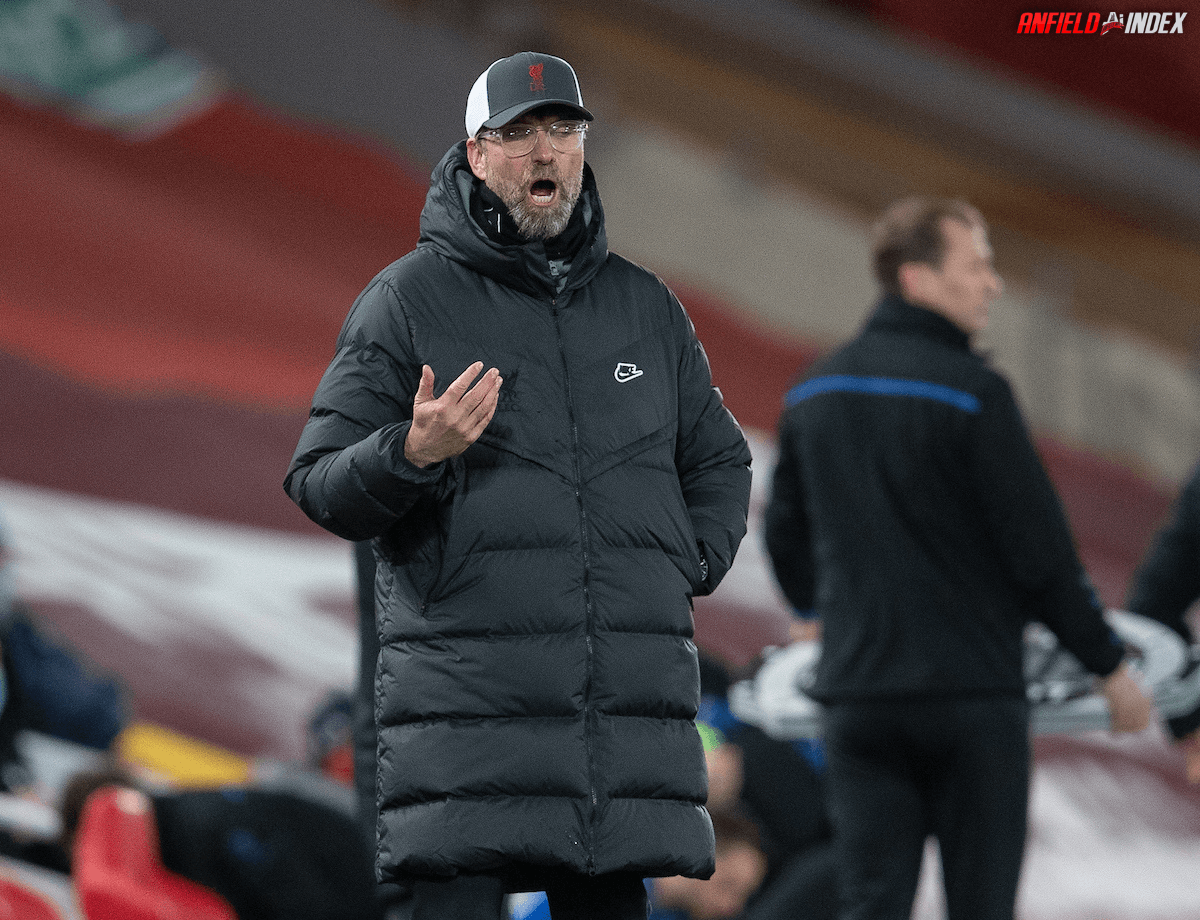 #SellThemAll (Except the Scousers)
Every individual human involved in Liverpool Football Club, any pack animals utilised in Nike's kit supply chain, the cows that provided the leather for our boots, even inanimate objects should be open for critique at this point. Yes, our recent past includes some of the best memories this club has experienced in a generation. But, at present, we are mired in Liverpool's worst run… ever?
Can't score. Can't stop our opponents from scoring. Can't compete with our recognised peers while we are nothing but inspiration to the relegation fodder of the Premier League.
Sentimentality isn't going to help us now. Sentimentality got us here. Marko Grujic is a Twitter .gif star for the first time since his jaw-dropped, wide eyed reaction to a Jordan Henderson stunner in 2016. His peek-a-boo routine punctuated a Round of 16 triumph for Porto against Juventus while Jurgen Klopp was left to decide whether to include an ancient and slightly crocked James Milner or a healthy but clearly done Alex Oxlade-Chamberlain in the squad for a critical match in Budapest.

Sentimentality got us two extra years of Divock Origi when he should have been sold before he got on the team bus after Madrid. Hand on heart, you knew that was a sell high moment and you knew Liverpool's front line needed reinforcements. Miraculously we rode the same horses to a Premier League title. Predictably, today, they can't score, can't create and can't press. Liverpool's injuries are at the back but we've won with centre-backs and 'keepers throwing balls in their own net for fun before. Liverpool's biggest concerns are at the front.
Eight players had a shot against Fulham. The players on the pitch are searching for options, grasping at straws. According to Opta we've gone 115 shots, the longest streak they've ever recorded (since 2006), without putting the ball in the net. Teams aren't parking busses against us. They're just playing their own game and leaving the Champions in their dust.
It all feels very Brodgy at the moment. Statistically it's worse. Klopp shouldn't avoid criticism, but he still has to be the cornerstone that you build from. Marco Rose will be Dortmund's sixth manager in six years since Jurgen walked out the door at Signal Iduna Park. There is no clear answer if Liverpool were to lose Klopp. The system worked and will work again. We've gotten away from that system, cheating here and there to preserve our stars until it became unrecognisable. FSG have gotten away from their system too. Known for their ruthless adherence to MoneyBall spreadsheets; the club has suffered because we have veered off that track, not because we've stuck to it.
The answer is to reload Klopp's quiver with players who can function in this system, and regardless of your opinions of the owners, even a massive cash infusion is not enough. Big names have to be sold, not just to bring in funds, but to create space for players who can do the job that is required. Support the club. Support the players. Sing your brains out if we ever are allowed back in stadiums. But you can be a TopRed and still contemplate the sale of players who have presided over this collapse.
Some players have to leave for this club to move forward. Having a non-scoring false-nine was cute and all while we were winning. Having "world-class" wingers, midfielders, defenders who can't pull us out of this mess is as useful as Bobby's gleaming whites at the moment. Every player, minus the Scousers (I'm not that crazy), should be in the shop window at this point. And, they should be in the shop window, not in a make us an offer we can't refuse way, but in a giant neon sign with one of those inflatable flailing arm guys out front sort of way.
The Reds are our team, not the players. Sell them all. Sell whoever we can get any money for. We cannot do any worse.