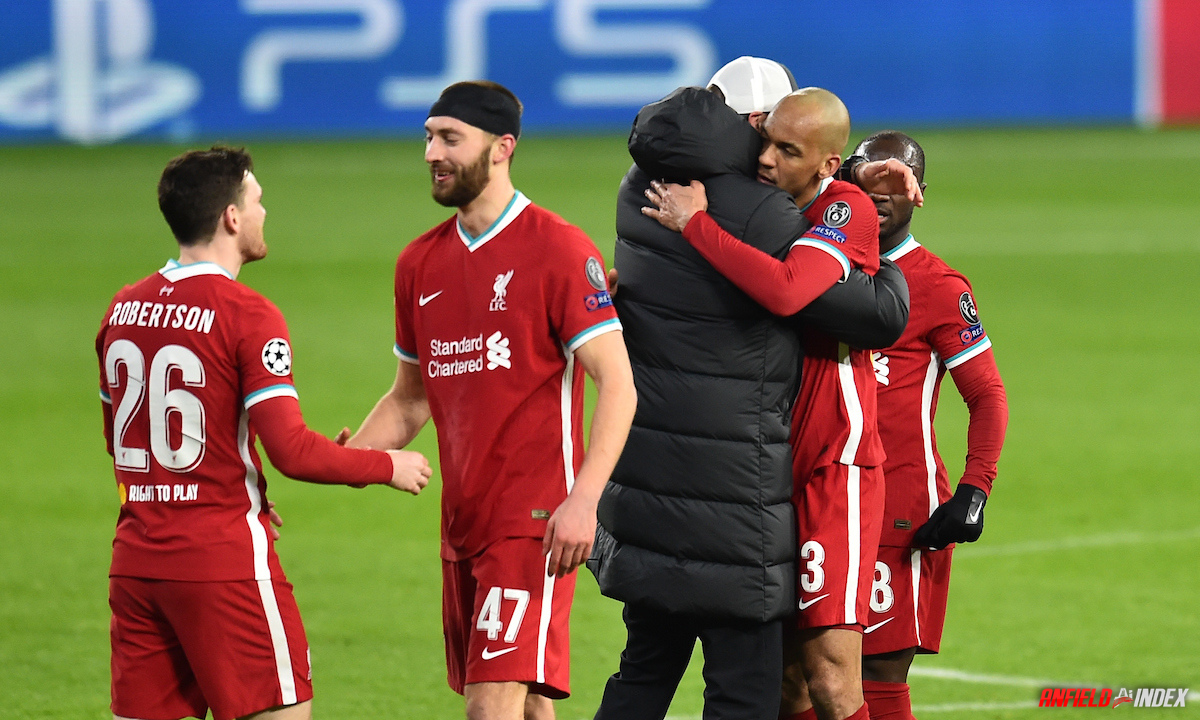 MOTM Fabinho raises levels as Liverpool advance in Europe
Jurgen Klopp hailed the joy of seeing "the best number six in the world" back in his favourite position, as Fabinho put in a Man of the Match display throughout Liverpool's 2-0 win over Leipzig on Wednesday night.
Courtesy of goals from Mohamed Salah and Sadio Mane, Liverpool rode to a 4-0 aggregate win over the in-form German side, casting aside Premier League concerns to move into the Champions League quarter finals.
Unlike the first leg, where Liverpool weren't brilliant but capitalised on costly Leipzig mistakes, Liverpool never looked flustered in the second leg victory. Dominant from the off, Klopp's side could have scored four or five as they booked their place in the last eight.

MOTM Fabinho back into midfield
The key switch that allowed that? Moving Fabinho back into midfield.
Since Virgil van Dijk's injury in the Autumn, the 'light house' of Liverpool's midfield has spent his time either in Van Dijk's centre back position or alongside the Dutchman in the injury room.
However, he was back available for Wednesday's game, lining up alongside Gini Wijnaldum and Thiago in a midfield three, with Ozan Kabak and Nat Phillips trusted in the central defensive positions. It was the first time Fabinho had started in midfield since *that* Everton game at Goodison earlier this season.
His impact was felt immediately.
There was a fluidity to Liverpool's system from the get-go, using his unrivalled combination of defensive awareness and physical prowess to consistently turn possession in the 'home' side's favour, giving the likes of Thiago and Trent Alexander-Arnold the ability to use their passing ability on the counter-attack.
Thiago in particular seemed to benefit from the freedom afforded to him by having a world class number 6 playing behind him. With Fabinho sweeping everything up in-behind, the Spaniard danced past tackles, put Mo Salah in on goal and even had the confidence to put an ambitious overhead kick on target.
Fab in the 6 raises everyone's game
It wasn't only his fellow midfielders that Fabinho had an impact on, mind. Phillips and Kabak have both shown promise, especially aerially, at times this season. Their performances have been marred by inconsistency though, with limitations such as Phillips' lack of pace often seeing them exposed in one-on-one situations.
With Fabinho in the team, this was no problem. The Brazilian was consistently in the right place to block passing lines in and around the centre-back's, making sure neither was left isolated against a speedy Leipzig attacker at any point.
Whilst Kabak and Phillips both played well and deserve plaudits, it would be negligent not to realise the impact that Fabinho had in raising their level. Rather than a criticism of the pair, this is merely more praise for the fab number 6 – if you'll pardon the pun.
On a night where he shone individually whilst raising the level of those around him, Fabinho delivered a timely reminder to his manager regarding the benefits of getting players into their natural positions. The inclusion of one man in a crucial role raised the level of five or six other individuals in the team.
Here's hoping Fab is back in midfield for good, hopefully to aid Liverpool in landing the season on a high.