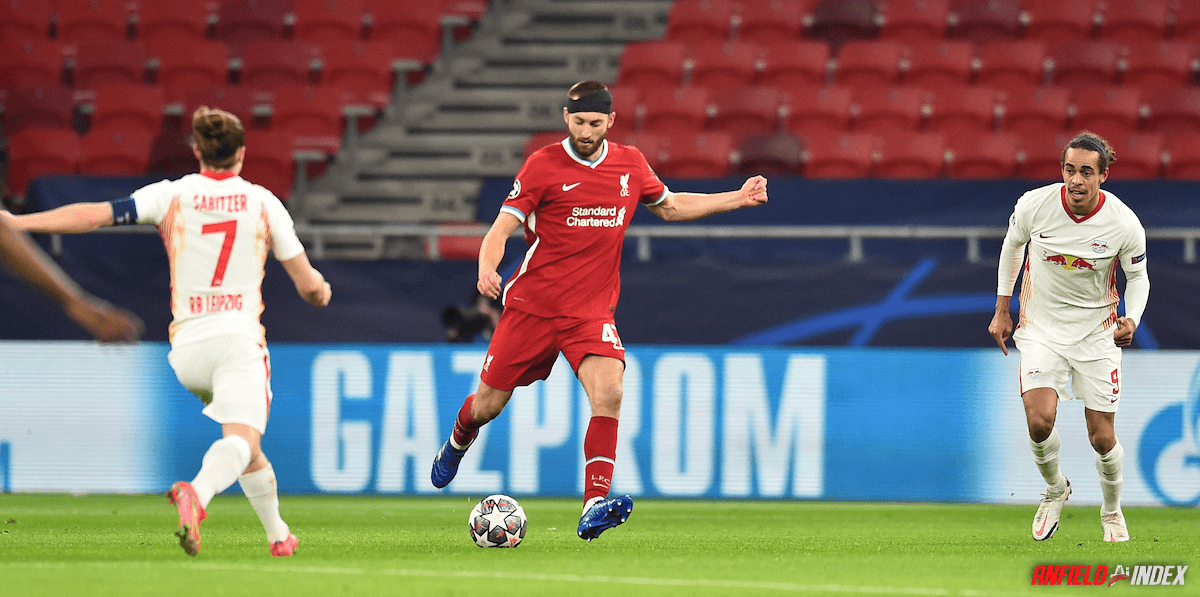 Phillips & Kabak: Liverpool's Should Be Pairing At The Back
Liverpool, allowing for exaggeration, fielded their 8000th centre-half combination of the season against Red Bull Leipzig in their 2-0 Champions League last 16 victory over the German's last Wednesday night.
Nat Phillips and Ozan Kabak saddled up together for only the second time and the young duo was largely superb in keeping a clean sheet against the Bundesliga side.
With Phillips acting as the aggressor — the Bolton native won two aerial duels and headed clear four times, while also making five clearances — and Kabak playing in a more reserved manner, there appeared to be a decent synergy between the pair, average age 21.5.

It wasn't perfect, however, with Phillips's tendency to try and win every ball seeing him caught in no man's land on a couple of occasions — most notably when he was skinned for pace by Leipzig's Yussuf Poulsen — but there were the bones of an understanding that Jurgen Klopp could be minded to stick with for the rest of the campaign.
Individually, both players have flaws to their games; which is to be expected, given that — in defenders terms — they are relative greenhorns and the position demands cerebral savvy like no other role on the pitch.
Phillips lacks pace and his passing game — while probably better than many anticipated — is a long way off the likes of Virgil van Dijk, Joe Gomez, and Joel Matip — is fairly rudimentary.
Kabak, meanwhile, has a tendency to try to be too aggressive — in the manner of Dejan Lovren — and this can expose the team and leave gaps in the defensive line. The Turk can also be slow over the first few yards, but, like Emre Can before him, or — most pertinently — Harry Maguire he can build up a head of steam and move quickly over long distances.
However, when assessing Liverpool's options — despite their imperfect skillsets — the Turkey international and the towering Englishman are the best combination that Klopp can cobble together at the time of writing.
Aerially, both Kabak and Phillips, especially in the case of the number 47, are both dominant and this is a huge trait to have considering the Reds' style of play. With their well-orchestrated press, most teams are unable to consistently maneuver the ball between the lines against Liverpool.
Instead, opponents will try to play long and over the top of the English champions' defence. That is why Kabak — with 4.03 aerial wins per 90, which sees him in the 94% percentile for defenders in this metric across Europe's top 5 leagues — and Phillips, who wins a gargantuan 5.77 aerial tussles per 90, which means, according to FBRef data, he is better than 99% of his defensive compatriots in the air.
Individually, Fabinho — with his positional intelligence and superb passing game — is a better and more suitable centre half than either of the youngsters, but the Brazilian is also the club's best defensive midfielder and his presence in the anchoring role can mitigate some of Kabak and Phillips weaknesses. Overall, the team is better with their Brazilian linchpin in the number 6 role, as Klopp calls it.
Restored to midfield against Leipzig, the Liverpool number 3 was sublime and provided the type of balance that has been sorely lacked increasingly in the engine room since he reverted to playing as a centre half in October after van Dijk's injury. Fabinho's positional sense snuffed out several Leipzig attacks before they could develop and his long legs and physical prowess helped the Reds quench danger on numerous occasions.
Ahead of him, Thiago — who made the most tackles and won the most duels, four and seven — and Georginio Wijnaldum, four duels won and one successful tackle, were defensively diligent and positionally astute and this prevented the Germans from having a quality of possession that could threaten the Reds' defence on a regular basis.
Going forward, Jordan Henderson, Naby Keita, and Curtis Jones — an ability he has learned extremely quickly — are adept at providing protection and coverage off the ball, so even when Liverpool rotate their midfield, which they will, their centre halves should be sheltered by the "line" of players in front of them.
Kabak and Phillips are far from perfect — and legitimate doubts about whether either has a future at Anfield have been raised — but, given their aerial prowess and the midfield that has been defensively bolstered by Fabinho's return to the engine room, they are the best pairing Liverpool can play from now until the end of the season.