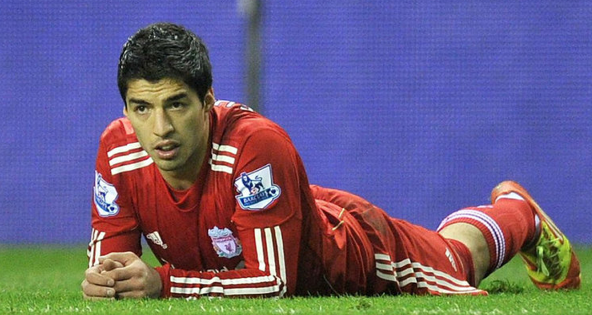 Luis Suarez Smear campaign in full flow | More Evidence
UPDATE: Sky have now announced Suarez as the winner of the 2011 Goals on Sunday Player of the Year competition.
Liverpool supporters have felt that there has been a smear campaign against Luis Suarez over the last few months.  There was more evidence of this last night with the Sky Sports Player of 2011 online poll.  Someone made a joke, on Twitter at about 9pm that Suarez was so far ahead (I think it was by about 15% at this time) that maybe we should do some screen shots in case Sky rigged it because they would not want a "Racist" player winning.
Sky officially announced that voting would close at Midnight on Thursday.  But even at 1AM, votes were still being allowed.  Ben Shepard, who is to present the award tweeted that there had been a technical issue to "explain" why users could still vote after midnight.


From about 23:00 onwards, I was getting frantic tweets from LFC fans saying they could not vote for Suarez and that they just got a white screen.
So I then tried it myself on another browser, my iPad, iPhone, Wife Laptop (and 4 browsers on that) and her phone. When I clicked on Suarez, I got a white screen!! But I clicked on Modric (he had 0.3%), the vote seemed to process because when I then tried to vote again, it said I had already voted!!
Please note that I had NOT used these devices and their IP addresses to vote before. My iPad and iPhone use a separate IP address to the home connection and I used my neighbour's connection (with their permission) for my wife's laptop.
So I did the same in this mode, tried to vote for Suarez and again I got a white screen. So I kept pressing back and then vote about 50 times, the vote eventually went through. I tried to vote again and it said I had already voted (the cookie gets stored for that session only). So I closed the incognito window and did the same, same result.  Many Twitter users who had NOT voted previously, said that they had the same problem – from about 10PM onwards I was getting tweets concerning the inability to vote for Suarez.
So I thought I better video this, so I did this video at about half past 11
So to create my video, I used Chrome and clicked the spanner in top right, then opened a new incognito window. This opens a window which has no cookies and stores no history information, in effect it is "cover your tracks mode".  I did this because the screen shots I had taken showed all my tabs open and did not want the video to look messy.  I had not used this device to vote before trying to do the video and again was using a different IP address of my MiFi.
I also took over 40 screen shots in the lead up to the "end" but these ones are the ones which are more near the "end" time:
Screen Shot 2011-12-22 at 22.59.34.png
Screen Shot 2011-12-22 at 23.08.36.png
Screen Shot 2011-12-22 at 23.13.24.png
Screen Shot 2011-12-22 at 23.15.42.png
Screen Shot 2011-12-22 at 23.21.31.png
Screen Shot 2011-12-22 at 23.56.17.png
Screen Shot 2011-12-22 at 23.59.12.png
Screen Shot 2011-12-23 at 00.22.18.png
Screen Shot 2011-12-23 at 00.55.38.png
With my screen shots, they get automatically uploaded to the cloud, so there is NO WAY of editing them before they get uploaded, the makers of the app can prove that. The same screen shot also gets auto saved to my desktop on my Mac.
Many people told me that the voting was meant to close at midnight, the SkySports official notice was the same.  I personally did not even know about this vote until yesterday and normally would not care about SkySports' Polls but if they are rigging it, I care that they are doing this.
Sky need to answer why there have been issues with voting for Luis Suarez. I myself have seen at least 500 tweets about it and people have said the same thing as me, that they get the white screen. But I helped a few saying to use chrome incognito mode but it is not a fair vote if people can vote for other players very easily and not having to click 50 times for the vote to go through, and even then we are not totally 100% sure it has been processed.
I know that some fans have tried to cheat the poll (for Liverpool, Manchester United and other teams) by manipulating the cookies and other things. This is NOT about that. It is about why Sky have stopped peopple voting for Suarez and NOT other players.  If there are duplicates, then fine, remove them. It will be easy for them to find votes made by a particular IP address, sure it would take time but it would be easy to do.
People need to know about this, so tell your fellow fans that this vote was not a true vote.
Here is the the original video file if people wish to download and pass it on www.anfieldforum.com/suarez-vote.mov

We Liverpool fans have an undeserved reputation for "moaning". I am not moaning, I am highlighting an issue so that people know about it.  There has been a campaign in the media this week about Suarez and we need put our side across.
EDIT: A few minutes ago, Sky have announced that Luis Suarez has won the vote and he will be announced as such on Sunday. I hope they do the same with the other Poll which was meant to close at midnight but did not.  I wonder if Sky would have done this if it was not highlighted so well on Twitter? They have made reference to the fact that Ben Shepard and Chris Kamara not having anything to do with the poll – they were bombarded with Tweets asking what happened to the poll!!  http://www.skysports.com/tv_show/story/0,20144,12384_7393506_12384,00.html

At least Sky are now showing they are doing the right thing which is a start. The rest of the Media need to wait until the FA release their report before their headlines of "Racist" Suarez continue. They have not written anywhere near as much about John Terry but that might be because there is an actual ongoing legal case…