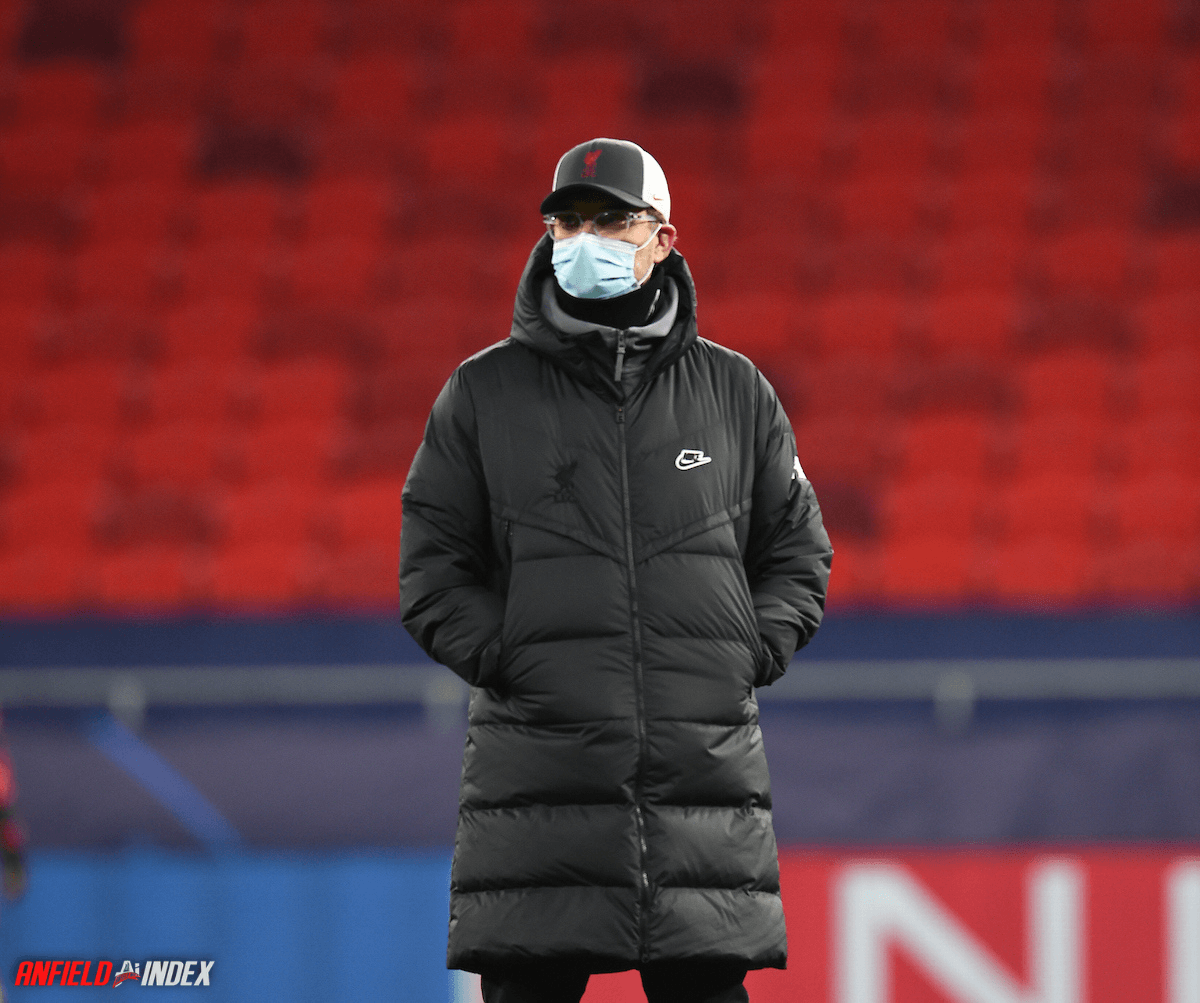 Tactical Breakdown: Liverpool 2-0 RB Leipzig
Liverpool won 2-0 in their "home" leg in Budapest against RB Leipzig to progress to the quarter finals of the Champions League. The victory in both result and performance was similar to the first leg, with the Reds creating a number of big chances, but Leipzig not managing to convert any of theirs either.
Fabinho returned to the midfield, in the most significant change to Liverpool's line up – he was supported by both Thiago and Gini Wijnaldum. Ahead of them was a front three of Sadio Mané, Diogo Jota and Mohamed Salah, with Roberto Firmino absent due to injury. In defence, Alisson Becker was supported by Trent Alexander-Arnold, Nathaniel Phillips, Ozan Kabak and Andy Robertson.
Liverpool's system was fairly typical – a 4-3-3, with a no.6, two no.8s a false 9, inverted wingers and advanced fullbacks heavily involved in possession. However, the personnel changes made a significant difference to how effectively the Reds were able to play their game. The reintroduction of Fabinho into the side at no.6 made a big difference to how the midfielders ahead of him were able to play, and his defensive presence was underscored because of Leipzig's style of play.

Leipzig's system, like in the first leg, was a 3-1-4-2. Over the course of the match this changed, and when in possession, the German side flitted between a 2-3-2-3 structure and three at the back.
As mentioned in the analysis from the first leg, playing three at the back against Liverpool is a dangerous tactic, as it can mean Liverpool's forwards can go man-to-man when they press, or when they attack with the ball. It also means that if the wingers position themselves on the outside of the left and right centrebacks, they can essentially compact the back three and also have the false 9 free to drop deep, and facilitate passes into the wide channels, where both Mané and Salah excel in one-on-one situations and footraces.
Much like the first leg, both teams looked to press high and aggressively. In order to press high, a team needs to compact the field – both sides did this by pushing their defenders up into high positions – the risk here is that it can leave the team that's applying pressure susceptible to counterattacks through direct long passing. Leipzig attempted this but were foiled: Fabinho as the no.6 screened and intercepted multiple passes that were set to release the Leipzig forwards. Consequently, Leipzig attempted to fire aerial balls into their forwards, but this played to the strengths of both Phillips and Kabak, who won the aerial duels, and Fabinho mopped up the second balls.
Liverpool's direct play was facilitated by an exceptional on-ball performance by Thiago. His press resistance and ability to move the ball forward quickly allowed Liverpool to break at speed, and carry the ball forwards as they attacked – which is much harder to defend than a team playing more static football in the final third. The Reds also rotated across the front three, with Jota dropping deep and swapping with Mané, making it harder for Leipzig to track and defend against them.
Central to Liverpool's performance though was the press, and in particular, the counterpress. The Premier League champion's play was direct and forward-thinking, and this meant that there were a number of times in which possession was lost – however, in these situations, the front three – supported by a midfield that was confident they could press and not leave the defence exposed, due to Fabinho's presence – pressed whenever the ball was lost, forcing turnovers or preventing Leipzig from playing the pass into the forwards, so they could attack the centrebacks.
Liverpool's pressing was key to their performance, and managing Leipzig's threat. Rather than Leipzig's direct balls forward being a strength, it was turned into a weakness. Situations that could have been opportunities to break at speed into space outside the fullbacks became "uncontrolled" situations according to Jürgen Klopp, who praised how well his team pressed.
For the most part, Liverpool's press was really effective in preventing goalscoring opportunities for Julian Nagelsmann's side, however, in the Champions League it is near impossible to prevent sides of such good quality from creating chances, and in the moments Leipzig did break through in the first half, either Alisson stepped up, or Leipzig's forwards disappointed. Either way, the German side made chances that they will feel very annoyed that they did not score, and which could very feasibly have turned the flow of the game.
The gamestate, with Liverpool holding a 2-0 away goals lead, put all the pressure on Leipzig to score. Consequently, Liverpool did not hold a majority of possession, and played on the break where they could, and did not particularly focus on developing complex possession structures in the final third to exert sustained on-ball pressure.
Leipzig attacked predominantly down their left side with Nkunku not encumbered with defensive duties. His advanced position was an attempt to draw Alexander-Arnold away from Phillips, so the they could isolate him and break into the box. Liverpool's compact shape, Alisson's sharpness and Leipzig's struggle to consistently link up effectively in the final fifth, meant they could not score.
By half-time, in terms of chances, shots and touches in the final third, the game appeared fairly even, with Leipzig probably deserving a goal. The full-time non-shot xG figures reflect this too, with Liverpool accumulating 0.9 non-shot xG, and Leipzig making 1.3 over the 90.
Liverpool's off-ball 4-5-1 shape proved resistant to Leipzig's attacks in the second half, and whilst a double change which saw Kluivert and Hwang come on livened the German side up, while Klopp's team still appeared comfortable enough with their two goal lead. As the game moved beyond the 60th minute, the impetus to score still lay with Leipzig, who were already taking risks and leaving themselves exposed – and due to some poor finishing, the scores were somehow still level.
A wonderful flowing break, with constant forward movement saw Liverpool score their first and put the tie to bed, showing signs of the attack that made it to two consecutive Champions League finals. Salah claimed the goal, and was assisted by Jota – a promising sign, given the team's barren goalscoring form in the league. A second followed shortly after, with Divock Origi providing the assist for Sadio Mané. The volume of big chances in this game, and the quality of them was distinctly different to the pattern of play in the past two league matches. In many ways this is a product of the Champions League style of play – Leipzig are an attacking, risk-taking team that offer a lot of opportunities to press, with Premier League opposition that is far less likely to be the case.
This was undoubtedly one of Liverpool's better performances this season. Much like the first leg, Nagelsmann will be annoyed his side did not score given the opportunities they made, and especially as those chances came early in both matches, there is no telling how that could have affected play. At the same time, Klopp will also be pleased that one of the best sides in Europe only created 1.9 xG over two legs, whilst his mis-firing side managed to create a huge 4.3, against one of the best defensive sides in Europe.
The contributions Fabinho and Jota made certainly uplifted the team, in particular Thiago, who was able to play freely and affect the game much more proactively. Similarly, Alexander-Arnold, whose performances have been trending upwards over the past two months, again put in a strong performance, and was able to support Salah, safe in the knowledge that Fabinho's cover could give him license to join the attack.
Since January, Liverpool's performances have generally been good. The exception to this were the two most recent league games, against Fulham and Chelsea, where the side actually struggled to create chances. However, this is a welcome return back to good process and decision making, paired with some goals (for once!). The barren goalscoring run will inevitably come to an end, but if the side can create a high volume of chances as they did in this game, it's inevitable that more goals will come. Playing against a forward-thinking pressing side is a very different prospect to facing a low block, but perhaps the addition of Fabinho to midfield may help mitigate the ability of low block sides being able to counterattack with long balls, and may finally allow them to exert some control in the final third with sustained possession. In this topsy turvy season there are no certainties though, but it does appear that the worst is over, perhaps there is some good to come.