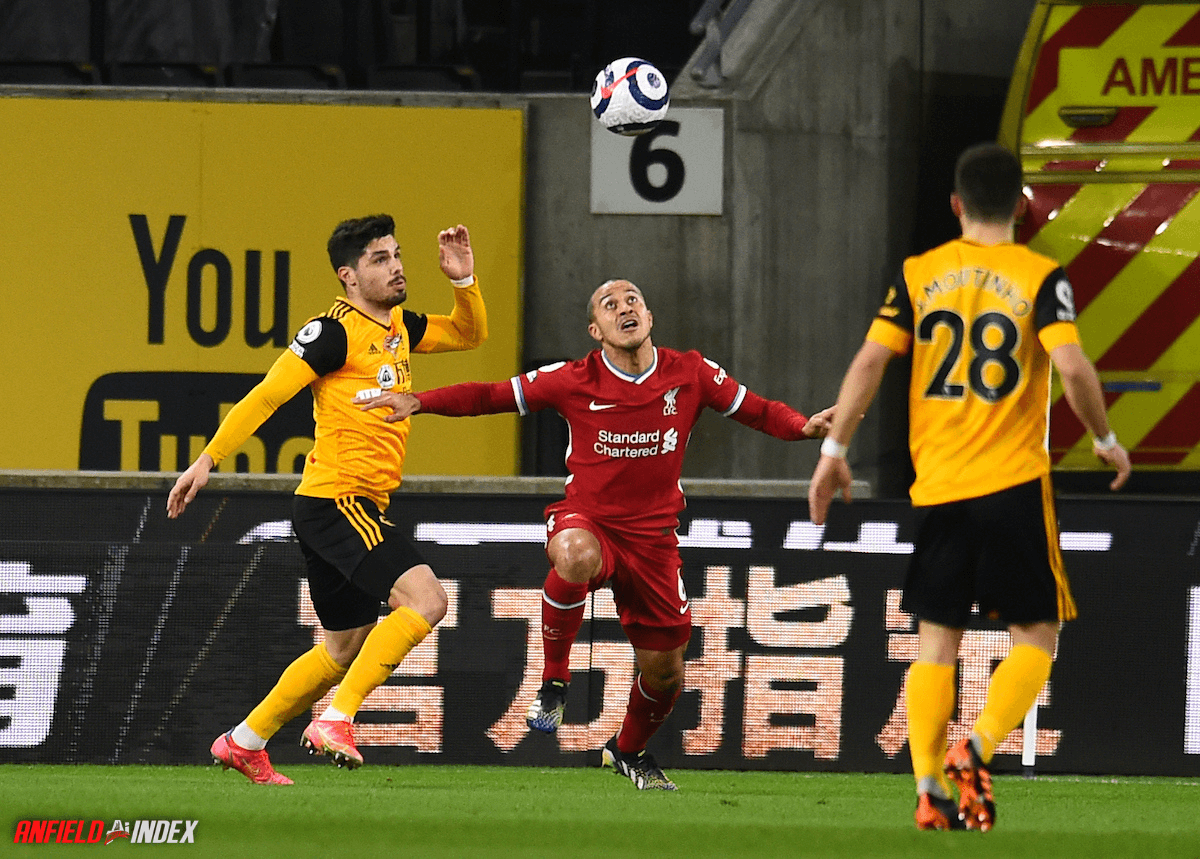 The truth about Thiago and his pressing
The arrival of Thiago was supposed to give Liverpool a Plan B. The fear was that the opposition would soon find a way to limit the influence of the full-backs and that the Reds might get found out. However, injuries and Covid robbed Jurgen Klopp of his No.6 for the best part of half of the season. To complicate things even further, Thiago's involvement with the first-team coincides with the Reds having their worst run of form under the German manager. 
Initially, he was accused of slowing the game down too much. To put it bluntly, that was a laughable suggestion. If anything, he was too quick for his team-mates. There have been a number of times where the midfield maestro has fired a pass into feet and players have been caught on their heels. 
To say he was slowing play down was just utter nonsense. 

The latest accusation is that Thiago's understanding of Klopp's counter-pressing demands is still falling short of his team-mates and that he's not at the same level as Jordan Henderson, Gini Wijnaldum or Fabinho. This was in an article by The Athletic and many Liverpool fans jumped to the defence of their midfielder. 
You had people saying it was silly to suggest a player who spent time under Pep Guardiola, Luis Enrique and Hansi Flick didn't know how to press. You then had people using stats to showcase his defensive numbers this season. 
Right, get Fabinho back into midfield so Thiago isn't having to do as much defensive work. pic.twitter.com/lPIfZsLWnA

— Sam McGuire (@SamMcGuire90) March 5, 2021
The issue is a player can have decent defensive numbers and still struggle with the demands of a pressing system. Both statements can be true. After all, defensive numbers showcase how busy a player is, they don't necessarily show how effective they are. 
Thiago might make a number of tackles and interceptions. He might rank relatively well for pressures, too. But all of these stats require context. For example, he'll have a high number of pressures in the middle third because Liverpool have a high defensive line and he's tasked with engaging the opposition in that part of the pitch to allow the Reds to pin opponents back. 
There's a reason for the defensive numbers. With Klopp's side struggling, players have been a lot busier than usual. This will have directly had an impact on the team's press. 
Liverpool are at their best when they're compact. They suffocate the opposition and dictate the space. The key to that is their high defensive line. Virgil van Dijk was a colossus in the air and on the deck and you'd struggle to find centre-backs who could beat Joe Gomez in a sprint. Patrolling ahead of them was Fabinho. 
In a recent interview with SportsBible, Nat Phillips heaped praise on the Brazilian. It was his first start in midfield since October and he seemed to make things easier for the centre-backs. 
"It made our lives so much easier having him back in front of us just hoovering absolutely everything up. There were so many occasions where the ball looks like it's heading to the striker's feet and you're getting yourself set thinking 'I'm going to have to deal with this one here' and he just flies straight across the front of you, sticks his long leg out and deals with it." 
Mopping up is Fabinho's natural game. He's used to covering the width of the pitch and his reading of the game is second to none. Thiago is different. He's world-class at what he does, but he isn't Fabinho. He's permanently on the front foot trying to make something happen. He's also used to dominating smaller areas of the pitch. At Bayern, he was deployed in a two-man midfield and there was a No.10, meaning his part of the pitch was often the right side. Similar to what he was tasked with against RB Leipzig.
Perfectly balanced. As all things should be. pic.twitter.com/093iUxHx6Q

— Sam McGuire (@SamMcGuire90) March 11, 2021
It's no coincidence that many thought it was his best performance in red. He was finally utilised in a way similar to how he was used while in Bavaria. This kind of links back to the earlier point. Thiago might still be adapting to the counter-pressing demands, purely because he's often been tasked with covering larger areas for Liverpool. It is different to what he was doing with Bayern. It doesn't mean he's bad. In an ideal world, he'd not be playing that role. Hopefully, with Fabinho back, he won't be playing it again. 
I think it was blown out of proportion because it was deemed to be another negative piece on Thiago when it wasn't supposed to be criticism. I guess what I'm trying to say is the Liverpool midfield is a tough place, it's even tougher when Fabinho is out. 
Thiago will get to do Thiago things now, though.