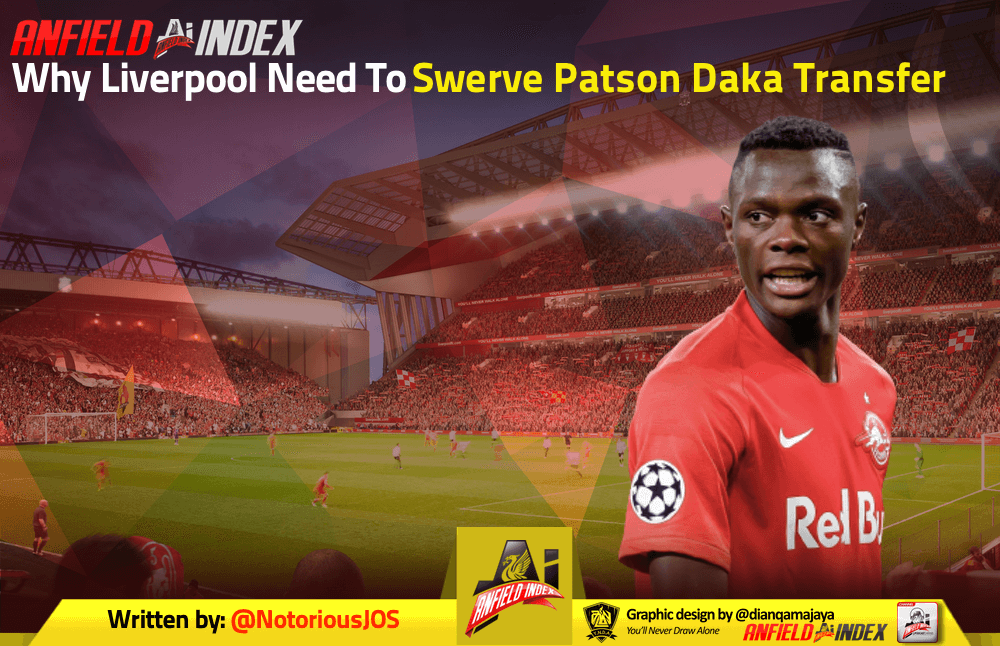 Why Liverpool Need To Swerve Patson Daka Transfer
The transfer rumour mill is about to ramp its intensity in the weeks and months to come.
Liverpool has been linked to several players already, with the forward position the area where the bulk of new player speculation has been focused.
Patson Daka is a name continuously mentioned in the same breath as the Reds. The 22-year-old Zambian international has been in sublime form for RB Salzburg this season, notching 20 goals in 18 Austrian Bundesliga appearances.

However, despite Daka's clear talents and the potential to — at only 22 years of age — further improve with time, Jurgen Klopp and his recruitment staff would be better served to look elsewhere for reinforcements for their forward line.
At the time of writing, all but four of Klopp's signings as boss at Anfield — Marko Grujic, Kostas Tsimikas, Takumi Minamino and Ben Davies — have been directly from clubs in Europe's top 5 leagues or from teams who played the previous season in the top flight of their leagues, such as Georginio Wijnaldum, Andy Robertson and Xherdan Shaqiri.
None of Grujic, Tsimikas or Minamino has made the grade at the club so far, although it could be argued that they weren't given a fair crack of the whip and given the game time to improve. But this is the crux of the issue; the players need to be ready upon joining the club to make an impact almost immediately.
To polish their skills, players need game-time, but Liverpool — notwithstanding their injury afflicted position in the Premier League table — are a brilliant team and a player will need to be at a world-class level, like Thiago Alcantara, to elbow their way regularly into the first team.
Given the German has signed 28 players since 2015 — including youth prospects — that represents only 14% of his signings coming from lower or non-top 5(Spain, England, Germany, France and Italy) leagues.
The Reds like to see players tested at a high level before pulling investing in them. By all accounts, the club was well aware of the talents of Sadio Mane, Naby Keita and Virgil van Dijk — both Mane and Keita played in Austria for Salzburg and van Dijk was at Celtic — but opted not to buy them immediately.
Instead, they let them move to an interim club — in these cases, Leipzig and Southampton respectively — where they could develop. Then, clearly satisfied by their developments, Liverpool followed through and signed the trio. That's not disrespecting these leagues, but a realistic assessment of where they stand in the European football foodchain.
People may argue that a better course of action would be to cut out the middle man and sign the players directly, but would they be the same players without the years they spent learning their trades elsewhere? Would they be able to handle the increased scrutiny and pressures of playing in a bigger league and with a more prestigious club? It seems doubtful.
Financially, it clearly would have been cheaper for Liverpool to sign van Dijk — who cost £13 million when we swapped Glasgow for England's south coast — directly from Celtic but there would have been the nagging doubt about whether he could make the transition from the Scottish league to the English club.
From the club's perspective, it would be a gamble to take a punt on a player over who they had initial reservations. What wasn't risky, however, was making the Dutchman the then world's most expensive defender in a £75 million deal because he had built a strong back catalogue of evidence that he could not only cope but flourish at the highest level.
Data could well fall into the same category. The Zambian is filling his boots at the Austrian league level — scoring 44 goals over the course of the last season and a half — but Liverpool, judging by their recent history, would rather see how he fared in France, Italy, Spain, Germany or England before committing to sign him.
Signing the 22-year-old, who reportedly is available for £17 million, now would be cheaper but, in the long run, signing a £40 million performer is less costly — and less risky — than taking three punts on £15 million players.
With their fantastic record in the transfer window, it's hard to argue with Liverpool's strategy and they won't break away from it any time soon, especially if they are not in the Champions League next season and have lesser scope to take gambles.