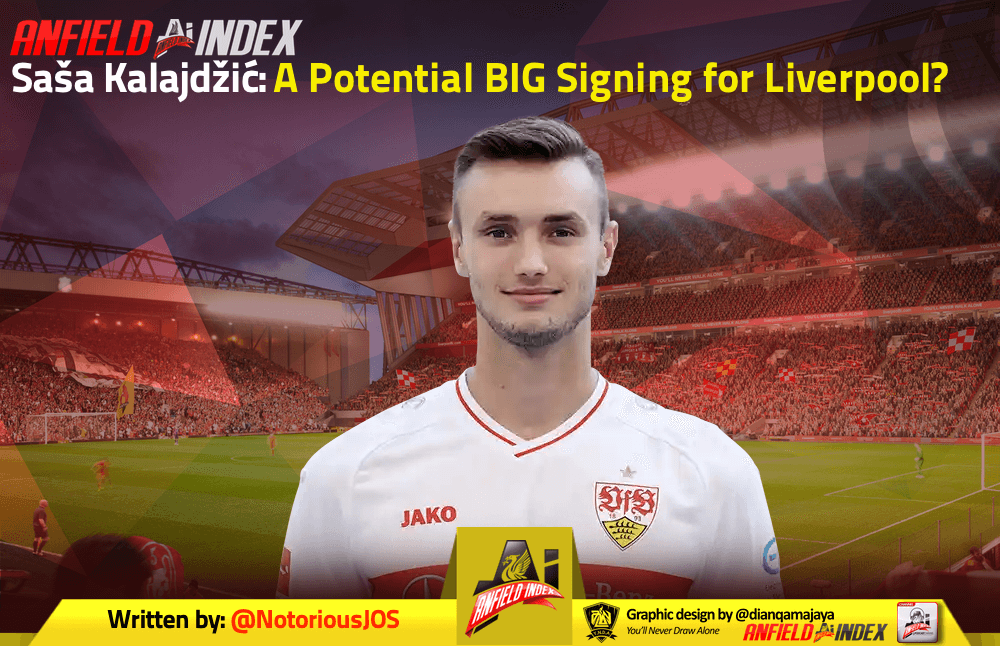 Saša Kalajdžić: A Potential BIG Signing for Liverpool?
By all accounts, Liverpool will focus much of their transfer efforts this summer on signing a forward.
With question marks over the futures of Xherdan Shaqiri and Divock Origi, the Reds seem primed to recruit a squad player who can compete with — and not replace — Roberto Firmino, Mohamed Salah, Sadio Mane, and Diogo Jota.
Several players have already been linked to the Anfield team with Leeds United's Raphinha — who, as a wide attacker, would be a continuation of the policy that saw Liverpool sign Mane, Salah, and Jota — perhaps the players whose name that has been mentioned in the same breath as the nineteen times English champions most often.

However, in signing Stuttgart's Saša Kalajdžić Liverpool could give themselves a new tactical dimension and approach that could add variety to their attacking arsenal.
The towering Austrian — who stands at a lofty 6'7", the same height as Peter Crouch — has been in superb form for the Die Rotten this season. He has scored thirteen Bundesliga goals in 25 appearances and has laid on a further three goals for team-mates.
When analysing Liverpool's forwards stock, they have every variety of attackers, barring an aerial brute who can regularly and efficiently attack crosses in the air. Jota, Mane, and Salah are all adept at playing on the last shoulder and running in behind the opposition defence or cutting in from wide areas onto their stronger foot and shooting. The trio is also well capable of dropping deep and linking the play, a trait that they don't get enough credit for.
Firmino, meanwhile, is a facilitator who drops deep and manipulates opposition defenders in order to create space for his goalscoring comrades.
Kalajdžić, 23, doesn't have the pace or the technical qualities of the current Liverpool forward options — not that he is slow or poor on the ball — but he comfortably trumps all of them when it comes to attacking balls in the air.
With six headed goals in Bundesliga alone this season, the Austrian international has comfortably outscored Mane, 1, Salah, 1, Jota, 2, and Firmino, 2, when it comes to aerial goals.
Although this season has understandably seen their output lessen, Trent Alexander Arnold and Andrew Robertson — Liverpool's first-choice full-backs — have redefined the expectations for full-backs when it comes to assists. With Kalajdžić potentially in the team, they would have a new route to exploit and this would give the team better flexibility and different ways of playing against "low block" defences.
Having a big man forward isn't an antiquated approach and isn't tantamount to a team starting to play unattractive route one football. Pep Guardiola — widely considered to be the foremost proponent of total football — for example, loves Peter Crouch and described the former Liverpool striker as such during the 2006 World Cup:
"He knows what he's doing, both with the head and feet. One of his best virtues is his link-up play. He knows he isn't just there for crosses into the box, he knows how to keep the play flowing. He gets the ball 1,000 times in the air and always keeps it. It seems simple but few strikers can and know how to do it. There are strikers who don't link up with others, and there are strikers that think their game is different from others, but then you'll have a stretched team. England has Crouch."
Arsene Wenger, another adherent of attacking, attractive football, consistently used target men in his latter days as Arsenal manager, with both Olivier Giroud and Emanuel Adebayor starring for the Gunners. With Giroud and or Adebayor, the North London club regularly defeated the lower half teams and consistently qualified for Champions League football, showing that bigger forwards — whose presence occupies defenders and makes room for their team-mates to play in — can sync well with a team who want to keep the ball on the ground.
It would be bordering on the kamikaze for a team to not close Alexander Arnold down and give him free rein to aim crosses at Kalajdžić, should Liverpool ever sign the Austrian of Serbian origin. Therefore, a player will need to commit to pressuring the right-back and, logically, this would open up space in the half-spaces for other players to exploit.
Jurgen Klopp's style of play requires players to be active and hardworking off the ball and Kalajdžić ticks those boxes. He averages 16.12 pressures — applying pressure to an opposing player who is carrying, receiving or releasing the ball — per 90 and this places him in the 77% percentile for this metric across Europe's top 5 leagues.
Red Bull Leipzig, well known for their assured judgement of players, have been linked with the twice capped Austrian recently, but Liverpool — with an eye on replacing Origi as the team's physical forward option off the bench — could do much worse than throwing their hat into the ring for the towering 23-year-old.