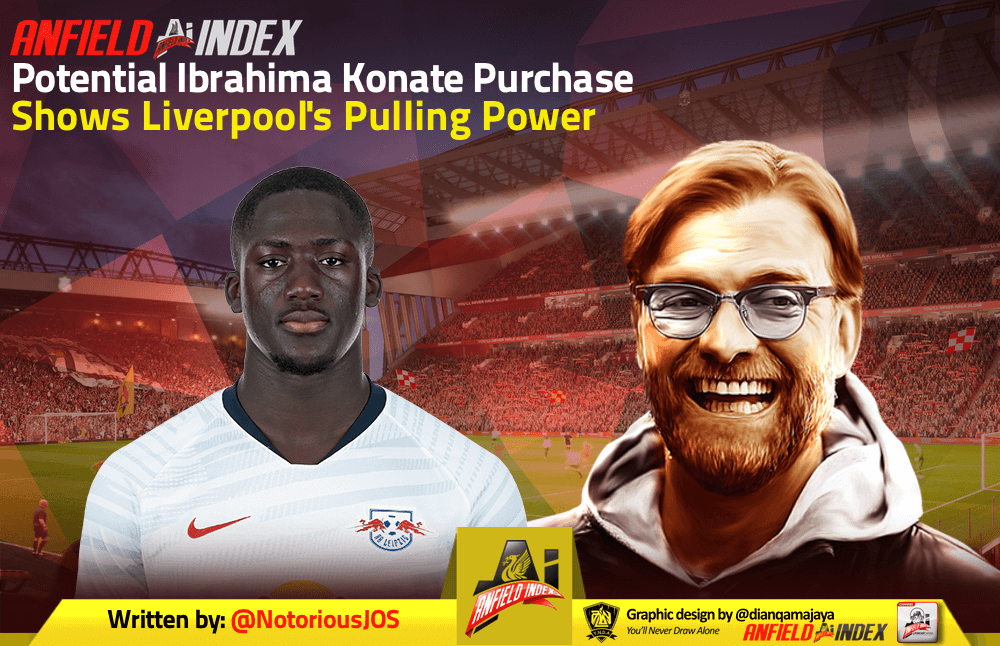 Potential Ibrahima Konate Purchase Shows Liverpool's Pulling Power

Liverpool will trigger Red Bull Leipzig defender Ibrahima Konate's €40M release clause before signing the Frenchman in the summer, according to reports from The Athletic.
The 22-year-old centre half is one of Europe's foremost young central defenders and any move for the 6'4″ stopper will represent a coup for the Reds, even if Konate has had his fair share of injuries in the recent past.
Should the transfer come to fruition — and, according to the report in the Athletic, it is at an advanced stage — it will be an indicator of Liverpool's pulling power in the transfer market, even despite their season potentially finishing disastrously.
The likelihood of the defending English Champions playing in next season's European Cup — which would require either a top-four finish in the league, a position in the ladder they are ten points off, or a Champions League victory — would have to be described as unlikely at this juncture.
Therefore, it is mightily encouraging that Liverpool can attract players of Konate's undoubted calibre even without the carrot of potentially competing in Europe's top-ranked club competition. You could take it as an endorsement of the Reds' future prospects and a recognition that this season — so unfortunately shrouded in unpreventable injuries — was a flash in the pan and that the cream will once again rise to the top when Jurgen Klopp is equipped with all of his playing personnel once again.
There was a school of thought that the Anfield club — shorn of the financial garnishing and prestige of taking their place in the Champions League — would have to cut their cloth accordingly and shop in a different market if they qualified for the Europa Leauge or finished out of European contention altogether. However, any signing of the French U21 international shows the allure of representing Liverpool, regardless of what European competition they ply their trade in the following season.
Not finishing in the English top four leads some to question whether the Reds could retain their top talent next season, but — with the exception of Mohamed Salah — none of their regular starting players have been linked with moves away. Besides, with cash flow likely to be limited as European football looks to lick its financial wounds after the global pandemic and its associated cutbacks, you could count the clubs on one hand that would able to afford to sign — and also attract — the six times European Cup winners' top talent. Just ask Barcelona, Liverpool are tough negotiating nuts to crack.
In the summer of 2016/2017, Manchester United — without Champions League football — signed Paul Pogba, Zlatan Ibrahimovic, and Henrikh Mkhitaryan. As United purchases invariably tend to do, these purchases didn't work out well — with  Mkhitaryan an unmitigated bust, Pogba still inconsistent five years later and only Zlatan a real success — but it went to show, big clubs can still attract big players if they put their money where their mouth is.
It also makes a broader point. Should Liverpool not win the European Cup or finish inside the top four, their route back to the Champions League won't be to not spend. Yes, the Reds' lot will improve when their squad is replenished with their injured personnel returning, but there are areas of the squad — especially centre half — that need strengthening.
The signing of Konate shows that the Reds don't intend to take a long holiday, if at all, from Champions League football.