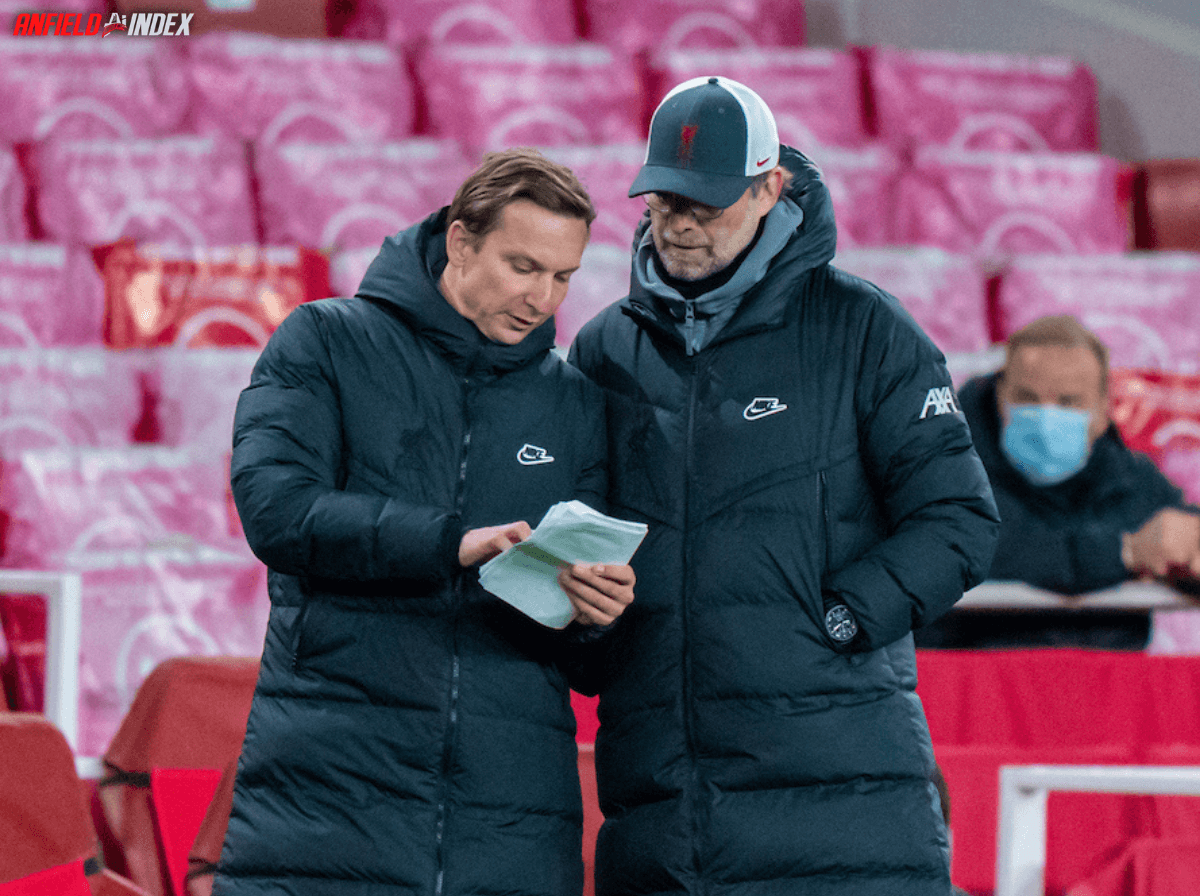 Tactical Breakdown: Arsenal 0-3 Liverpool
Liverpool won 3-0 at the Emirates, to breathe life back into their hopes of redeeming their league campaign, with goals from Diogo Jota and Mohamed Salah.
Systems
Mikel Arteta's Arsenal set up in a 4-2-3-1 on ball shape, and a 4-5-1 off ball system.
Thomas Partey and Dani Ceballos were paired together in a double-pivot. Martin Ødegaard was deployed as the no.10, with Pierre-Emerick Aubameyang and Nicolas Pépé either side of him. Alexandre Lacazette played up top.
Jürgen Klopp's side used their typical 4-3-3.
The defensive five was unchanged with Alisson, Alexander-Arnold, Nat Philips, Ozan Kabak and Andy Robertson all starting. In midfield, Fabinho featured as the no.6, supported by both Thiago and James Milner. Ahead of them were Sadio Mané, Roberto Firmino and Mohamed Salah.
Arsenal were set up to be compact centrally, apply pressure across the front to prevent passes into midfield, and look to counter attack though utilising the pace of Pépé and Aubameyang in the wide areas and combining with Lacazette in the area.
Liverpool's system was slightly tweaked. Instead of pressing heavily in groups across the front, most of the pressure applied to the Arsenal back line was done by individuals. Klopp's side were looking to prevent Arsenal having the opportunity to pass into both Aubameyang and Pépé, and to do this, they used Firmino to block passes into Partey and Ceballos with his cover shadow. This forced the Arsenal centrebacks to either pass into their fullbacks, or back to Leno, all of whom would then play a long pass. When Arsenal played these long passes, the visitors seized upon them and counterpressed the second ball, making sure to win back possession and stop the home side from moving up the pitch.
Game
The opening ten minutes of the match were open, as both sides looked to settle into a rhythm. Neither side was in control and neither created any clear-cut chances.
After this loose start Liverpool began to exert control of the game.
Lacazette and Ødegaard looked to create a front two shape, in order to stop the Liverpool centrebacks from passing into Fabinho. However, when this happened, Thiago or Milner would also move into a deeper position, supporting the centrebacks and creating a box with Fabinho to play around and through the Arsenal press.
Once the champions moved beyond the Arsenal press, both Alexander-Arnold and Robertson moved up the field. As they moved up, they pinned both Aubameyang and Pépé back: this constrained Arsenal and, crucially, suppressed their counter-attacking threat. The Liverpool fullbacks were able to move up because of the work of the midfield. Whenever Alexander-Arnold moved forward, Thiago would drop into the right half space and provide cover, likewise Milner on the other side. The fullbacks' high position allowed both Salah and Mané to move centrally and receive possession in the box.
The fullbacks also facilitated Liverpool being able to build possession structures in the final third and fifth of the pitch – this meant that the visitors could sustain pressure over a number of minutes, wearing out the Arsenal defenders as they probed for an opening. As both Aubameyang and Pépé were pinned back by the fullbacks, this meant Arsenal did not have an easy "out" ball to release pressure and counterattack.
This on-ball setup was the main reason Arsenal struggled to contest the game.
The excellent counterpress from Liverpool meant that moments of respite for Arsenal were few and far between. Combined with Liverpool's quick throw-ins and free kicks, the Gunners were under significant pressure during the first half.
Thomas Partey looked good as he tried to break through the Liverpool press where possible and both broke up play and pass forward, but he was rarely used. Plus, the home side's opportunities to break were limited, and when they did break, the attackers were outnumbered quickly.
Despite the Reds' dominance, they did not create a big chance during the first half with a number of promising opportunities fizzing out, with poor touches, bad execution or slightly underwhelming decision-making.
The second half saw Arteta adjust his tactics, with Ceballos brought deeper to support the centrebacks with buildup. However, Arsenal were still unable to pass into their wingers and counterattack, and with one fewer body in midfield, the Reds were quickly able to establish dominance, and it was not long before Ceballos was substituted.
Klopp's first change saw the introduction of Diogo Jota, in place of Robertson. The shift to a 4-2-4, which when in possession was more of a 2-3-5, completely overwhelmed the Arsenal defence.
As the two still images from Jota's first goal show, Liverpool were able to commit an extra player in the box permanently, which gave the other forwards the opportunity to move deeper and run into space unmarked.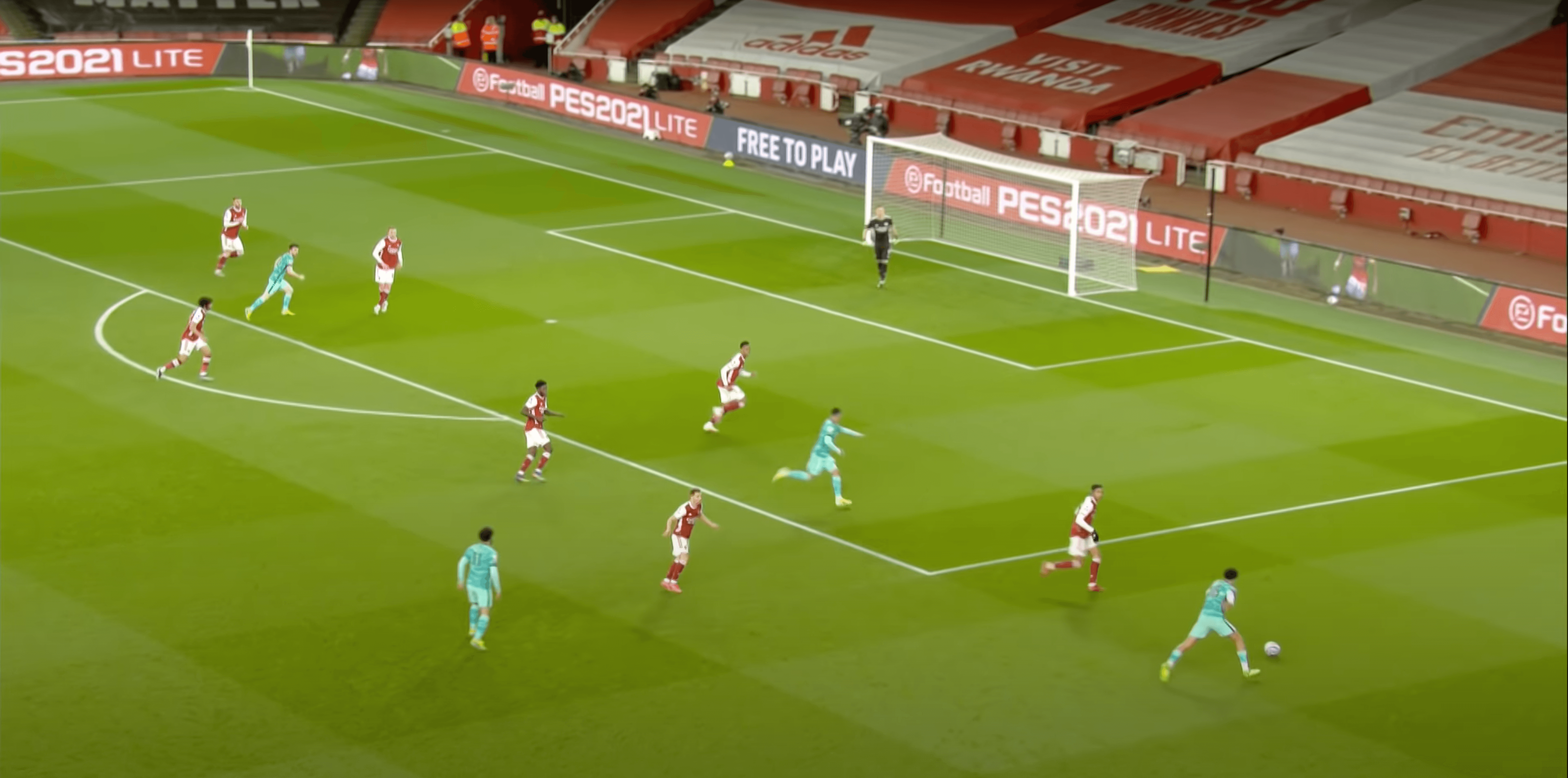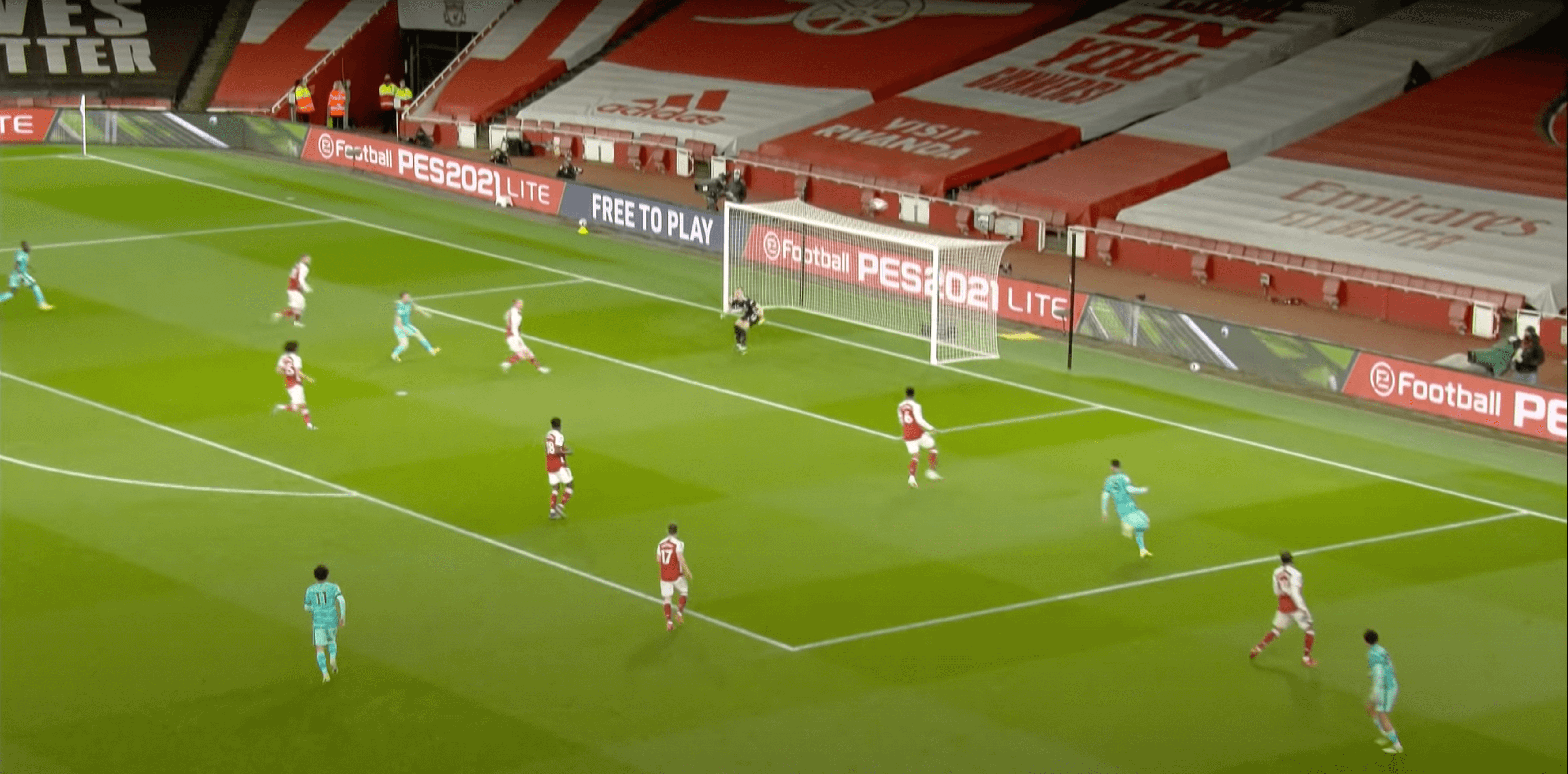 The first goal handed the game state advantage, and as the last four years have shown, when Liverpool have that advantage, and are able to play early passes in behind to the wingers, as the opposition side looks to push up as they chase the game.
Mohamed Salah did so deftly, as the Reds built up on the right side, with Alexander-Arnold passing to Fabinho, who was able to play a first-time pass in behind for Salah to run onto. The Egyptian was able to isolate Gabriel, break past him and then cooly nutmegged Leno to double the champions' lead and secure the victory.
Tactically, the game was settled as a contest. Liverpool scored a third, as they capitalised on a very poor pass out from the back. Alexander-Arnold pressed and won the ball, before Salah passed into the box, with Jota hammering home after Mané's touch.
A fourth and fifth could have followed, with Salah able to break into space on two occasions, and Mané missing a headed chance supplied by Alexander-Arnold. Whilst the forwards could have helped themselves to a few goals against a disheartened Arsenal side, the tactical supremacy of Liverpool was established by the tireless, metronomic and efficient work of the midfield and fullbacks. They snuffed out any opportunities for Arsenal with their counterpressing and positioning, denying any easy passes into the forwards. This was a complete defensive display from the front, demonstrating the enormous defensive value of pressing – a system that is regularly seen as an offensive tool.
This was one of the Reds' strongest performances in recent months, but Arsenal's struggles should also be taken into consideration too. Their fear of passing centrally and nervousness to permanently position Aubameyang or Pépé in high and wide positions made a tough contest near impossible. In giving Alexander-Arnold and Robertson the ability to stay high up the field, and Thiago and Fabinho time on the ball, it was only a question of when Liverpool were going to get one of their attacks right.
Liverpool play Real Madrid next, at the Bernabeau, in what promises to be the most interesting tactical encounter of the Champions League quarter finals. Meanwhile, Arsenal have until Thursday to prepare for their Europa League tie against Slavia Prague.