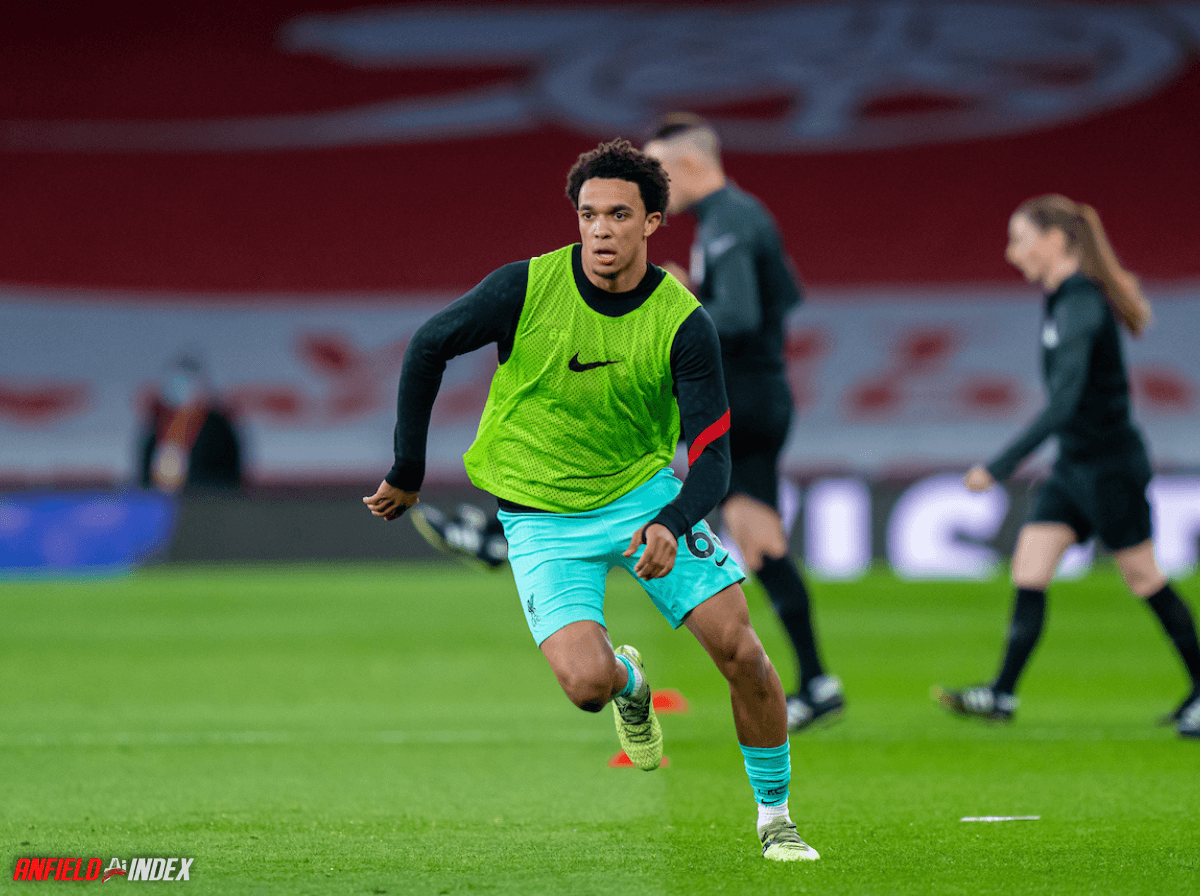 The Trent Alexander-Arnold Myth
It's 2021 and people are still claiming that Trent Alexander-Arnold can't defend. It is beyond boring now and is arguably one of the laziest narratives in world football. 
It all stems from that match against Manchester United when Marcus Rashford scored twice. 
People always overlook the fact that Dejan Lovren allowed Romelu Lukaku a free header after initially tracking him into the midfield area. They tend to ignore that Alexander-Arnold was left one-on-one with Rashford with a lot of space to cover. Could he have been switched on more? Probably. But the United man has the pace advantage and it was his quick feet that allowed him to cut back onto his stronger foot when the Liverpool No.66 was showing him onto his left and curl an effort past Simon Mignolet. 

That goal is always the one used to justify the claim that Alexander-Arnold is a bad defender. That was during the 2017/18 season. Since then, the 22-year-old has been a key part of a Liverpool side that reached back to back Champions League finals and won the Premier League title. He's been targeted by some of the best wide forwards in the world and he's come out on top. His performance against Leroy Sane in the Anfield leg of the Champions League tie was one of the best by a right-back in recent memory.   
Alexander-Arnold's form has been a topic of debate recently after Gareth Southgate left him out of the England squad. If this was for tactical reasons then fair enough, I'd rather he didn't shoehorn him into a starting XI. If he came out and said he's playing a back five and due to not having much time with the players, he wants those who have experience playing at wing-back, the feeling would be much different. 
But to claim his form was the reason behind his omission is just bizarre. Granted, he's not been at his very best this season, a lot of context needs to be applied. For example, Liverpool's injury crisis meant he's played alongside about eight different centre-backs and he's had to tweak his game to cover for them. His attacking numbers, at least the headline ones, have suffered because two of the front three are struggling. It isn't his fault that Sadio Mane and Roberto Firmino aren't converting chances. 
Alexander-Arnold finished with an assist against Arsenal, but it should've been more. It's why assists aren't necessarily the best way to judge creativity. 
What can you really say about *this*? Trent could've easily finished with a hat-trick of assists. pic.twitter.com/h63s91PWR9

— Sam McGuire (@SamMcGuire90) April 4, 2021
Alexander-Arnold's expected assists average of 0.20 is down on the 0.29 he posted last season. However, all of his defensive numbers are up. Just because certain numbers aren't the same as previous seasons doesn't mean he's in bad form. There's usually a reason for it, you just have to look at the bigger picture. 
Furthermore, only three full-backs have a higher expected assists total this season. Back to the actual point of this piece, though. 
On the most recent edition of Monday Night Football, Gary Neville offered up reasons why Southgate might not include Alexander-Arnold. He flagged the number of goals conceded by the Premier League champions down their right-hand side, but didn't actually look at them in detail. Fortunately, Andrew Beasley did that for us. 
https://twitter.com/BassTunedToRed/status/1379131828838223875
Of the nine circled, four arrived in that freak game against Villa and two of those were deflections. Then there was the James Maddison free-kick. So, remove the set-piece and the Villa game and you're down to four goals. Liverpool have conceded four goals down Alexander-Arnold's this season. The same season he's suffered from Covid and played alongside multiple partners in defence, and that is supposed to be a huge issue? 
The Liverpool-born full-back isn't the best in the world, but he's not the worst, either. Far from it, in fact. Let's face it, Reece James isn't great in his defensive third and Kieran Trippier benefits massively from playing in a Diego Simeone system. 
The former was part of the Chelsea team destroyed by West Brom on Saturday. His odd pass actually resulted in the Baggies taking the lead just before the break. He was also dribbled past on three occasions. You also have to remember that Thomas Tuchel sometimes opts to play Callum Hudson-Odoi at wing-back and benches James, so it isn't as though his performances for the Blues have been flawless. 
Trippier didn't impress against Chelsea in the Champions League and was in no man's land for their opener having seen his cross cleared. He wasn't quick enough to beat Kai Havertz to the ball and then wasn't in a position to block Timo Werner's pass to Hakim Ziyech. You can't necessarily blame him but we've seen people use similar goals as a stick to beat Alexander-Arnold with. 
Defensive metrics are ultimately a poor thing to use when judging defenders. They rely heavily on volume so the busier players look like the best ones. Neville went on to say he wouldn't trust Alexander-Arnold to play knockout football despite him being instrumental at right-back in Liverpool beating the likes of Manchester City, Bayern Munich, Barcelona and PSG. He's played against the world's best in must not lose matches and more often than not he's been on the winning side. 
Alexander-Arnold not being a good defender is a myth and you're only lying to yourself if you think otherwise.