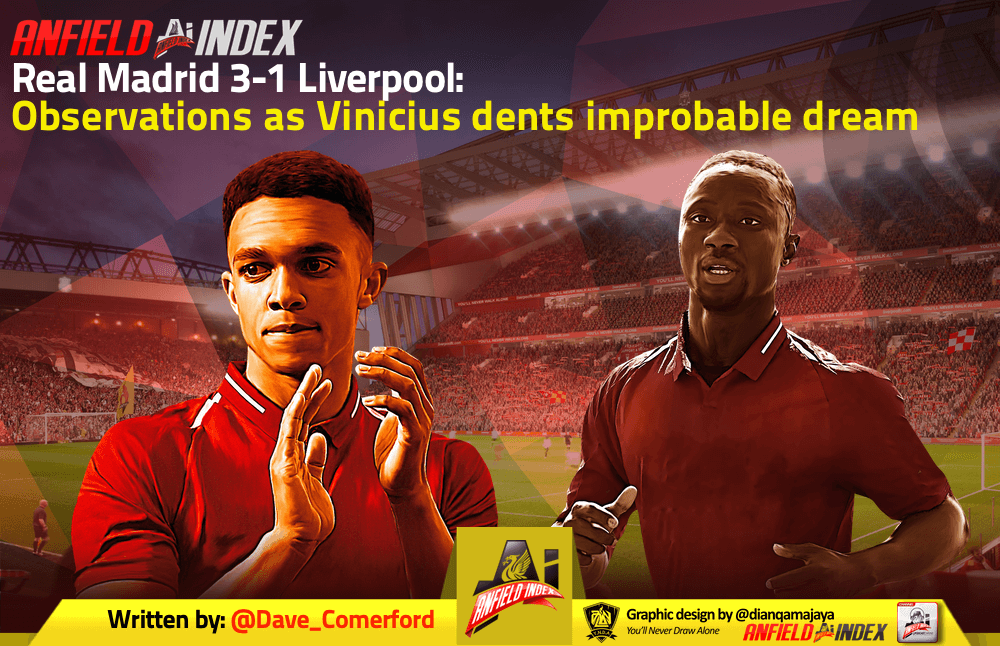 Real Madrid 3-1 Liverpool: Observations as Vinicius dents improbable dream
Mohamed Salah's away goal means a 2-0 win at Anfield will see Liverpool qualify for the Champions League semifinals. The '2' is feasible but, after a hapless defensive display, the 'nil' less so.
The strong likelihood is that Jurgen Klopp's dark horses will fall at this fence. They were incredibly poor in the first half and passable in the second. This may be a far cry from the Real Madrid that was crowned kings of Europe for three years in succession, but they are more than good enough to brutally punish galling sloppiness.
Tale of two CB partnerships
Four world-class centre-backs, the first-choice pairings for the respective sides, were missing here. Sergio Ramos' injury was an equaliser, and then Raphael Varane's positive Covid test looked to have given Liverpool a slight edge.

But Nacho and Eder Militao deputised remarkably well. Their concentration, reading of the game and physicality was undeniably impressive.
The early signs for the Ozan Kabak-Nat Phillips partnership – locked-in until season's end – have been encouraging. But, though the comparison may not be entirely fair, they were comprehensively outshone by the duo at the other end.
Kabak, aside from the short backpass that gifted Marco Asensio a good opportunity for 3-0, was okay.
Phillips' lack of pace was effectively exploited, but what he really ought to be criticised for is his basic errors. He switched off for Vinicius' second goal; the Brazilian must have been surprised by the ease with which he ghosted into a shooting position.
He also misjudged a headed clearance in the first half, and the ball could easily have reached Karim Benzema, who lurked behind him but thankfully failed to anticipate the error.
I lay some blame with Phillips because I consider him good enough to be a Liverpool squad player. That means I'm not going to spare him scrutiny.
We have, on the whole, coped reasonably with the injuries we've suffered in a defensive sense. But we were picked apart here.
Was it inherent shortcomings or preventable failings? Naturally, a bit of both.
Selection debate obscures one important detail
There'll be plenty of post-match discussion about Jurgen Klopp's eyebrow-raising team selection.
The rationale behind picking Naby Keita was understandable, but the decision backfired as Liverpool struggled hugely gain to any foothold in the game in the absence of Thiago.
Klopp acknowledged the error of his ways by withdrawing Keita after just 42 minutes. To my mind, that's only the second pre-half-time tactical change he's made during his time at Liverpool, the first coming after Dejan Lovren's infamous unravelling against Spurs.
There's no denying the magnitude of this moment in the Guinean's Liverpool career. And yet, it was actually the night's captain Georginio Wijnaldum who'd turned in the poorest performance up to that point. The amount of simple, misplaced passes was staggering.
Fatigue seemed the explanation given his patently excessive workload up to this point, and then he burst through the Real midfield to help engineer the equaliser, complicating that convenient narrative somewhat.
Liverpool were better with Thiago on the pitch, but it's hard to say to what extent that was down to Real's inevitable retreat.
Jurgen Klopp aimed first for energy and then for control. Maybe he missed a man who consistently provides both – Jordan Henderson.
Trent's emotions running high
In the televised media, many of the recent heated debates around Trent Alexander-Arnold have lacked nuance.
His detractors will consider the header that gifted Marcos Asensio a goal vindication. But they'll hasten to forget that he also prevented a goal by thwarting a two-on-one counter midway through the second half.
That went some way to securing redemption, you could argue, but Trent's frustration was clear for all to see come the closing stages of the game. Vinicius sensed it and used it to his advantage.
On Saturday, it was a cathartic roar after a magnficent assist. Three days later, his visceral scream was directed at the linesman. Emotions are running high.
Huge gulf in form up top
Mohamed Salah and Diogo Jota have been outstanding this season, while Roberto Firmino and Sadio Mane have been woefully off the boil.
It was striking that Firmino was not introduced until the 81st minute here. He started against Arsenal but, let's be frank, this was the real occasion.
Jota has officially muscled his way into the iconic frontline.
Mane is just as gruelling to watch right now as Firmino was prior to Jota's return. He's a player devoid of purpose on the ball, preferring to draw fouls or shirk responsibility rather than properly going for the jugular.
It's his most challenging season in a Liverpool shirt. He must stop overthinking. Easy for me to say that, obviously.
*
"There's still a chance," was Klopp's verdict. "We can be much more uncomfortable to play against and that's what we have to make sure next week."
Liverpool have shown signs of revival with structure restored to their team, but for 45 costly minutes in Valdebebas, they regressed to the side that's been oh-so easy to play against.