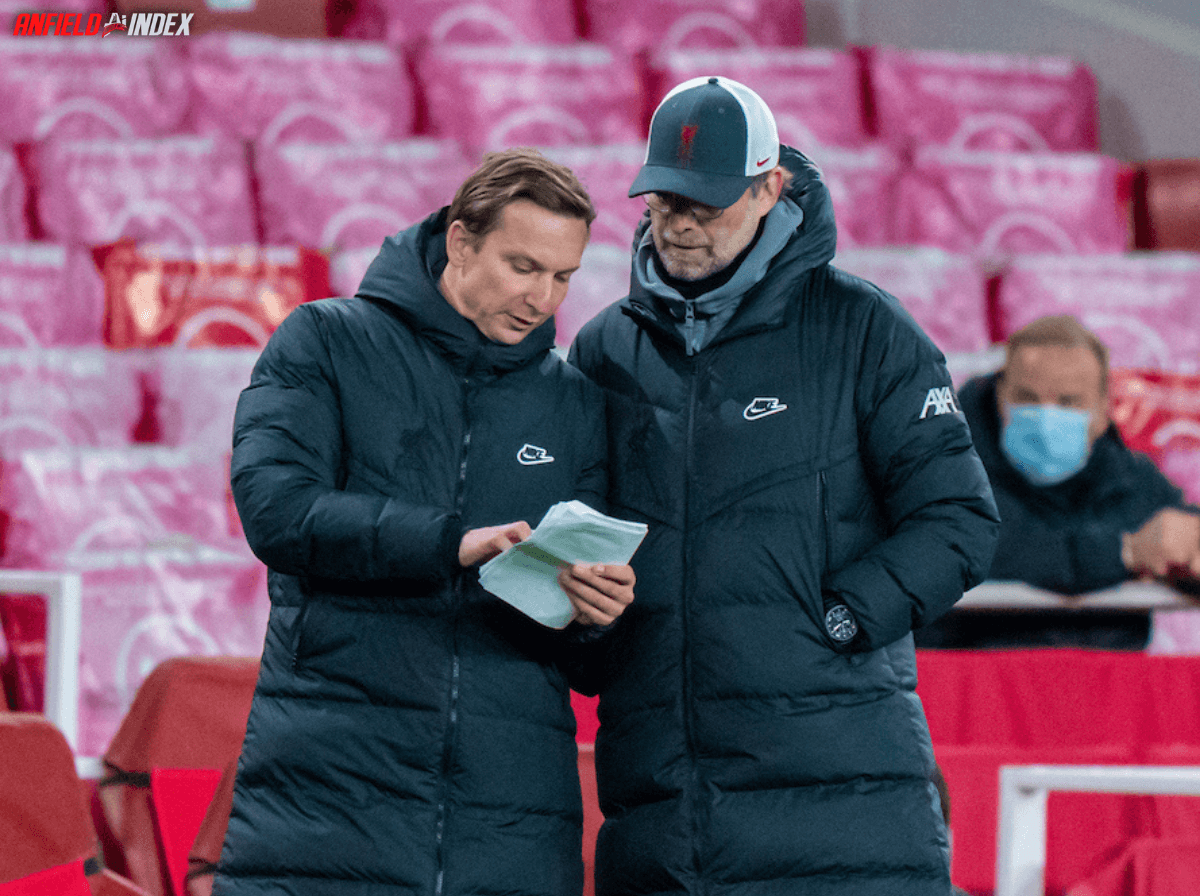 Tactical Breakdown: Real Madrid 3-1 Liverpool
Real Madrid won 3-1 against Liverpool at the Estadio Alfredo Di Stéfano in the UEFA Champions League quarter finals, leaving them favourites to progress to the next round.
Systems
Despite Madrid missing both starting centrebacks and Eden Hazard, the home side set up in a 4-3-3.
When in possession, Toni Kroos dropped into a sweeper position as the fullbacks moved up, creating a 1-3-3 structure in buildup, which disrupted Liverpool's pressing shape.

When out of possession, Madrid looked to press the the Reds' back line, using Kroos – and occasionally Modric – to press with Benzema. Kroos was also positioned atop Fabinho, leaving the Liverpool centrebacks on the ball, without an obvious or safe forward outlet – which led to them passing back to Alisson or losing possession as they forced forward passes.
If Liverpool moved beyond the halfway line, Madrid dropped into a 4-5-1 off ball shape, compacting the middle, with Vinicius and Asensio poised to break on the counterattack.
Liverpool also set up in a 4-3-3. Surprisingly both Roberto Firmino and Thiago Alcantara were dropped in favour of Diogo Jota and Naby Keïta.
Jürgen Klopp's take on the 4-3-3 structure usually offers a passing network which gives passing angles and lanes across the pitch, but it is dependent upon the fullbacks moving into high and wide positions, so the wingers can occupy the halfspaces.
Liverpool, as usual played a high line – in itself this is not problematic. However, without constant ball pressure across the front, midfielders positioned to counterpress the second ball, and mobile centrebacks who can defend open space well, a high line can become exposed.
Key to disrupting Liverpool's possession structure and pressing ability was the positioning of both Vinicius and Asensio. Both players were instructed to play high and stay high. As Toni Kroos was able to pass unopposed from deep on a number of occasions, both forwards felt confident that there would be a good number of opportunities to break. This brave decision meant both Alexander-Arnold and Robertson could not move forward.
Without both fullbacks in advanced positions, the Reds' forward line was isolated, disconnected, and if they did manage to move the ball forward, the passing structure required to sustain an attack was not there, and neither was the counterpress when Liverpool lost the ball.
When the ball was passed into the Liverpool forwards, Real Madrid were able to defend it easily. They would immediately put pressure on the pass' recipient, forcing them backwards. The Reds, without midfielders or fullbacks breaking beyond the forwards were easily pushed back into deep areas.
Real Madrid also utilised pressing traps on Liverpool's centre midfielders. When the ball was passed into either Wijnaldum or Keita with their back towards goal, the Madrid midfield would swarm and drive the ball away from goal, and towards Philips and Kabak. The two centrebacks could then only go long, and Real Madrid's defenders were able to easily outmuscle the Reds'  front line in aerial duels.
Liverpool's fullbacks regularly pin back the opposition's winger, allowing Salah or Mané to isolate the opposition's fullback. In this game, Real Madrid did this to Klopp's team. Ferland Mendy's presence on the left forced Mohamed Salah to drop into defensive areas and support Alexander-Arnold, who was already trying to defend one-on-one against Vinicius.
Match analysis
Real Madrid started brilliantly. Their passing was slick, fast and forward-thinking. Immediately, the visitors were on the back foot. The speed of Real Madrid's play, combined with the immediate tactical challenges they posed completely overwhelmed the visitors. Liverpool could barely string together a series of passes, whilst Real Madrid were able to move the ball forward quickly, settle into a rhythm and move their fullbacks and midfielders up into their on-ball possession structure.
Liverpool's play came in fits and spurts. Simple passes were misplaced, and any activity in the middle and final third was forced back. In these deep areas, Real Madrid probed and looked to win possession where they could but were more than happy for the visitors to hold the ball where they could not threaten the home side.
Liverpool's front three rotated as they looked to offer passing lanes to the defenders, but their work was largely fruitless, and the press in general was timid and inconsistent. When Liverpool did press well, Real Madrid either attempted to play through it – and did so on a few occasions – but more often than not, decided to pass long.
Liverpool's system appeared designed to encourage this, however when Madrid were able to play passes from deep without pressure, Philips struggled with the pace of Vinicius, and Kabak was called upon twice in the first half to shepherd out a Real Madrid forward on the break.
20 per cent of Madrid's passes went long, and in the early phases of the first half, Liverpool were able to use these opportunities to win possession back. However, the Reds then surrendered possession through poor passing, allowing Madrid to regain the ball in dangerous areas and counterattack before Liverpool could even establish their counterpressing structure.
Real Madrid's first goal was a product of a long ball from deep. The presence of Kroos as a sweeper in the build-up phase, as well as the Madrid fullbacks being positioned in the second line caused a number of issues. Liverpool's centre midfielders did not want to move out to the Madrid fullbacks and leave Fabinho alone in midfield, and the Liverpool forwards did not fancy going man-to-man against Madrid's defensive line, knowing that if Kroos beat the press, he would have an option straight into the heart of the midfield.
Consequently, the forwards did not pressure Kroos, and the absence of Roberto Firmino was apparent, as the German was able to freely target the diagonal run of Vinicius, with the Brazilian scoring Real Madrid's opener.
The sheer volume of long balls by Real Madrid disrupted Liverpool's press. The long ball outlet not only stopped them from winning the ball high up the field, but it also meant Real Madrid could not be penned into non-threatening areas. Most importantly though, it offered a great counterattacking threat, which stretched the visitors and had their two fullbacks constantly looking over their shoulders, rather than supporting the midfield and forwards.
Real Madrid's second goal came as Kroos found himself in space, without pressure, and the time to look up and pass directly forwards. His pass to Vinicius found Alexander-Arnold, whose backwards header was gratefully accepted by Asensio, where last season either Van Dijk or Matip would have been positioned to intercept the ball. Asensio's touch over Alisson capped a brilliant first half performance by Real Madrid, and Liverpool's most challenging half of Champions League football since their first half at the Etihad in 2018/19.
Thiago Alcantara's introduction helped remedy some issues in deep positions. Now the defenders had a second outlet in a deep position, and Liverpool were able to create a box through which they could cycle possession, allowing the fullbacks the confidence to move forward.
The second half saw Liverpool finally display some of the pressing and on-ball quality that took them to three consecutive European cup finals. With the fullbacks able to contribute in the final third, the Reds were able to build and sustain ball pressure, and through a fluid move in transition, the visitors halved the deficit and then had a chance to equalise not long after.
Between Salah's goal in the 51st minute and Real Madrid's third in the 65th minute, the visitors appeared to be favourites for an equaliser, but with momentum building, Real Madrid scored their third goal as Modric drifted into the box and set up Vinicius, whose shot beat Alisson.
The goal stunned Liverpool, who were unable to apply meaningful pressure and on ball opportunities until the closing stages of the game. Madrid used their two-goal cushion as an opportunity to sit back and see out the game without conceding another away goal.
Real Madrid were good value for the victory, as they dominated possession and thoroughly outclassed Liverpool in the first half. Through using brave tactics, such as pushing the wingers up irrespective of the fullbacks' position, switching play regularly (24 over the game), using the long ball to good effect and capitalising on the visitors' mistakes, Zinedine Zidane's side displayed the exact qualities that made them champions.
For all of Real Madrid's brilliance, Liverpool must take responsibility for total carelessness in possession, and offering the opportunity for Madrid to force errors, through allowing Kroos to have unopposed possession in his own half.
The second half showed glimpses of the problems Liverpool could pose Real Madrid, but it is very rare that a team that plays so poorly in a Champions League quarter final can progress to the semis. The Reds have it within them to score two at Anfield, but whether the home side will be able to keep a clean sheet next week will likely decide the tie.