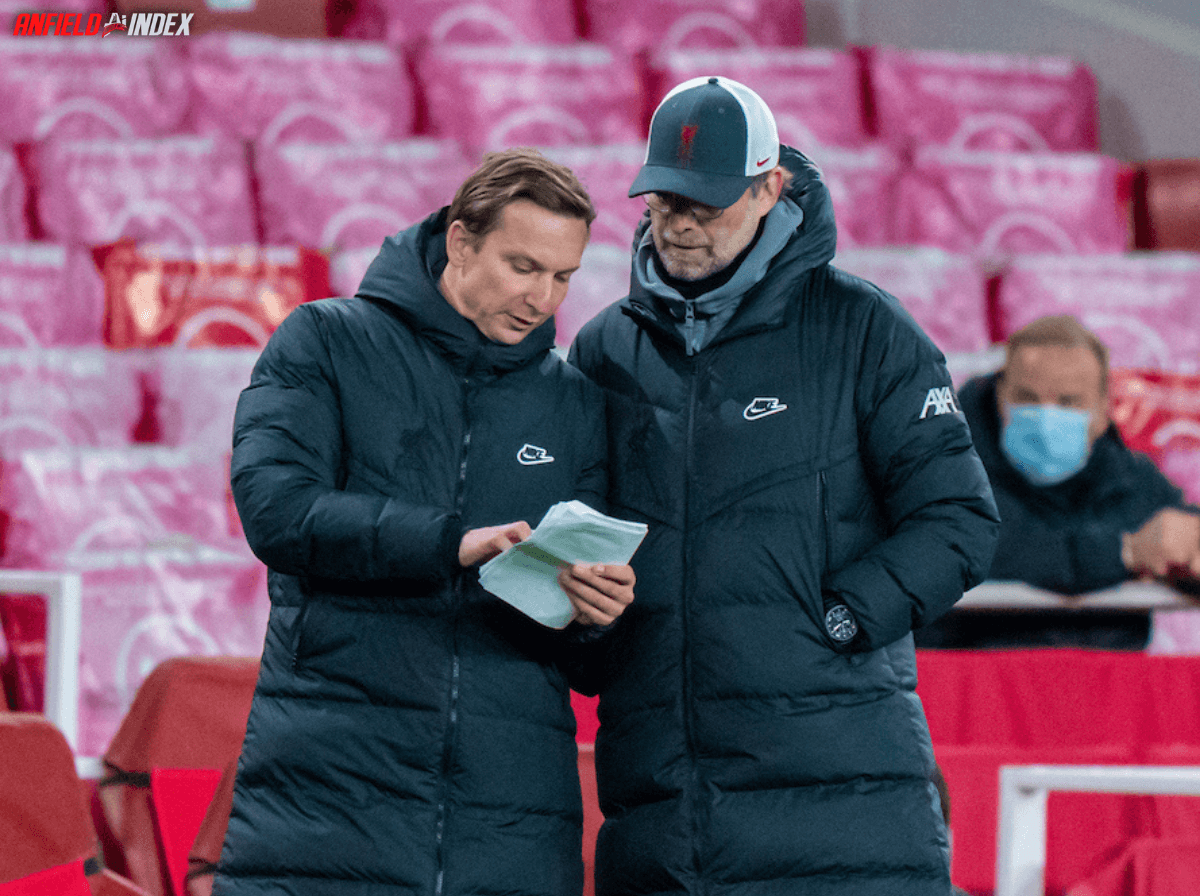 Tactical Breakdown: Liverpool 2-1 Aston Villa

Premier League champions Liverpool won their first home game since Christmas, as they beat Aston Villa 2-1, courtesy of a late strike by Alexander-Arnold.
Systems
Liverpool played in a 4-3-3, with Roberto Firmino returning to the forward line in place of Sadio Mané. Fabinho and Gini Wijnaldum retained their starting places and were partnered with James Milner. Otherwise, the team remained unchanged.
Dean Smith's Villa side also used a 4-3-3 structure, with Ollie Watkins leading the line, but in midfield Douglas Luiz would often drop deeper to create a double pivot with Marvellous Nakamba.
Both teams had similar tactics and were looking to create their chances in transition. Consequently, the football was largely direct, forward thinking and open. However, the lack of quality from both sides in the first half was clear, with a number of mistakes, especially from the home side leading to opportunities falling apart in the final third.
Match analysis
Villa looked to start directly and like a number of teams this season, target the Liverpool centrebacks. Ollie Watkins attempted to push up and press with Trezeguet and Traore in support. Similarly, the Reds looked to do the same, and as has been the case for a number of recent games, their pressing was led by Salah on the right, although across the pitch, the home side's pressing as a group was not as intense as Salah's solo efforts.
During the first half Liverpool held a majority of possession, but did not actually manage to be particularly penetrative with it. Despite making 71 passes in the final third, only 8 into the box were completed. The best opportunities actually came in transition, where they could move the ball forward quickly and hope to break into space. An early opportunity came as Milner won the aerial ball from a Martinez goal kick, and Jota then fired a direct pass forward to Salah, but he was unable to profit from Mings' mistake.
A number of other chances to break at speed were scattered throughout the first half, but Liverpool again struggled to take advantage of them, often moving into the final third and misplacing easy passes, much like they did against Real Madrid. Despite the home side's possession and forward impetus, their profligacy with the ball turned what could have been a half with at least a couple of goals into a half of only one chance of note. This has been a pattern for a number of months now, evidenced by good metrics in terms of non-shot xG, but awful shooting and decision-making in the final third, which have meant potential goal scoring opportunities do not even develop into shots on goal.
The home team's wastefulness offered an opportunity for Aston Villa – whilst Salah was unable to seize upon Mings' earlier mistake, Ollie Watkins took advantage of a goalkeeping error by Alisson, as he scored the visitors' first shot on goal. Alisson appeared well set for the strike, however instead of saving the ball with his foot, collapsed his body and attempted to drop to his right side, allowing the ball to squirm beneath him.
Liverpool looked in trouble facing the prospect of chasing a game and leaving themselves open for the counterattack as they pushed up. Yet the champions very nearly equalised just before half time, and whilst the chance was ruled out for offside, it actually demonstrated a lot of the tactics of the game.
Villa pushed up as they looked to apply ball pressure from the front. This meant there was space in behind. Both Salah and Jota were positioned on the outside of their fullbacks, looking to run inside, onto a direct ball from deep. Both of these forwards were pushing the Villa defensive line, and were able to do so as a two, with Firmino dropping between he lines. Consequently, when Jota was unable to reach the through ball, Firmino was able to move from a deep position into the box, unmarked. Had the VAR's decision gone the other way, Firmino's goal would have been an excellent template of how to use a 4-3-3 false 9 system to occupy a defence, break into space and have a late runner into the box, who will often be unmarked.
The equaliser came in the second half, but again, it was a move in transition. Dean Smith clearly was aware that if his side were to score a second, it would likely be in transition, so he made the gamble to keep playing in an open manner, and try to force an error or attack the defence. However, this decision meant all it took was for the home side to get one attack right, and they would be back in the game. The equaliser came as part of a lovely flowing move, with the ball moved from right to left at speed, and then vertically, as Robertson performed an underlapping run beyond Milner in the left half space, and past Jota on the wing. Jota's drift into the wide position opened up the space for Robertson, and it was something Liverpool fans will not have seen for a while, given the lack of goalscoring output on the left side since December. Robertson's shot from inside the box was saved by the excellent and impressive Martinez, but Salah was positioned on Mings, and was able to beat him to the rebound.
Salah's goal was a demonstration that this Liverpool side are not too far away from being able to score freely. The problem in recent games is that the movement that facilitated that final pass to Robertson has been absent, but this must also be caveated with that most teams do not play as open as Villa did, and so the Reds had an opportunity to break at speed and into space.
Firmino, excellent across the match, was substituted off as Liverpool looked for a winner. The result appeared destined to be a draw, but the introduction of Thiago and Shaqiri added much needed verticality, zip and impetus in the final third. Shaqiri's introduction in the 89th minute immediately precipitated building on-ball pressure in the final third and around the penalty area. His presence, combined with the willingness of Thiago to move up, alongside Villa's inevitable dropping off as they tried to defend the point all combined for a dramatic finish.
The champions' winner also displayed some good tactical elements, with Thaigo's run into the box displaying the virtues of a midfielder who can move up and attack space late, thereby being harder to mark. Indeed, it was the otherwise excellent Douglas Luiz who lost Thiago, before he forced Martinez into a save. Additionally, with all three forwards inside the area, the Villa defence was cramped into a tight space, leaving the flanks open for Shaqiri on the right, and Alexander-Arnold who had drifted onto the left – both of whom were inside the area, but unmarked.
Ultimately though, what it took was a moment of individual brilliance to beat Martinez, with Alexander-Arnold's strike perfectly struck across goal and through the mass of players in the box.
The result will have strengthened the Reds' hopes of Champions League qualification, but the first half performance was not indicative of a side that will overturn a 3-1 deficit against Real Madrid. For Villa, the game once again underscored the absence of Jack Grealish, whose qualities in transition could well have given the visitors a better chance of winning the game, but it also reemphasised the great value of both Douglas Luiz and Ezri Konsa, both of whom may find themselves the target of a club like Liverpool come the summer.