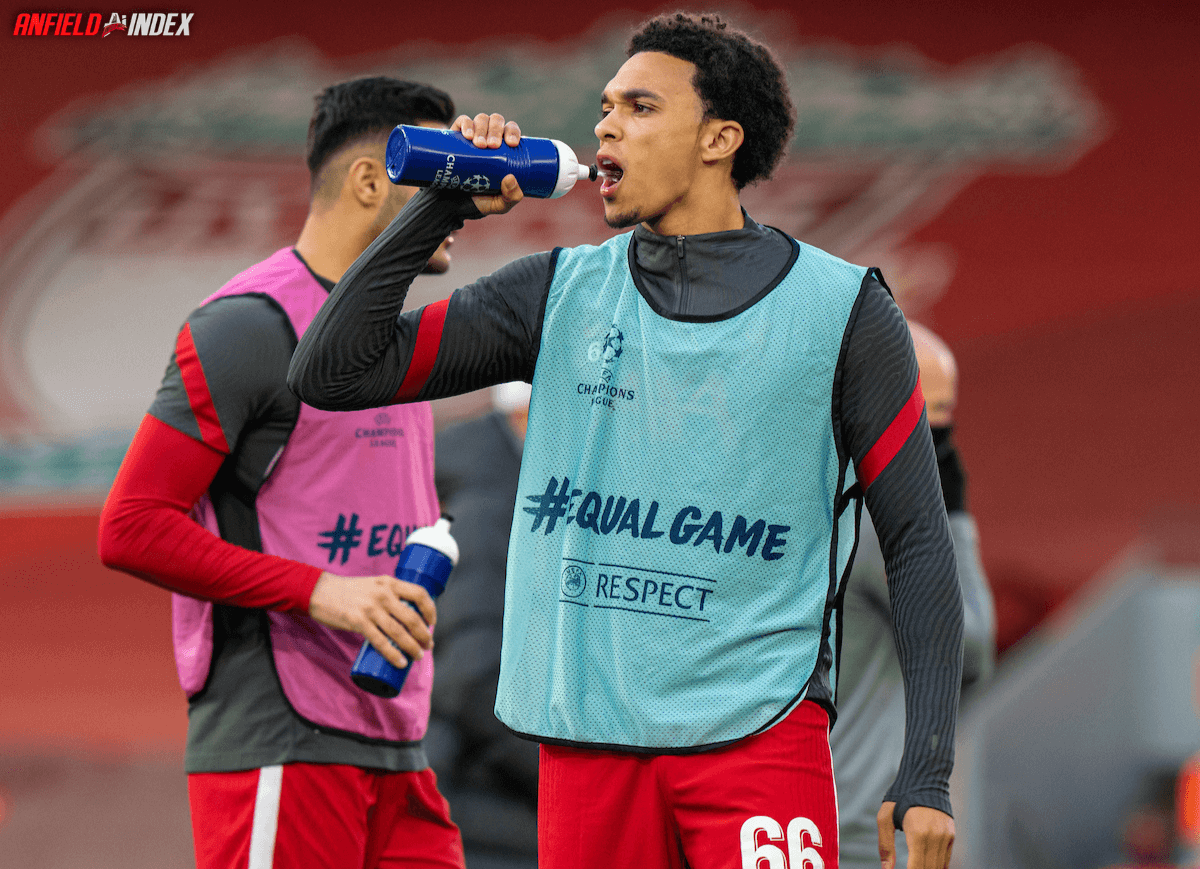 Ample Positives For Liverpool To Take Despite European Exit
Liverpool bowed out of the Champions League at the quarter-final stage after a 0-0 draw with Real Madrid at Anfield on Wednesday night.
Trailing 3-1 from the first leg, the Reds — despite creating ample chances — were unable to prize open the stubborn defence of the visitors and, for the second year running, they were eliminated from Europe by a Spanish team.
The defeat is obviously disappointing for Jurgen Klopp, the players and the fans alike, especially because it condemns the club to their first trophyless season since 2017/2018.

But there were positives to take from what was — on the whole — a strong performance and Liverpool can ensure they end their season successfully by applying them to their remaining domestic fixtures.
Firstly, as mentioned before, the Reds created several openings in attack. Their undoing was — and it's been the case often this season — their toothlessness when presented with chances in the box.
Mohamed Salah — and, to a lesser extent, Georginio Wijnaldum and Roberto Firmino — was guilty of spurning some good opportunities. But to create these chances, especially against a team who are as well-drilled as the Spanish champions, was encouraging.
You can bet that Salah, and indeed Diogo Jota, would make hay if presented with similar opportunities again and you could also be sure that — given the Reds' opponents for the rest of the Premier League season are inferior to Madrid — the supply line will work just as well or arguably better.
Trent Alexander Arnold was sublime throughout and if the young full-back can reach a similar level between now and the season's end, then Liverpool's chances of finishing in the top four will be enhanced significantly.
On both sides of the ball — it feels appropriate to highlight his defensive acumen, given the ridiculous narrative that he cannot defend — the 22-year-old excelled. In total, he made six chances, completed three interceptions and won four from six duels. In the first leg, Alexander Arnold at times struggled to marshall Vinicius Junior, Madrid's pacey out ball. Nothing of the sort happened at Anfield, however, and the Brazilian wasn't given a sniff.
Nat Phillips and Ozan Kabak have their flaws and there are legitimate questions over whether either player will be at Liverpool next season. But barring one or two errors — which, given their inexperience at this level, is to be expected — the duo performed well both individually and as a collective.
On the ball, an area of his game that hasn't overly impressed thus far, Phillips looked ambitious and capable and the 24-year-old's ability to fire, low, pacey and accurate passes — in the manner of a Joe Gomez — surprised many.
Kabak, too, showed the variety of his passing game. The Turk had a big hand in creating the games opening chance when he won the ball outside the box. From there, he clipped a gorgeous ball into the left-hand channel and accurately onto the foot of Sadio Mane. The Senegalese evaded the attention of Fede Valverde and crossed for Salah, but the Egyptian mishit a good opportunity and Madrid escaped.
Defensively, which — obviously, is their bread and butter — the Reds' centre-halves mostly coped well.
Phillips, who ceded two chances to Madrid — one when he inexplicably lost his footing and let Karim Benzema knick the ball and the other when he was caught flat-footed by Vinicius  — won seven from eight aerial duels, made four interceptions and completed two clearances.
Kabak — barring a poor pass that gave Madrid possession close to Liverpool's goal — was also sturdy in his more reversed, organisational role and — even after being subbed off — can be happy with his outing.
As a pairing, the 24-year-old Englishman and the 21-year old Turk are flawed, but they have developed somewhat of an understanding and this has provided Liverpool with much-needed familiarity in a season where they have fielded 20(!) different pairings in the centre of their defence this season.
With their schedule reduced to just domestic games now, the Reds — whose various injury crises has undermined their season — will have time, for what feels like the first time this term, to prepare for one game a week and have adequate time to recover between games. For a jaded squad, any rest is a godsend.
Looking at the remaining league fixtures, all of Liverpool's games — with the exception of Manchester United away — are eminently winnable. Unless a strange quirk of results gives West Bromwich Albion hope in their relegation fight, realistically, all of the Reds' final opponents have nothing tangible to play for and will be "on the beach", or whatever the covid world equivalent is.
Newcastle, at this juncture, should be safe. Southampton are stagnant in midtable, West Brom's faith — bar something weird happening — is already sealed, while Burnley and Palace have no danger of being relegated.
The United clash is obviously the standout, and while the Reds' eternal rivals are ahead of them in the league standings, but it is certainly a fixture that — should Klopp's men play at their best — they can win.
Liverpool should go into their final set of games with a superior level of focus to their potentially mentally checked out opponents, given they have a massive prize to play for. With the positives shown against Madrid, despite their elimination, the six times winners have shown they have enough qualities about them to grace the Champions League again next season.