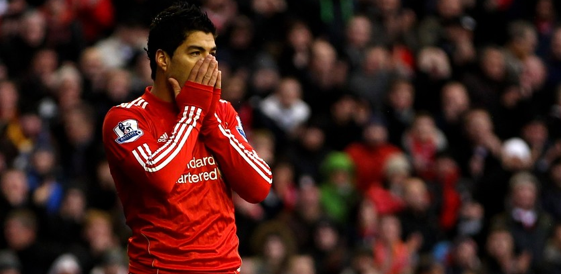 The Stats Behind Shooting & Creativity for Liverpool FC

It's the same old story once again for Liverpool FC. Inconsistency once again proved to be Liverpool FC's failing as they dropped points against two clubs that they really should beat. Wigan Athletic and Blackburn Rovers are two sides that you'd have bet on for Liverpool FC to come away with three points, especially with the football they are playing at the moment. However there are no prizes for playing good football. Whilst Kenny Dalglish has brought a vibrant brand of football back to Anfield there are still a few pieces of the jigsaw missing; namely a fox in the box striker and a winger that can score goals as well as create chances. For now we're going to display the stats that you probably could have guessed or may already know of. We're going to show you in depth of how bad things are at the minute for Liverpool FC and where the problems lie.
Premier League Comparison
Firstly, let's have a look at how Liverpool FC are doing in comparison to other Premier League sides in terms of creating chances.
The radar chart shows that Liverpool are up there with the best teams in the league for creativity (we'll touch more on this later with how  the creative players in the Liverpool squad are doing). Only Manchester City, Spurs, Chelsea & Arsenal have created more chances and only marginally more. So the problem isn't that Liverpool are not creating chances, they are, it's just that they cannot finish them off (more on this later). As we've mentioned before, a goal assist is a two way relationship; one is for the provider to create the chance and the second is for the finisher to actually complete the chance by scoring, therefore causing the provider to gain an assist. As you already know; Liverpool aren't converting their chances so we'd expect their total assists number to be low. Let's take a look at a few other radars that we've put together.
Comparing both radar charts above show that for the most part the assists and chance conversion correlate, especially for Liverpool, Manchester United and Manchester City. There are a few differences where Chelsea, Arsenal and Tottenham have a lot of assists but their chance conversion is at or around the 15% mark. The simple explanation for this is that they are creating so many chances that their conversion rate is not as high as the Top two sides however their conversion rate is still almost double that of Liverpool FC's.
On both charts you can see that Liverpool sit very low in comparison to their two Manchester neighbours. Both assists and chance conversion go hand in hand in our view and we believe the charts above show this correlation for the most part.
Let's have a look at the breakdown of the chances and assists that are being created in the Premier League. The column chart below will show the breakdown of chances created.
The column chart above shows that Stoke City are creating over 30% of their chances via set plays as you'd probably expect them to. The rest of the league is hovering between 13%-19%. Only Manchester United and Manchester City are coming in below these figures with United creating chances via set plays with only 11.5% of overall chances created and Man City being the only side to come under 10% with 8.8%. There's not much really to take from this apart from the fact that Liverpool FC are performing similar to the rest of the league apart from the top two sides. It's the assist comparison that will be interesting.
The chart above is where we can start to analyse Liverpool FC's problems with chance conversion. As you can see, 40% of Liverpool FC's assists are coming via set plays. This means we're more likely to score off of a set play than a chance created in open play if you look at the numbers; scoring around 3% of all chances created in open play and scoring almost 14% of all chances created by set plays. The number of set plays created is much smaller at around 36 in comparison to 207 chances in open play. So there's no problem with the conversion rate via set plays. The issues lie in open play and this is where we're not converting very well. The chance conversion rate is so dismal for Liverpool that they are now joint bottom of the table for chance conversion. The column chart below shows just how sorry Liverpool's plight is in this statistic.
I think that's enough of the comparison with the rest of the league, I'm getting the feeling you've got my point and if some of you are still with me then we'll continue to the Liverpool squads problems (I know it's tough to read, imagine how hard it is to write this?).
Liverpool Squad Comparison
As we've shown above creating the chances is not a problem and to further enforce this view we're going to display a table that shows the creativity of the Liverpool FC players.
So what does the table above show us (stats highlighted in Red are top stats / green lowest stats)? It shows us that Downing is the most creative with 39 chances created in total. He's also got the highest amount of crosses in the squad with a cross accuracy of 25% (which is respectable). There has been a lot of criticism for Stewart Downing and unfairly in our eyes. He's doing his job of creating but the players that he is creating them for are just not putting the chances away. As we've always said the Assist attribute is a two way relationship. It requires a provider and a finisher; and in this case the finishers are just not doing their jobs. However Craig Bellamy is the most prolific creator in the squad creating a chance every 25 minutes. To put that into context; Juan Mata is creating a chance every 25 minutes for Chelsea and that's probably the best figure in the league.
Bellamy also has the best cross accuracy in the squad with a 31% accuracy (again very respectable). So Craig Bellamy is key for Liverpool FC creatively and it baffles us here at AnfieldIndex as to why he isn't playing more often. From the table you'll also see that Maxi Rodriguez is the least creative of the group and consistently has the lowest stats for each attribute – does he merit a starting place? More on this later.
Despite playing only around 2.5 games this season (minutes wise) Steven Gerrard is averaging over 10 crosses per game with 28% of them being accurate. It'll be very good to have Stevie back providing crosses for this Liverpool side (he creates a chance every 29 minutes beaten only by Craig Bellamy) however can Liverpool get players into the box to get on the end of them? Liverpool's full back Jose Enrique has been impressive this term with 72 crosses (29% accurate – 2nd best in squad) and already has 2 assists to his name (same as Bellamy). Charlie Adam is top of the assists charts with four assists to his name. Three of them have come from set plays. Unsurprisingly Luis Suarez has created the most chances from open play. He has been a real handful and this goes to show how Suarez is creative as well as being an attacking threat but we'll be moving onto shooting next. Let's move onto looking at Jordan Henderson;
Jordan Henderson is creating only one chance per game at the moment which is pretty poor considering he should be able to create from the centre or out wide. We believe his stats for last season with Sunderland were high for creativity because he took most if not all of their set pieces. In fact if you look at the table above (Taken from EPLIndex.com's Quick Season Stats area which allows you to compare a whole squad – Subscribe Here) 38% of Jordan's chances created were via Set Play so you can write those off this season as he has Adam, Gerrard, Downing & Bellamy in front of him for set pieces. Even if you look at the Open Play chances created by Jordan (47) he's way below that on 13 at the half way stage.
To match the figure of 47 Jordan is going to have to create another 34 chances. We must take into consideration that he's not playing as much as he did at Sunderland so I guess we'll have to do a little more analysis on Jordan in a separate article but so far he's not really creating a chance in open play every 68 minutes like he did for Sunderland so he is performing below par from last season.
We'll re-visit this once he's had a full season or at least the majority of the season at Liverpool giving him time to settle. Contrastingly Charlie Adam is creating a chance every 43 minutes which is very similar to his 42 minutes per chance created last season. He scored 12 goals (majority via penalties which he will not be taking at Anfield if Stevie or Kuyt play) and created 8 assists for Blackpool which he is well on the way to repeat this season. Therefore Charlie isn't doing too badly in the creativity aspects. He created a total of 72 chances last season and has 35 already this season so again like for like really which is what we'd expect.
Ability to Beat an Opponent
Creativity and skill are important attributes for players to have. A winger for example should be able to beat a player and then put a cross in or create a chance for their team. Is this lacking from Liverpool's wide men? Who are the players in the Liverpool squad that do this the most? Check out the pie chart below:
Before we analyse the Pie Chart above we want to make it clear that the totals used for the pie chart are from the ten players shown only. So the percentage does not represent Liverpool as a whole (although it will be close as the majority of attacking players are displayed above).
So what can we see from the pie chart above? It shows that Suarez and Enrique are Liverpool FC's players that have the ability to beat a player when running at them, more so than the wingers in the squad. In fact Adam and Johnson are next who again don't play on the wings. The players used as wingers; Downing (9%), Kuyt (5%), Henderson (3%), Bellamy (2%) and Maxi (0%) combined make up only 19% of the total. This is where an improvement may be required for the squad as a whole. A skill full winger that can actually beat a player to put a clear cut chance on a plate for a fellow player. This is something we lack apart from Suarez & Enrique although Enrique tends to steam past players on the wing whereas Suarez can do this anywhere on the pitch to create something out of nothing. Something to look at in the transfer window maybe?
Liverpool FC Shooting / Goal Attempt Stats
Let's have a look at Liverpool FC's shooting or goal attempt statistics. Please be aware that these will not be very good on the eye so look away now if you wish to avoid disappointment!
Maxi leads the way in the graphic above which is a contrast to his creativity stats, in which he was the worst in many of the statistics. Maxi tops the minutes per goal ratio (which isn't anywhere near the best in the league but still betters one goal in every two games) and also has an amazing shot accuracy of 71%. We know he hasn't had many shots this season which is why his accuracy is so high but surely this points to the fact that he should be played more regularly? The fact is that Maxi is only of those players that will be in the right place at the right time and can finish. He also has the highest chance conversion in the side with 29% which is excellent.
Gerrard and Bellamy are also in their 20's for chance conversion but again these two players haven't spent much time on the pitch? Liverpool FC need to find a way of getting Maxi, Bellamy and Gerrard on the pitch to ensure more goals for the side. The rest of the players in the list are all managing under 10% for chance conversion and because these players have played the majority of games it reflects in Liverpool's overall chance conversion of 8% (as mentioned earlier the joint lowest in the league).
Luis Suarez is averaging a shot every 21 minutes and has the most shots on target but his accuracy is the 2nd worst amongst the players displayed. His shot accuracy is at 40.58% which shows that maybe Luis needs to add a little composure to his game. This reflects in his lack of goals for Liverpool (the rest of the squad has same problem) with only 5 however he remains the teams top scorer. Luis Suarez also has attempted more than double the amount of shots to his peers so maybe there needs to be a little bit of responsibility shared around the team?
Andy Carroll isn't far behind in the stats for shots per minute. He is averaging a shot every 25 minutes and one on target every 60 minutes – these figures are pretty similar to those of Luis Suarez but again with a 6% chance conversion he's not finding the net enough.
The worst shot accuracy stat goes to Craig Bellamy however despite these statistics he's scored two goals? Again we think Craig Bellamy adds a lot to our starting line up in terms of creativity and goal scoring and he's posted some impressive stats despite spending a small amount of time on the pitch.
Jordan Henderson is attempting shots after the longest period of time attempting a shot every 76 minutes and achieving one on target every 173 minutes. So one shot on target every two games. We're not singling Jordan out here just reporting the numbers back to you all!
Shot Placement
Whilst watching matches I seem to find that Liverpool are shooting directly at the keeper a lot. In fact Liverpool 40% of shots on target have been towards the centre of the goal (25% to left side & 35% to right side – proving this). Shots in the centre of the goal are always going to be the most saved shots (easier for keepers) and the stats prove this. The images created below show the shots on target for Liverpool FC and these include the goals scored too.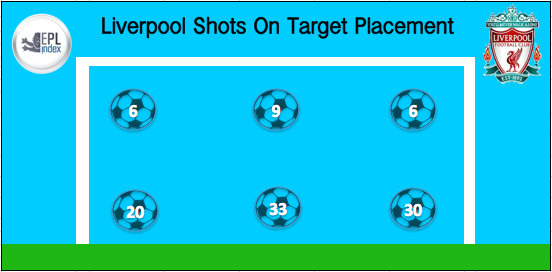 The next image is for the goals scored by Liverpool FC and in which areas. As expected the least goals are scored in the centre of the goal in proportion with the amount of shots attempted.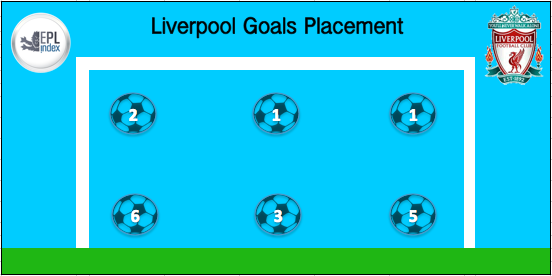 The percentages of shots on target to goals conversion is shown below and again as expected the centre of the goal is where the least percentage of conversion is. One of Liverpool FC's problems could be as simple as shot placement. It could all be nonsense too but we have access to these stats so why not share them and show you where Liverpool are going wrong at the moment.
The fact that percentage of conversion is much higher in the corners shows that this is where they should try to shoot more often. We've seen in the last few weeks that keepers have pulled off magnificent saves in the corners too and that will happen but more often than not your clear cut chances will be converted with better placement.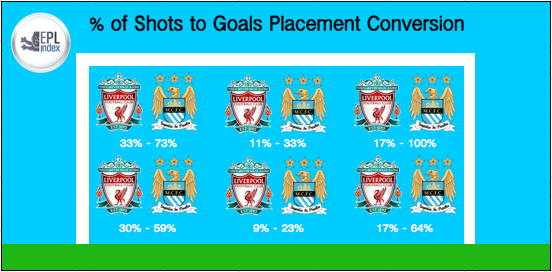 We've added the Manchester City conversions into the image above just to show you how Liverpool compare to the league leaders and how many of their shots have been converted in the corners. As you'll see their shots on target to goal conversion percentages in the centre are also lower than their shots in the corners.
The fact is that City have hit shots in the corners at a much higher rate correlates to them scoring more goals and therefore scoring much more than Liverpool. City have had 125 shots on target compared to Liverpool's 104 and their percentages are as follows:
City shots on target in the centre (%): 36 (34.4%)
City shots on target to the left (%): 43 (28.8%)
City shots on target to the right (%): 46 (36.8%)
As you can see from the stats above City are shooting more in the corners than towards the centre, whilst it's difficult to say if this is a reason for the increased goals for Manchester City in comparison to Liverpool it is food for thought! All stats courtesy of EPLIndex.com.
Summary
You could all write this summary as it's so obvious. Liverpool need to start putting the ball into the back of the net. Chance creation is not a problem with Liverpool sitting near the top of the standings for most chances created in the league. It's the chance conversion that's the issue and hopefully Liverpool can improve in this area by:
Starting Maxi Rodriguez & Craig Bellamy more often
Trying to place their shots more in the corners rather than straight at the keeper.
Improve their shooting accuracy to get more shots on target.
As mentioned earlier – all stats are from EPLIndex.com and their Opta Stats Centre – please support their excellent website by signing up to their Stats & Blogging service here: Sign up here!