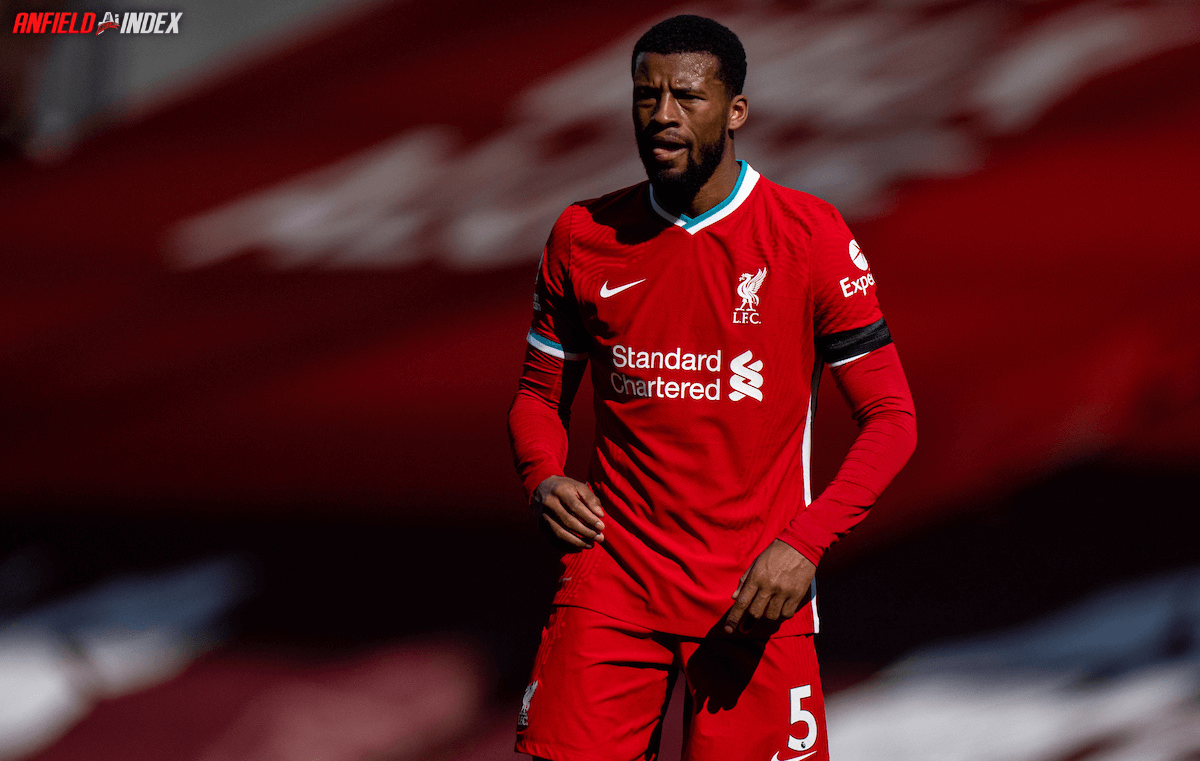 Gini - A Potential Farewell
Signed as an attacking wide midfielder, the Dutch work horse Wijnaldum was recruited from just relegated Newcastle in what seemed a fairly unspectacular move to strengthen the midfield options in the early days of Klopp's Reign.
Fast forward 5 years later and the once gifted wide man, with lots of potential, is poised to depart as a multi trophy winning Swiss Army Knife asset of the reds.  His transfer can only be looked at as a resounding success for his overall impact.
Initially ushered into a midfield 3 amongst a rotating cast including Jordan Henderson, Emre Can, Adam Lallana & James Milner, the powerhouse of a player soon bought into the requirements of a typical Jurgen Klopp gen gen pressing player. This immediate ability to perform high intensity pressing, produce ball retention to the absolute highest level and consistently maintain smart positional play to occupy space, all became key strings to the Dutchman's impressive bow. It rubber stamped the analytical side of his and others recruitment, in understanding the underlying attributes of players and their unique adaptive styles that could suit a new system such as the reds.
Working predominantly as an 8 on the left hand side of a midfield 3, the criminally undervalued player would become a fundamental component in the new system. With an evolving forward line ahead of him, the diminutive talents of Coutinho around him and a raft of players coming in at certain points to gradually strengthen the squad, Gini's early signing in Klopp's reign, (as a Zielinski alternative) it can only be viewed as smart business.
With midfield 8's more and more becoming engine room midfielders that would cover the corridor from full back to wide forwards, Gini's in game intelligence and ever growing leadership on pitch was becoming clear to see.
As the defence made strides to increase quality levels to compete with the now formidable attack,  Virgil Van Dijk, Andy Robertson & the emerging talents of Trent Alexander Arnold coming into the side allowed the midfield more reliability behind them to implement there counter press to immense levels.
Gini's positional play, as mentioned, also saw him drafted into the 6 position whenever needed, and with such leadership behind him in VVD, there was hardly any drop off in performing this role. His overall capacity to plug and play as required is something that will be sorely missed, with so many players becoming specialists in certain positions it's hard to find that multi functional acquisition. This type of player that is able to maintain such high levels, and produce in a variation of roles for both club and country lead to his key position over Jurgen Klopp's tenure.
The most famous moment in Gini's career surely stands as the second half substitute appearance against the Catalan giants of Barcelona, in the Champions League semi final second leg.
With an almost unassailable 3-1 away defeat in the first leg, (and even after Divock Origi's first half goal to bring the tie closer at 3-2 on aggregate) it was still a huge task to overcome the Spanish giants.
Gini Wijnaldum starting the game on the bench seemed to re-ignite his devastating
Netherlands form of attacking play, with a quick fire double to bring the tie within reach.
His National appearances have always looked to release his undoubted attacking side, yet it is his willingness to curb this natural side for the good of Klopp's system that is testament to the man's character and high level of play.
With commitment and trust in Klopp's side came undoubted success.
With both Champions League and Premier League winners medals to show for his time at Anfield, he will undoubtedly go down as an all time great in years to come. Some players leave and return with negative and mixed ovations, yet with Gini Wijnaldum there will only be warm receptions whenever he returns. If Barcelona is his next stop, he deserves this move and will be a difficult man to replace both as a player & as a role model within the dressing room.
To replace him may require a signing in line with a tactical shift, thus not a direct replacement. This would therefore see a shift from formation, something that is probably needed.
Sometimes the loss of such an important component in any side can force this change & I suspect the emergence of Curtis Jones may see a first eleven signing come in the way of a far more attacking asset instead of a Gini like for like, of which there are very few.
Wherever he does land, which ever manager presides over this next chapter, one thing can be assured, the fans of his next destination will be receiving a much loved and wonderful player, and will most certainly embrace him as Anfield always have.
Steven Smith