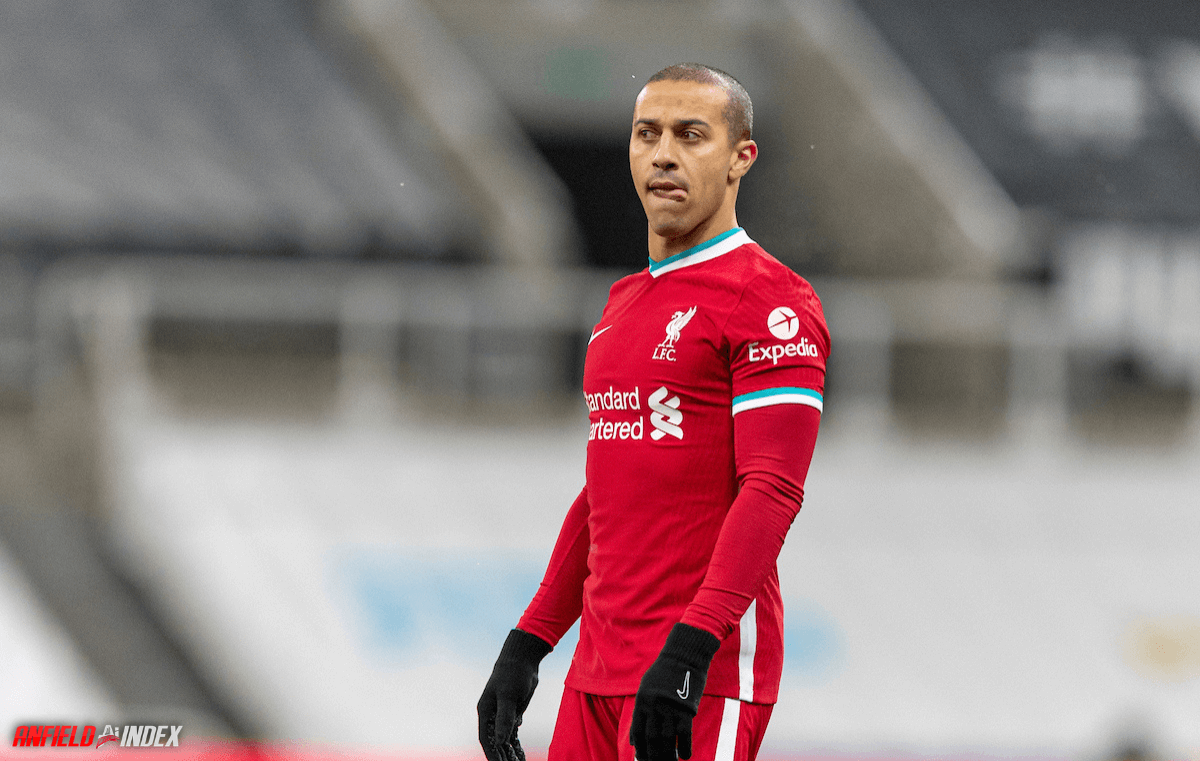 Snap Thiago Judgements Foolish In Light of Liverpool's Season

Twitter was inflamed on Monday by a debate on the success of Thiago Alcantara's signing at Liverpool. 
The Spaniard, who arrived at the Reds from defending European Champions FC Bayern in September of last year, has made 19 Premier League appearances this season as the Merseyside club's title defence falling apart in a campaign plagued by injury and misfortune. 
Thiago has been among the laundry list of the Liverpool playing personnel mired by absences. Not only did the Spanish international suffer from COVID19, but he was also injured for three months after a horror challenge from Richarlison in the Goodison Park Merseyside derby. 
Despite these circumstances, the 30-year-old has adapted relatively well to his new surroundings. Given the fact that his move took place during a global pandemic, he didn't — thanks to the lateness of his transfer and the success of Bayern meaning he played deep into the summer for the Bavarians — have a pre-season with his new club and that adaptation was further stalled by injury and illness. 
It is tempting to treat a new signing — especially with a player of Thiago's undoubted pedigree — as a panacea to all a team's woes, but Liverpool's problems have been so widespread that no individual alone could have arrested their slide. 
Not only has the team been bedevilled by injuries to key defensive personnel — all three of Virgil van Dijk, Joe Gomez and Joel Matip have been unavailable since January — but their midfield has also borne the brunt of a season marred by misfortune. 
To plug the gap in defence, Fabinho — the Reds most impressive defensive midfielder — has had to put his hand up for defensive selection. The chain reaction has meant other players, most especially Georginio Wijnaldum, have had to play far more frequently than advisable and in the most condensed season in living memory. Inevitably performance levels have dropped through sheer physical and psychological fatigue. 
The attack, so often a source of strength for Jurgen Klopp during his stint at Anfield, has also tailed off in terms of efficiency. Mohamed Salah has — as is the case during the entirety of his Liverpool career – been his consistent self, but the same can't be levelled as his regular partners, Sadio Mane and Roberto Firmino. 
The duo have underperformed to the tune of twelve expected goals and the toll of four years of constant football appears to hamstrung Mane in particular, who has also contracted covid this season. 
Diogo Jota, signed to provide quality in reserve and competition for the established trident of forwards, has been a shrewd acquisition and has scored twelve times in all competitions. Still, the Portuguese international could have exerted even more influence if it wasn't for the fact that a strong challenge away to Midtjylland didn't rule him out for three months. 
Could anybody reasonably expect Thiago — who has also had to moonlight as the deepest, defensive midfielder at times, a role that doesn't suit the Spaniard's creative streak — to single-handedly revive such a stuttering season. 
The statistics paint a picture that is totally contrary to the narrative that the Spain international has been a disappointing signing for Liverpool. 
According to stats sourced from FBREF, Thiago is in the highest percentiles for the following metrics among midfielders in Europe's top five leagues, England, France, Spain, Germany and Italy. 
Passes attempted: 96%
Pass completion: 89%
Progressive passes: 99%
Progressive carries: 91%
Dribbles completed: 76%
Pressures: 71%
Tackles: 92%
Interceptions 83%
A criticism aimed at the former FC Barcelona academy graduate has been that he hasn't assisted — even though this isn't necessarily the best metric to judge players on —  enough goals for Liverpool and, on the surface, that's true given he hasn't registered an assist. 
But that barb spectacularly misses the point because 1: Thiago's best season for assists was six(in a wholly more settled team whose forwards weren't spectacularly misfiring) and 2: it takes two to tango and it takes two to score a goal; sadly, Liverpool's forward's haven't kept their side of the bargain up. Clearly, from the stats above, he has supplied the attacking arm of the team without plentiful ammunition.
The expectation was that the Spanish linchpin would be a transformative signing for the Reds and that hasn't transpired. But to blithely ignore the context and circumstances and already label Thiago's signing as a failure is foolish in the extreme.