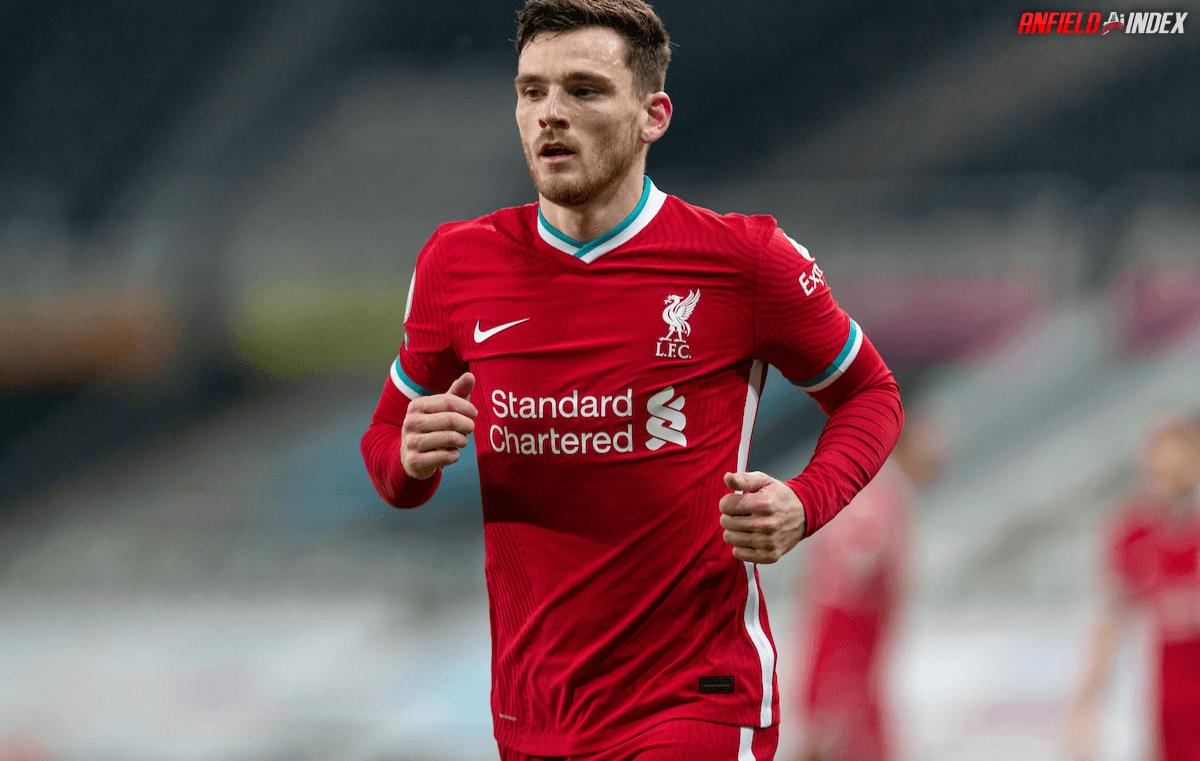 Lifeless Andy Robertson sums up Liverpool's season of woes

Trace your mind back to the opening weeks of this season, when Andy Robertson and Trent Alexander-Arnold did a string of 'Wingmen' episodes on Instagram.
Clearly filmed in the summer months, judging by the weather, Liverpool's brilliant full-backs were full of life, laughing, joking and basking in the glory of being newly-crowned Premier League champions.
Both players had barely experienced a genuine low moment in their Reds career up until that point, producing consistent brilliance in an all-time great team and rightly being regarded as the best in the world in their positions.
It was almost unfathomable to predict what would happen in the months that followed, with Liverpool enduring one of the most dispiriting seasons in their history.
There have been worse campaigns, in terms of league finishes and hapless managers being in charge, but this was meant to be the year that Jurgen Klopp's men kicked on again, making it title number 20 and drawing level with Man United.
Instead, Liverpool have capitulated since topping the table at Christmas, losing six games in a row at Anfield, blowing late leads and playing like a team who cannot wait for the season to reach its conclusion.
It is heartbreaking to watch, with everything seemingly going against Klopp and his squad, whether it be key injuries, awful VAR decisions, superstars performing like pub players or the lack of fans making it feel like a different sport.
Many players have struggled throughout the season, but as each game has drifted by, few have epitomised this stinker of a year quite like Robertson.
The Scot has brought a perfect blend quality, tenacity and character to this Liverpool side since he arrived in 2017, playing such a huge role in a team that relies on its full-backs providing consistent energy and end product.
If Trent has been the more lauded of the two, such is his reputation as a generational talent, Robertson has also been hailed as the best left-back in Reds history, or at least one of them.
There was a spell earlier in the season when the 27-year-old was in impressive form – it's easy to forget that now – but since teeing-up Roberto Firmino in the 7-0 win at Crystal Palace back in December, he has fallen off a cliff.
A fourth season in a row of relentless running seems to have taken its toll and we are now left watching a player who is devoid of that quality, tenacity and character mentioned above.
Incredibly, Robertson hasn't registered a single assist for Liverpool since he brilliantly set-up Firmino away to Palace – a total of 24 games and counting. It seems scarcely believable.
While goals are necessarily a key part of his game, he also hasn't netted since the 3-1 win at home to Arsenal last September, back when the Reds were still looking like the team to beat in the league.
It is a staggering drop-off not helped by playing in a far weaker back-line, as well as having Sadio Mane playing even worse in front of him down the left flank.
Without Virgil van Dijk and Jordan Henderson around – Liverpool's two biggest leaders – the hope was that Robertson may stand tall and rally the troops, considering his forthright nature and edge to his personality.
Instead, he seems to have shied away, looking as lost as those around him and no longer having the spark that has made him such a popular figure at Anfield.
Robertson looks absolutely desperate for a breather, with the end of the season sure to be a blessing in disguise, as each match becomes more painful.
Granted, he then has to captain Scotland at Euro 2020, but a change of scene will do him the world of good, before a richly deserved summer break comes his way.
At 27, there is no concern about Robertson peaking as a player or not returning to his best, but it has all become too much for him, in this most sapping of seasons.