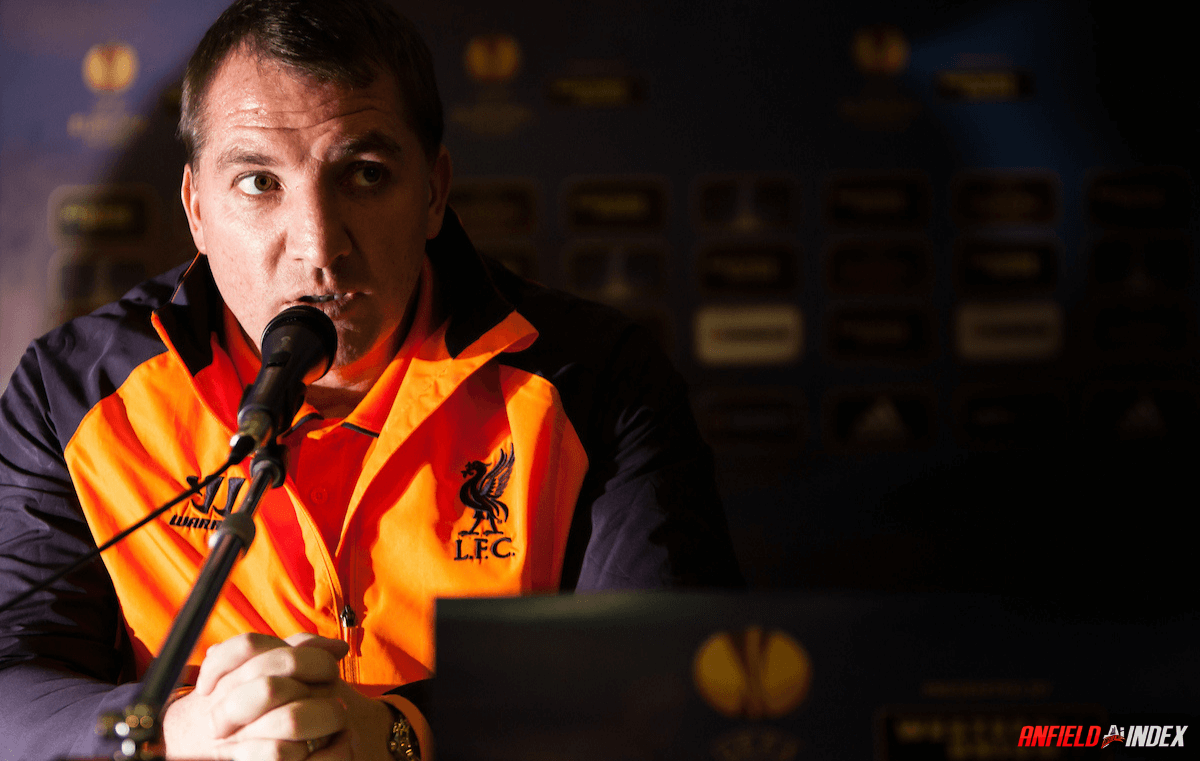 Brendan Rodgers - More Than That Documentary
Understanding the rise, fall & resurrection of Brendan Rodgers is a story in itself.
From his days under the initial Jose regime at Chelsea (as youth team coach) along with Andre Villas Boas & Steve Clarke, to his current position overachieving at Leicester, the road has been bumpy to say the least. Much can be made of his path to this point, with all the twists and turns to arrive here.
It is his spell as Liverpool's manager that can be identified as most significant in his path and development, and to look at his time there can offer good perspective to other young managers.

A very talented & young coach is how Brendan emerged in the game. Rodgers built a respectable Swansea outfit that both entertained and showed promise in his coaching skills within the top tier of English football. Possession football was an integral element of his play, and the bigger clubs took keen interest in his early career due to this tactical set up that ambitious clubs so often crave.
With Liverpool FC in the midst of a club overhaul, the mangers in charge after Rafa Benitez's reign failed to build the club up to the new owner's expectations. Following Rafa's departure, Roy Hodgson failed spectacularly in rising to the task, never grasping the levels needed to truly succeed. King Kenny was soon ushered in to steady the ship, with the highs and lows in equal measure along the way.
With the realistic view that new blood and vision were needed, Brendan Rodger's was earmarked along with Roberto Martinez as attainable managerial options that offered both youth and prosperity of the evolving game. Eventually Brendan was announced, and the reshape began to take place, with King Kenny moving upstairs.
The now infamous 'Office' style documentary hit the supporters with a cringe and a sigh. When Joe Allen & Fabio Borini signed, there was a clear and evident mark of Rodgers not up scaling his transfer targets to suit the mighty reds after his time with the Swans.
Understanding the need for a director of football, or the committee as it was then, is perhaps Brendans biggest failure. He was blessed with the riches of Suarez and little Phil upon his arrival, which blended perfectly with his attacking ethos. Later, Sturridge was brought in to create a scintillating front line that tore into many a defence. Yet it was always an inability to strengthen from a position of power after the title charge, that inevitably brought his downfall later down the road.
Brendan Rodgers is a great coach that can mould a forward line and create havoc through patterns of play that suit a talented roster of players. His weakness was identifying players in the market to replace or enhance said roster. A coach, often seen on the continent, will work closely with a DOF to identify the needs of the team, not so much a certain individual but a mould that fits the logic of the team. Rodgers would often opt for the people he knew, above the people he needed.
Where Borini, Benteke, Lallana, Balotelli & Lambert were signed in a period of change, the levels that each were capable of were only suited to teams not at Liverpool's required level.
There was rumour of disagreements with the committees transfer policy and the players that should or shouldn't be signed. Liverpool now on this day, have achieved a spectacular blend of analytical study and recruitment that maintains a healthy net spend, something that should be admired. The player needed is identified purely on on his merits over a period of time, rather than a snapshot off Match of the Day.
Brendan's delayed departure came in line with Klopp's availability one would assume. If the big German had been ready to resume coaching duties sooner, then Brendan would have surely been moved on in the summer following the Stoke debacle. If this had been the case, Steven Gerrard's unacceptable last game would have also been Brendan's.
A move to a Celtic, where domination and a freedom to express his talents more freely followed his sacking. A step down indeed, but one which would have brought his feet back to ground so that he could riser once more.
Brendan Rodgers has always seemed to have a high opinion of both his talents and level within the game. His move to Leicester was swift and showed the desire of a man wanting back into the big league of football. He has matured as a manager and showed real tactical nouse in order to elevate his team towards the top of the division.
Frank Lampard, Eddie Howe, Steven Gerrard & perhaps soon Mikel Arteta should look at Rodgers' path for when hard times befall them, as some have already found. Re-establishing oneself with another team, perhaps a step or two down can be to their benefit long term.
Learning from failure is key to growth of most managers. Sarri, Tuchel & even Chris Wilder took the long road where their name was not enough to attain a high level job at the outset of their journeys. Rodgers, despite his failures, appears to have found a successful blend of youth, experience and adaptive players to create an exciting team at Leicester that could challenge for silverware in the coming seasons. His transfer dealings, whether orchestrated by the club or himself, are paying off very well.
The ego remains, that's evident. But a wiser head, added to a solid and successful body of work make Brendan Rodgers an acclaimed manager after all.