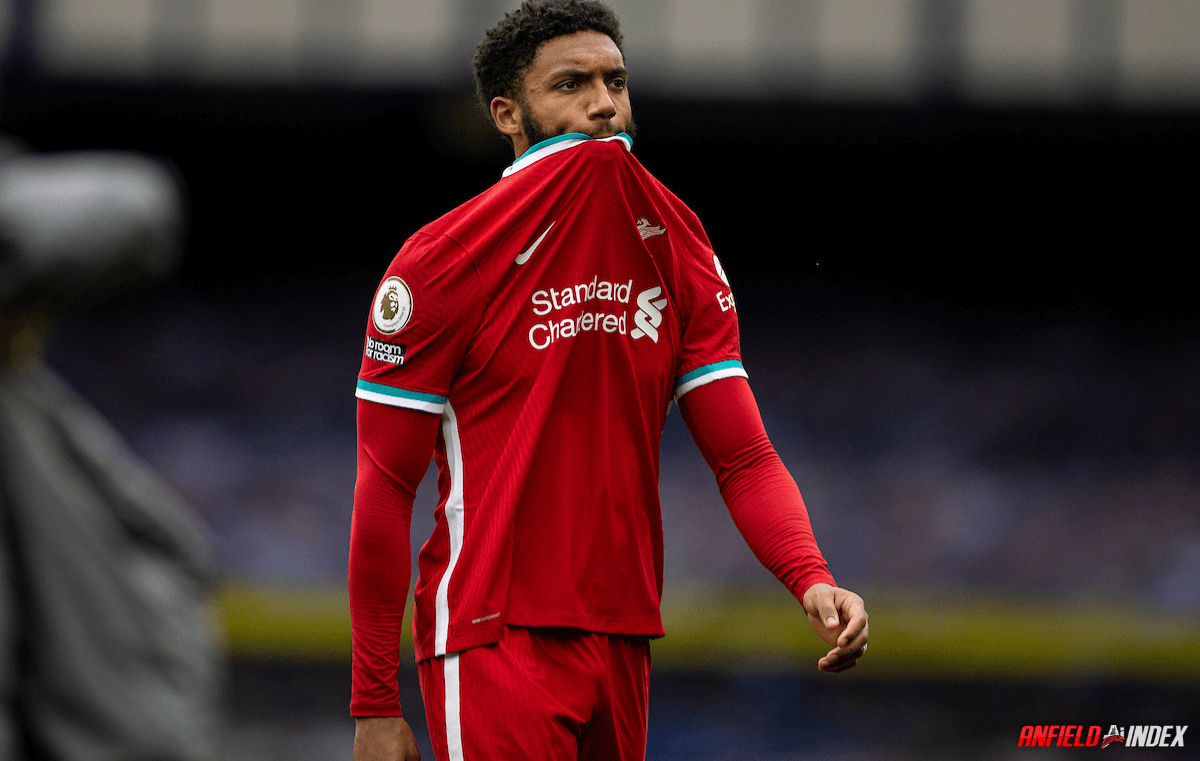 Joe Gomez enters defining period of his Liverpool career

Joe Gomez has now been a Liverpool player for almost six years, which doesn't seem possible.
In fact, he is now the fourth-longest-serving player at Anfield, behind Jordan Henderson, Divock Origi and James Milner, yet is still only 23 years of age.
Gomez's Liverpool career has been a curious one, with endless moments of promise, exceptional runs in the team, but also a worrying list of injury layoffs.
His early performances for the Reds in those first few weeks of the 2015/16 season, when Brendan Rodgers played him at left-back, immediately made you sit up and take notice. He looked a class act.
Still just 18 at that point, his first major setback simultaneously occurred with Jurgen Klopp's arrival as manager, with a cruciate ligament ending his campaign before he had the chance to impress his new manager.
Gomez's next Liverpool appearance didn't come until January 2017, due to an Achilles problem also curtailing his progress, during which time he took a while to find his feet again.
Supporters predictably gave him little leeway to get back to his best – the FA Cup defeat to Wolves saw him receive endless criticism – and there were some who even felt he had no long-term future on Merseyside.
Gomez became a far more prominent figure in 2017/18, however, filling in at both centre-back and right-back, but there were still fitness issues that held him back.
The Englishman was robbed of appearing in the Champions League final defeat to Real Madrid, with ankle surgery depriving him of a place in the squad, as well as participation at the 2018 World Cup.
If Liverpool's European success in 2019 was a pivotal moment in Klopp's reign, allowing them to finally get over the finish line, more disappointment came Gomez's way.
He played just 16 times in the league in 2018/19, and although he was available for the Reds' second Champions League final in 12 months, he found it impossible to oust Virgil van Dijk and Joel Matip, with the latter possibly Man of the Match against Tottenham.
Last season was undoubtedly Gomez's biggest leap forward, as he started the campaign in almost-perfect form, playing as well as the incomparable Van Dijk.
He wasn't necessarily playing every week – Matip and Dejan Lovren featured, too – but Gomez was unquestionably first-choice as Klopp's men romped to Premier League glory.
If last year saw the 23-year-old emerge as one of the best young centre-backs in Europe, this season has seen him stand still, through little to no fault of his own.
Yet another serious knee injury suffered in training for England proved to be another season-ender and it has played a huge role in Liverpool's struggles.
Van Dijk's own cruciate ligament damage will forever be considered the defining-moment of 2020/21, but Gomez being out has also been an almighty blow.
As Klopp tries to mastermind Liverpool's return to the top of English football, his young defender now finds himself at a crucial points in his Reds' career, with long-term question marks surrounding him.
While there is little doubt regarding Gomez's ability and potential – age is still on his side – the mounting injuries are now a cause for concern.
There is the risk that two major knee problems may take some of his electrifying pace away, while the toll of another long spell away from the team could also require a huge amount of mental fortitude to come back from.
Centre-back is clearly an area that Klopp needs to address this summer, especially with Matip impossible to rely on and Van Dijk scarily turning 30 in July.
Ozan Kabak has come in and impressed after a shaky start, and could be retained permanently, while strong rumours linking Liverpool with a move for Ibrahima Konate are not going away.
Should that pair both join at the end of the season, Gomez will face significant competition for a starting berth and will need to hit the ground running next season, in order to cement his regular partnership with Van Dijk again.
The England international would still arguably be the strongest option over Kabak and Konate, but if he continues to be plagued by injuries and fails to go up another gear, there is the risk that he gets left behind.
It won't be long before Gomez can no longer be considered a young player, especially having been at a top club for nearly six years, so this feels like a significant moment where his career could go one of two ways.
He could either rid himself of the high-profile injuries, finding a world-class level and eventually becoming the main man in defence, or he could carry on being injury-ravaged, slipping behind others in the pecking order.
The hope is that it is the former, but with each passing season, there is a niggling feeling that he may not manage to reach his vast potential.
Only time will tell.