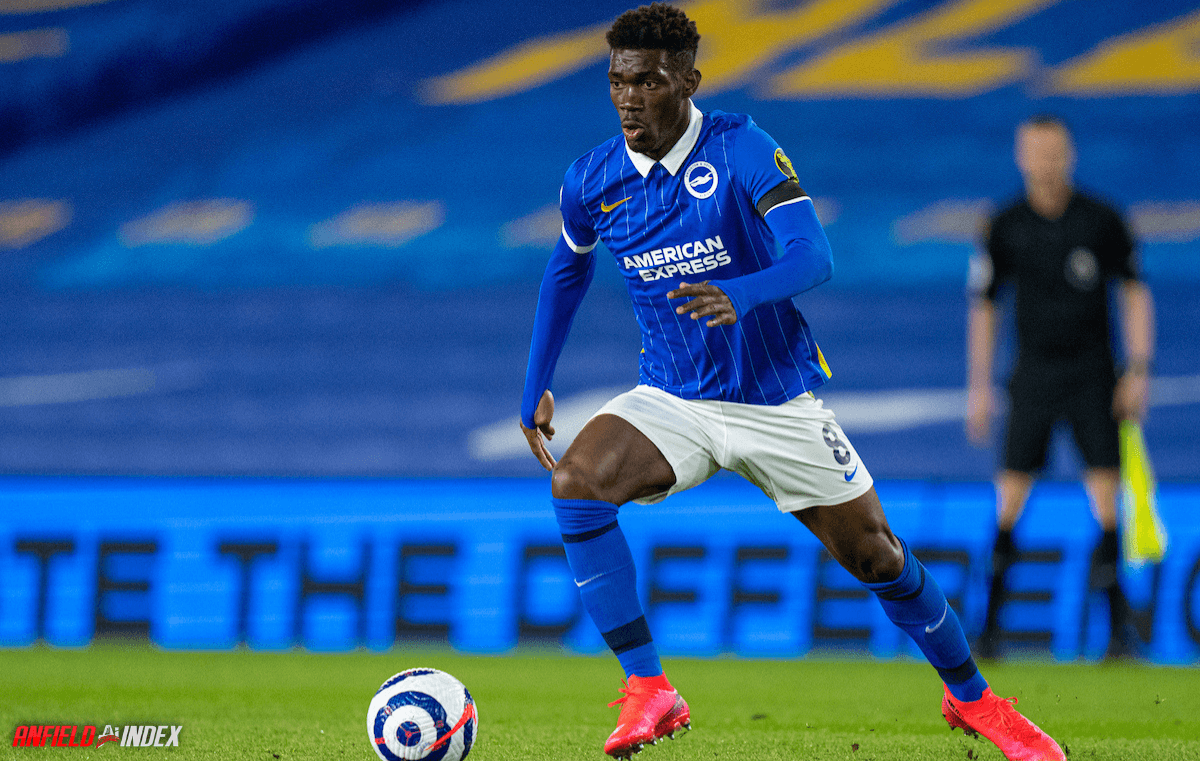 Why Yves Bissouma Could Offer Liverpool A Post Wijnaldum Boost

With Georginio Wijnaldum's spell at Liverpool soon coming to an end, plenty of players have been linked with replacing the Dutchman in the Reds' midfield.
Among those mentioned as being of interest to the scouting team at the defending English champions is Brighton and Hove Albion's Malian central midfielder, Yves Bissouma. Reports in the Athletic suggest that Brighton would begrudgingly sell their midfielder, provided a bid of least £40M was made.
The former Lille linchpin has been a key figure for the Seagulls this season, playing in 31 of Graham Potter's team's Premier League games.
Rangy, powerful and with a natural ability to glide through pressure — which is reflected in his dribbling statistics — the 24-year-old Mali international has impressed throughout the campaign, even if his team — thanks to the most toothless attack in the league — hover just above the relegation zone.
Bissouma, like Wijnaldum — the man he could potentially replace — plays a disciplined role for his team, allowing other players to express themselves in attack safe in the knowledge that the midfield is protected.
The Dutchman and the Malian also share in common a capability to keep the ball under pressure and act as a release valve for the team. Bissouma is in the 87% percentile in Europe's top five leagues for dribbles completed, whereas Wijnaldum is in the 70% percentile; this difference could be explained by the fact that the majority of teams who play against Liverpool sit deep and defensively and there is less space to dribble into.
Neither player are required to be hugely progressive with their passing, instead, they — per doctors tactical orders — cede this responsibility to other players. Bissouma is in the 36% for progressive passes, which are described by FBRef as completed passes that move the ball towards the opponent's goal at least 10 yards from its furthest point in the last six passes, or any completed pass into the penalty area. Excludes passes from the defending 40% of the pitch.
Wijnaldum, meanwhile, is in the 34% for this metric, which isn't to say he can't pass forward if called upon, more that he diligently carries out Jurgen Klopp's orders and plays his specific role to the nth degree of compliance.
Defensively, Bissouma clocks high numbers. He successfully makes 3.38 tackles per 90, makes 1.55 interceptions, and completes 1.88 blocks. The Seagulls average 52% ball possession this season, so you can safely imply that the Malian is an intelligent defensive force rather than a player who relies on huge volume to inflate his statistics.
Liverpool have been truly impotent from set-pieces this season, thanks to the height they lost when Virgil van Dijk, Joe Gomez, and Joel Matip picked up season-ending injuries. Last season, the Reds scored from a league joint highest seventeen set-pieces but have only notched six goals from dead balls this season; none of which have been scored since December.
Recently, as seen in the draws against Newcastle and Leeds United respectively, the Anfield team have also looked susceptible to both set pieces and long balls, weaknesses only worsened by the injury sustained by Nat Phillips.
While he isn't a direct threat from set-pieces — as shown by the fact he has only scored once this season — Bissouma can help the Reds lot from corners and free-kicks, both defensively and offensively. With his 6'0″ frame the Malian could fix the attention of opposition players and make room for other players to attack set pieces. On the other side of the ball, this height could be used to good effect when defending lofted crosses and corners, and free-kicks.
It's not like Brighton and Liverpool play wholly different styles of football, which would make any transition between the clubs easier. The Seagulls look to play attacking, pressing, and possession-based football, which is similar to the style employed at Anfield.
If the Reds do indeed make a move for Bissouma, you can be sure that Adam Lallana — a player with whom Klopp has a great relationship — vouched for his personality and that, aligned with his on-field abilities, would mean the midfielder could well be a shrewd capture for Liverpool.