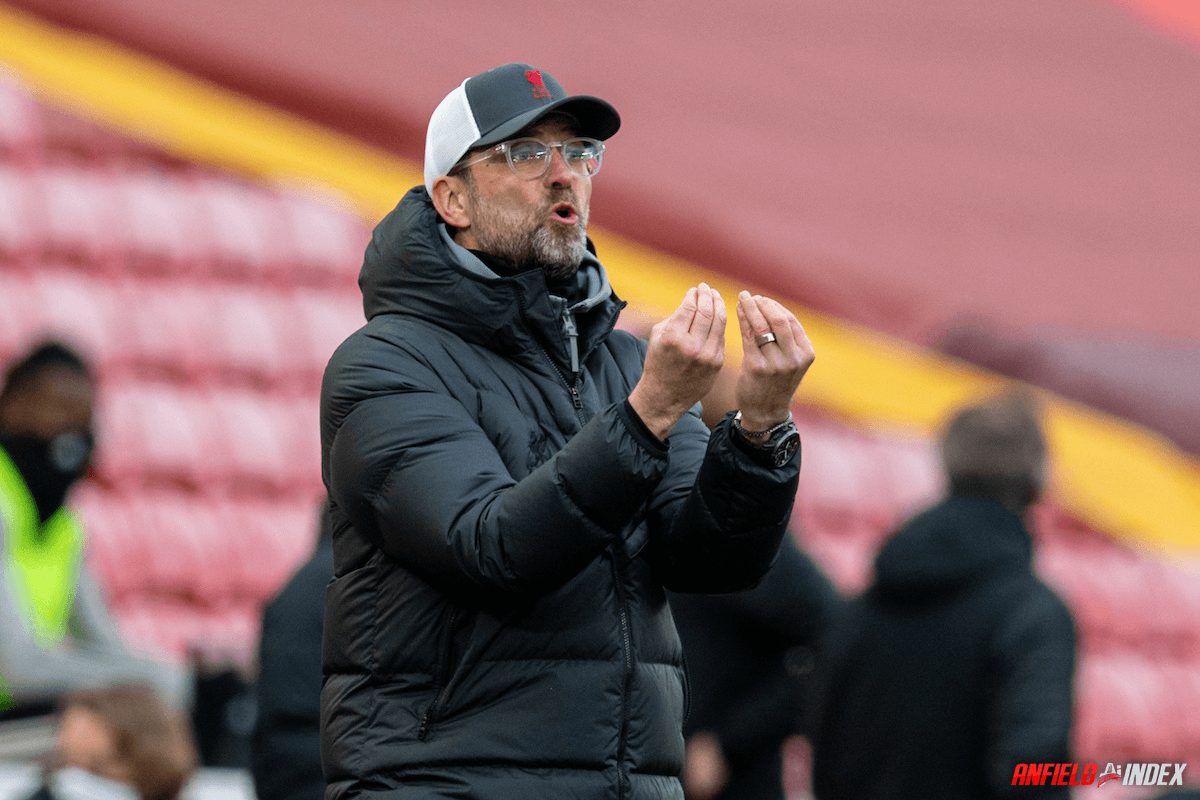 Red's Supporters Should Be Optimistic about the Team's Opportunities Next Season
It seems that music and football have more in common than Liverpool fans might think. After capturing our first Premier League title, we've hit a rocky patch trying to make more history and become one of a few couples to retain the trophy. The second album curse has hit Jürgen Klopp's men hard.
We all want to sneak into the top four so that we kid ourselves and say the season wasn't a write-off, but in many ways, Champions League qualification doesn't matter as much as usual. The fact is that this campaign has been an anomaly, and next year will be business as usual. Here's why.
The Return of the Squad  
Let's face it – injuries are mainly to blame for the course of the season. Yes, the team has lost confidence, something we wouldn't have imagined possible in 2020, even causing the best strike force in the country to lose its edge. Still, a lot of the problems that have reared their heads recently are due to losing vital players.
Still no official word on Van Dijk's injury but early reports aren't looking good.#beINPL #PL #EVELIV 📺 HD11 pic.twitter.com/6G2FN6KyBF

— beIN SPORTS (@beINSPORTS_EN) October 17, 2020
Virgil van Dijk's shocking incident with Everton's Jordon Pickford was going to cause chaos because the Dutchman is the greatest central defender in the world. However, it was made worse by the fact that Fabinho had to fill in at centre-half. That's not a slight on the Brazilian – he's an excellent defender – but he's a superior midfielder, a man we rely on to not only stop attacks but also start ours with his short, snappy passes into others' feet. His solidity is the ideal foil for Trent Alexander-Arnold, too, relieving the full-back of his defensive duties and encouraging him to gallop up the pitch.
For example, when he returned to the base of the midfield three in March, Liverpool began scoring goals by putting four past Leipzig in Europe and reeling in the challengers for the Champions League places.
Man United and the Glass Ceiling  
Nothing hurts Liverpool fans more than watching Man United succeed. Okay, they aren't pulling up trees, yet second in the League and a Europa League semi-final against Roma is better than we have mustered this year. They seem to be growing under Ole Gunnar Solskjaer, so much so that the Premier League betting for 2021/22 already has them as 9/2 second-favourites.
Some would say it's deserved, but there's a caveat – they have never played better than any other campaign since Alex Ferguson left almost a decade ago. In Marcus Rashford, they have a special talent that is nurturing into a quality marksman, while Bruno Fernandes is already proving his worth. We have to keep in mind that it's a single season, and they are only slightly in front of Liverpool, who are rated as 5/1 third-favourites. We know that our best form is good enough to take on Man City and win because it's something we've done countless times under Klopp.
While they have improved, United can't say that they are spectacular. The team used to win leagues, chiefly under José Mourinho at Chelsea, yet Pep Guardiola's fluid style has altered everything. If clubs want to take on the Kings, they need at least 90 points. United will be nine points shy of that haul if they manage to win every Premier League game from now until May. In the previous two seasons, we have hit 99 and 97 points, respectively.
We can't guarantee anything, but considering this year's unfortunate turmoil with injuries and the fact that we have proven we're one of the best teams in the world, Liverpool fans shouldn't be nervous about the new campaign. With everyone back and a couple of handy transfers, we'll be back where we belong – at the top.