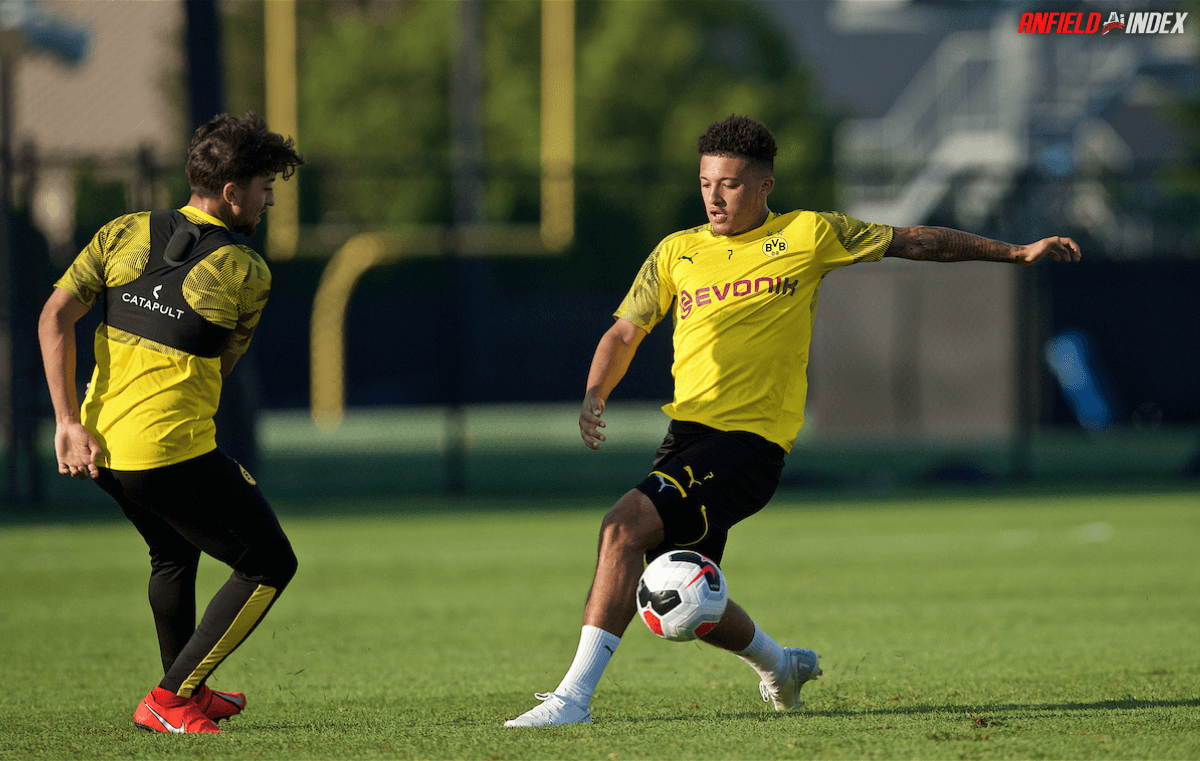 How Jadon Sancho could replace Sadio Mane

The upcoming transfer window could see Liverpool rip everything up and start from scratch. 
All areas of the team need reinforcements and this could result in a summer of high turnover, with a number of squad players set to be shown the door, along with some key players from the title-winning team. 
Gini Wijnaldum is set to leave and needs to be replaced, if Ozan Kabak and Ibrahima Konate are added to the ranks then Joel Matip will likely depart and there is some doubt over the future of the front three. 
Though James Pearce said the club had no plans to part with any of the trio and Melissa Reddy has said there's no market for Roberto Firmino, Mohamed Salah or Sadio Mane due to the debt so many clubs are in, there seems to be a fresh link to a forward on an almost daily basis. 
You can also read into the fact Liverpool are supposedly dragging their feet with Salah, despite the prolific forward looking to extend his stay at Anfield. The player himself confirmed this recently: "No one is talking to me about anything, I can't say much about that. No one at the club talked to me about anything, so I don't know."
Taking all of this into account, If the Reds were to start the 2021/22 campaign with all three still part of their squad, it'd be a surprise right now. 
Of the three, Salah is probably the one you simply can't replace. His output, even during a season the team has struggled, has been outrageous. Firmino is still unique enough to offer something. So that leaves Mane. 
Not long along, he was going toe-to-toe with Salah for the Golden Boot. Now, though, he looks way off the pace and has done all season. This isn't simply a case of casting out a player in poor form. If Liverpool are to rebuild, there's no place for sentiment. They need to be ruthless. 
According to reports in Germany, Jadon Sancho is now available for around the £70million mark. If the Reds can cover the majority of that cost by selling Mane, then it is a no-brainer. I'm not entirely sure if there's a market for the former Southampton man at the minute, but Mauricio Pochettino might fancy adding the 29-year-old to his squad at PSG. 
Beyond Kylian Mbappe, Neymar and Angel Di Maria, the Ligue 1 side don't have that much in attack. Mauro Icardi and Moise Kean have been the back-up this season while Julian Draxler has found his way into the team again.  You also have to take into account the fact Di Maria is 33, Neymar is fairly injury prone these days and Mbappe has a bullseye on his back, with Real Madrid desperate to sign him. 
Maybe I'm just talking myself into it, but I do think PSG would find a space for Mane. This frees up a space for Liverpool, as well as money to put towards Sancho. 
Now, I've seen people say that the 21-year-old isn't all that. Granted, this is by far his worst season for Borussia Dortmund having involved himself in just 11 Bundesliga goals. However, he is playing for a side in transition. Lucien Favre was sacked in December, Edin Terzić was hired on an interim basis before it was announced that Marco Rose would be joining the club in the summer. BVB have played various systems during this condensed season and, as a result, Sancho has been deployed in different areas. 
It is difficult to be consistent in an ever-changing team. Judging him on this campaign in isolation isn't fair. 
Last season he netted 17 times and assisted 16 more. During the 2018/19 campaign, he finished with 14 assists and 12 goals. His underlying numbers paint him more as a creator than a goalscorer, but he does pull his weight in both departments. 
To be perfectly honest, Sancho profiles like a Liverpool forward before they move to Anfield, which is exactly what he might be. 
He shares a lot of similarities with the 2017/18 version of Mane. If you think back to that season, when the Reds lost Philippe Coutinho in January, the Senegal international took up the creative mantle and really impressed as a playmaker. It happened to be Salah and Firmino's most productive season too.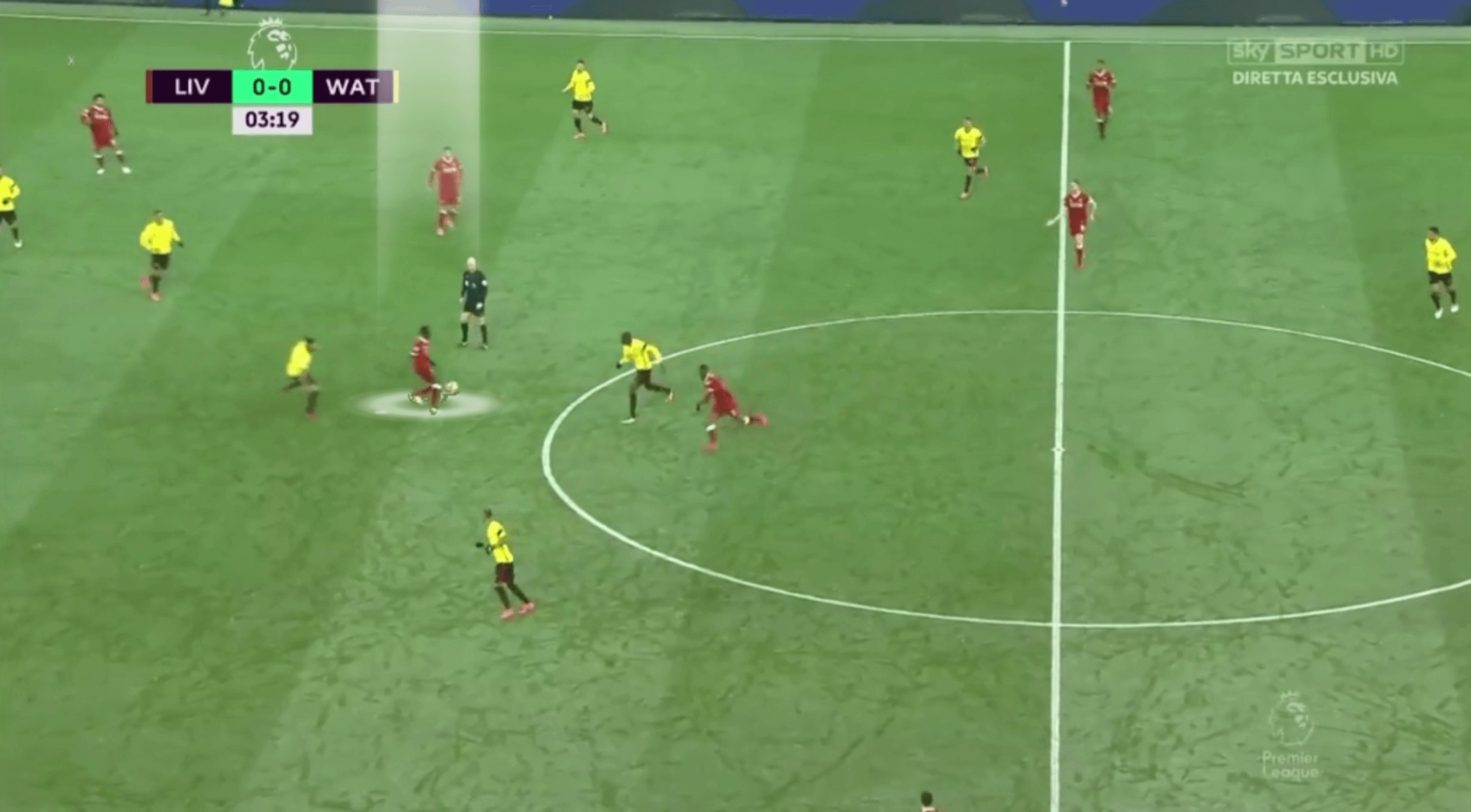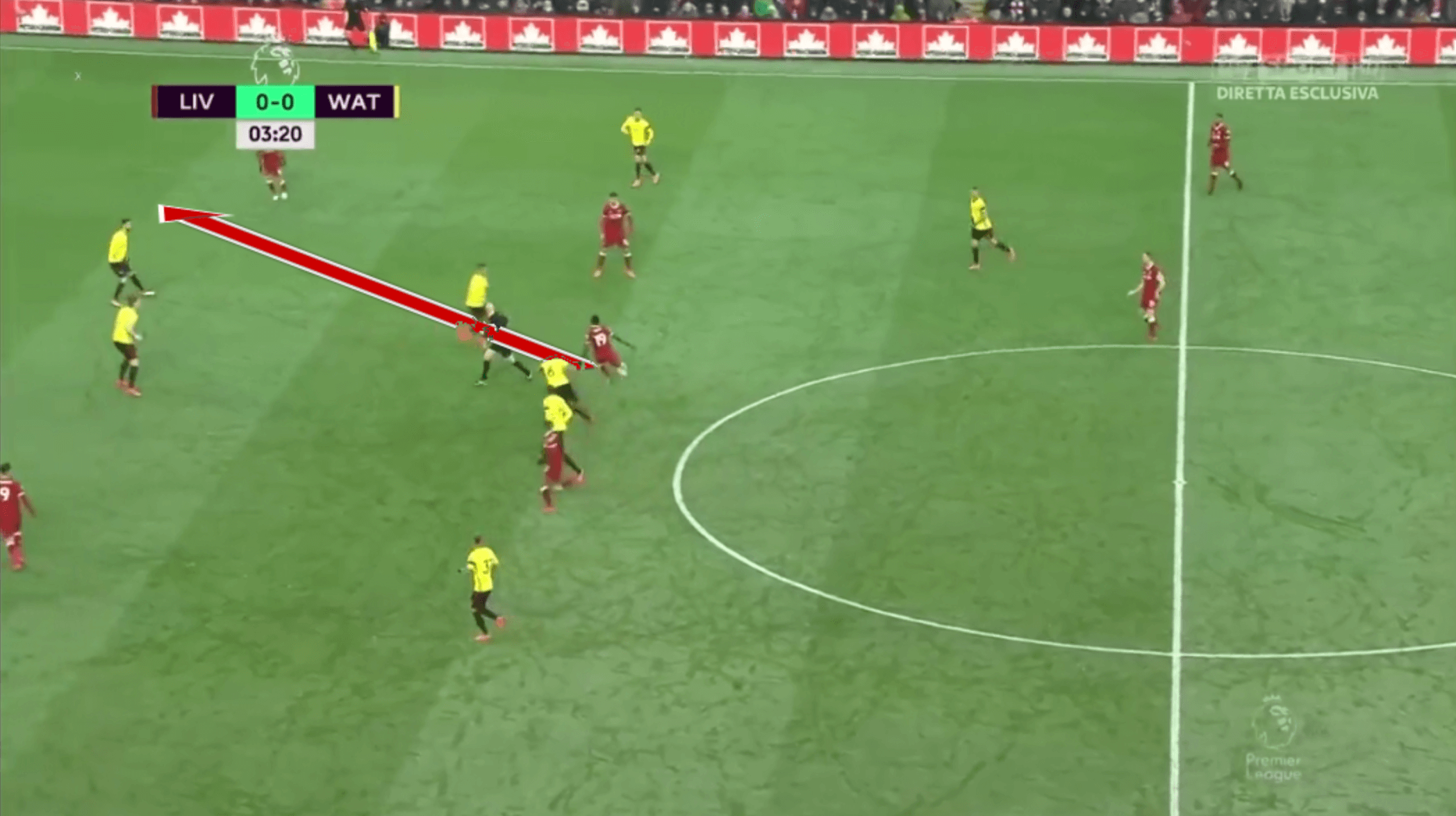 Mane would regularly drift inside from the left channel to pick up possession centrally. In the two stills above, you see him receive the ball in an area usually associated with Firmino, turn on it and play an incisive pass through to Salah. The No11 then dances past defenders and gives Liverpool the lead.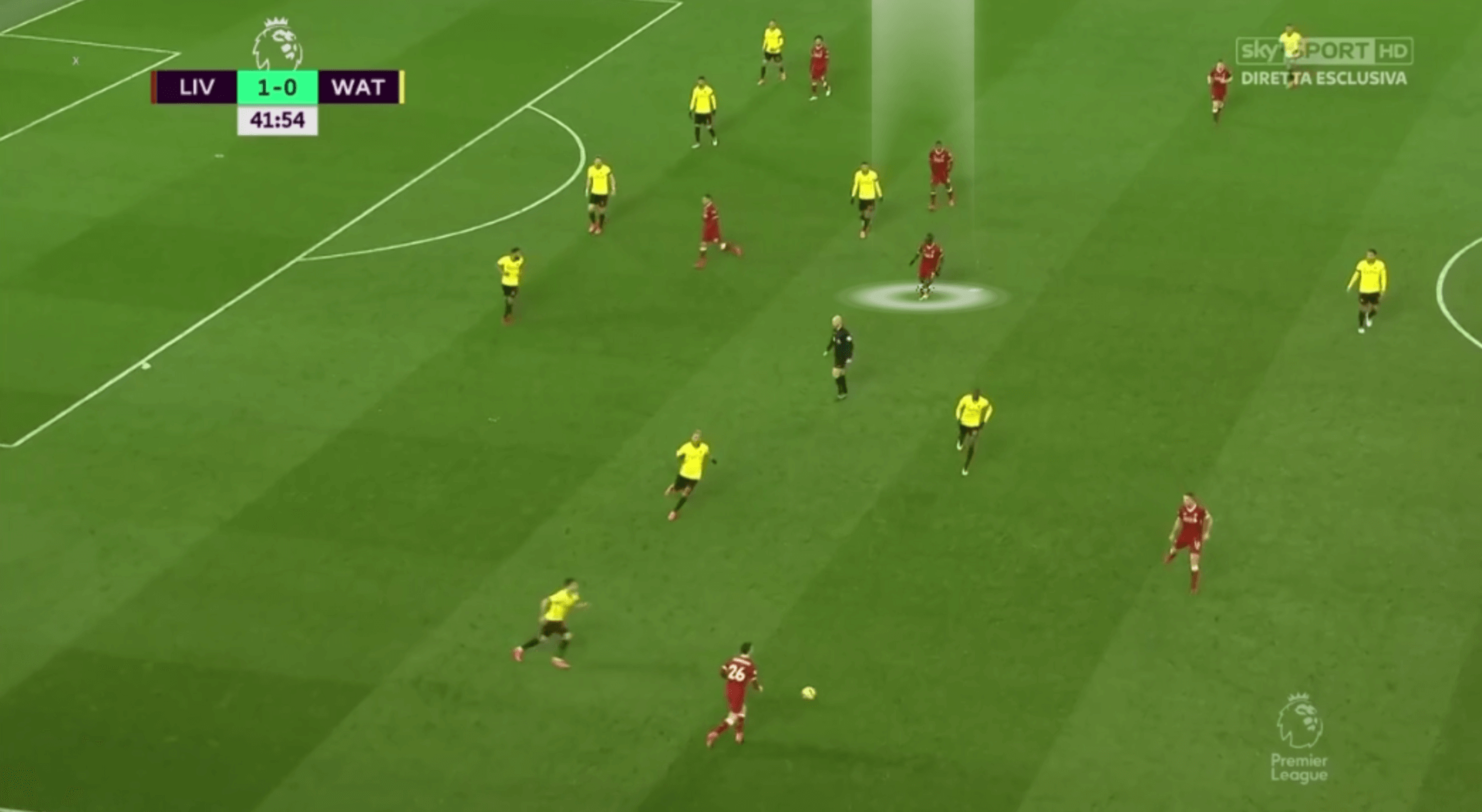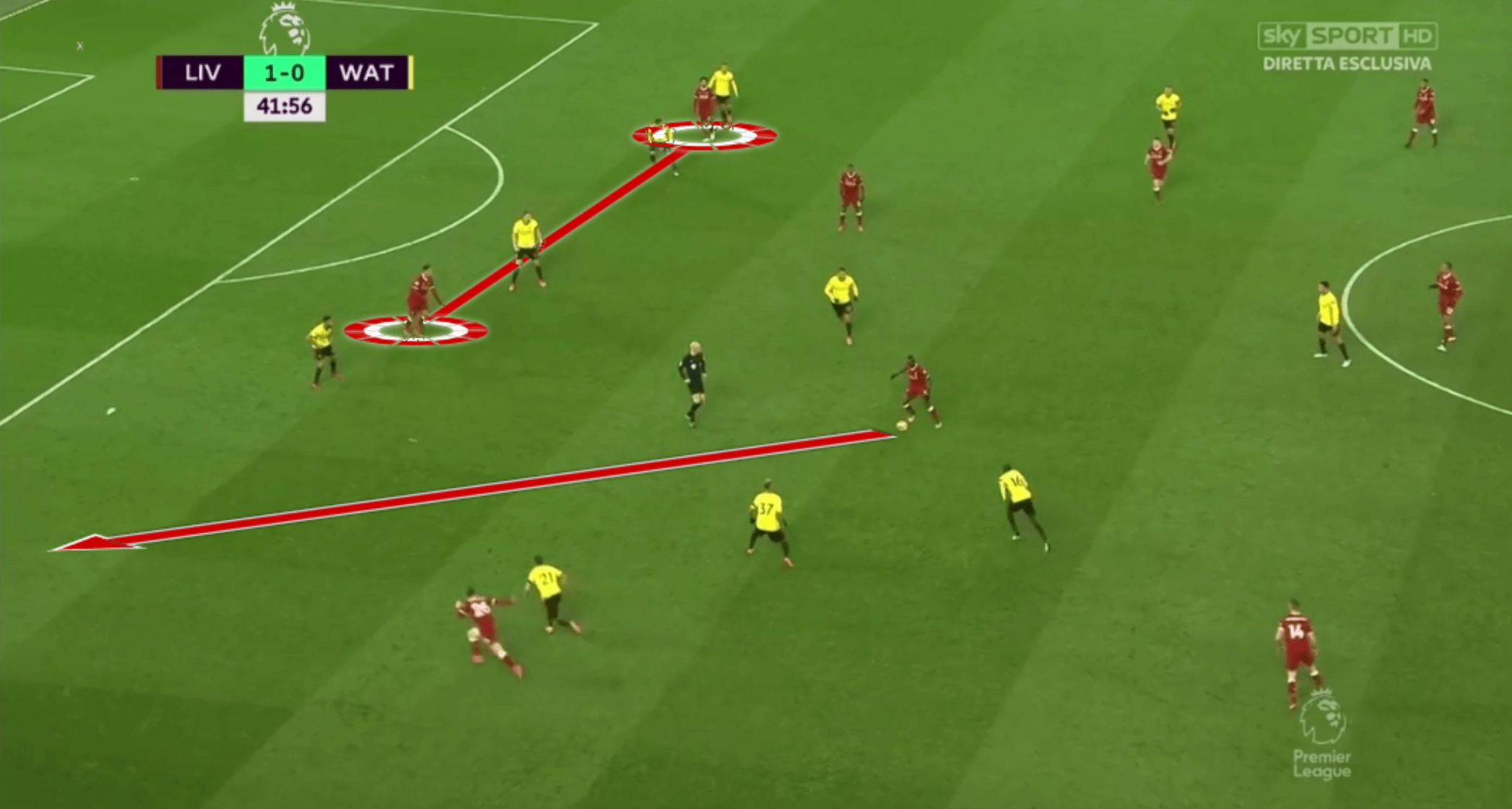 Above is another example of Mane's playmaking ability. In the same game against Watford, he dropped deep to offer up a passing option to Andrew Robertson. He then sets himself before playing a return ball to the marauding left-back. His ball across goal is finished off by Salah. 
In both instances, the then No19 finds himself in a central position behind Firmino and Salah. In the past couple of seasons, the roles of Mane and Liverpool's No9 have been reversed. 
Jurgen Klopp's side have won the Champions League and the Premier League in that period, so you can't say it hasn't worked out. But people seem to forget just how effective Mane was in that role. Sancho could play that while honing his goalscoring craft. Alternatively, he could just operate as one of the creators in the team in a new-look Liverpool side. Bringing in the former Manchester City youngster could see the Reds switch it up, again. Maybe a fresh approach is what is required to keep this team at the top.