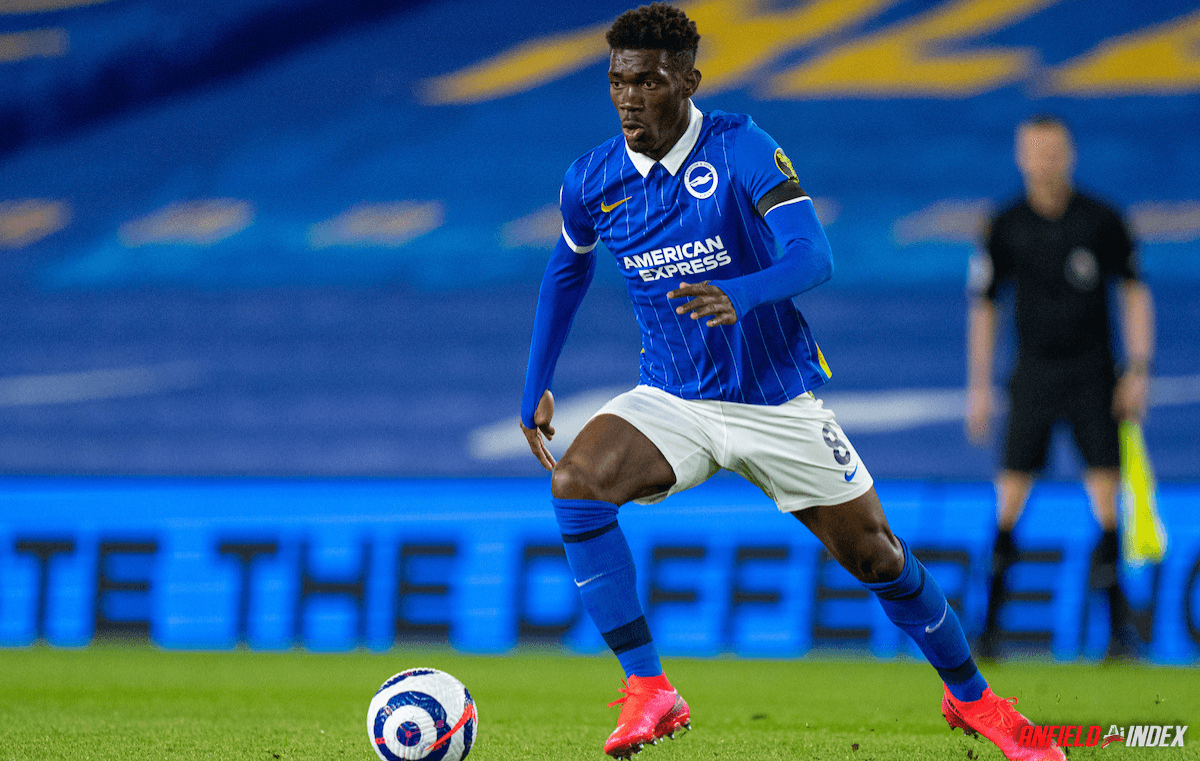 Bissouma reaction: Some Liverpool fans will never learn
If you're expecting a memorable summer in the transfer market at Liverpool, you're in for a horrible shock.
Unfortunately, this isn't FIFA or Football Manager, so the Reds won't be splashing an endless stream of cash, as Jurgen Klopp's men look to bounce back from this most dispiriting of seasons.
Given the impact that COVID-19 has had on football, and the fact that Liverpool are highly unlikely to be in the Champions League next year, some perspective is needed.

It's deeply frustrating, of course – the idea of this side not finishing in the top four was something we would have laughed at last summer – but it is a brutal reality that has to be accepted.
We all sold our souls to the devil in order to win that maiden Premier League title.
That's not to say that Klopp and Michael Edwards won't continue to try and work their magic in the summer transfer window, however, with new faces unquestionably needed.
Liverpool's squad has looked tired and in need of freshening up as the months have passed this season, so no signings would be an almighty error bordering on complete negligence.
One player who continues to be strongly linked with a move to Anfield is Yves Bissouma, who has stood out as a rare positive in an otherwise disappointing campaign for Brighton.
Graham Potter's side have battled relegation throughout 2020/21, and while safety is now all but guaranteed, their inability to pick up points, despite playing well in games, has been a huge issue.
Every time you happen to catch the Seagulls on TV, it is Bissouma who invariably catches the eye more than anyone.
The Mali international combines strong defensive work with quality on the ball, averaging 2.8 tackles per game and enjoying an 87 percent pass completion rate in the Premier League this season – the latter of which is impressive, considering the team he is playing for.
As a comparison, no Liverpool player has averaged that number of tackles in 2020/21, with Thiago (2.4) the current top-performing player in that area.
With Gini Wijnaldum appearing increasingly like heading to pastures new in the summer, namely Barcelona, the Reds' midfield is going to have a void left in it – one that Bissouma could be tasked with filling.
There has been a mixed reaction to the news that Liverpool are eyeing up the 24-year-old, though, with those who have taken a negative stance accusing him of 'not being a top player', or something to that effect.
Because why would a player in a struggling side ever be good enough for the Reds? Only great future signings come from world-renowned clubs, right?
Wrong. Obviously.
It's like these fans have spent the entire Klopp era simply ignoring the German's masterful work in turning good players into world-class ones, making even £75million purchases resemble bargains.
Virgil van Dijk is the best and most influential of all of Liverpool's signings since Klopp arrived in 2015 – he joined from a mediocre Southampton side and didn't even leave Scottish football until he was the same age Bissouma is currently.
Sadio Mane also arrived from Saints and was lazily seen as an inferior option to Mario Gotze, prior to becoming one of the best wide players in world football. All because of the club he represented.
Wijnaldum and Andy Robertson were both relegated with Hull City and Newcastle, respectively, only to become two of the most reliable, consistent Liverpool players of the last 20 years.
No doubt their arrivals were met with the same level of sneering and negativity, with Mohamed Salah not too far behind after being deemed a 'Premier League reject'.
It also shouldn't be forgotten that some greats of the past didn't exactly strut into Melwood for the first time as global superstars, whether it be John Barnes arriving from Watford, Sami Hyypia coming in from Willem II or Roberto Firmino joining from Hoffenheim, to name just a few examples.
It remains to be seen if Bissouma will end up becoming a Liverpool player, or if he will be a huge success story for the Reds, but he shouldn't be judged because of the team he is playing for.
The Reds, more than anyone, have highlighted in recent years that you can find future world-beaters at struggling clubs, rather than adopt a head-in-the-clouds approach.
How have these fans not understood this by now?