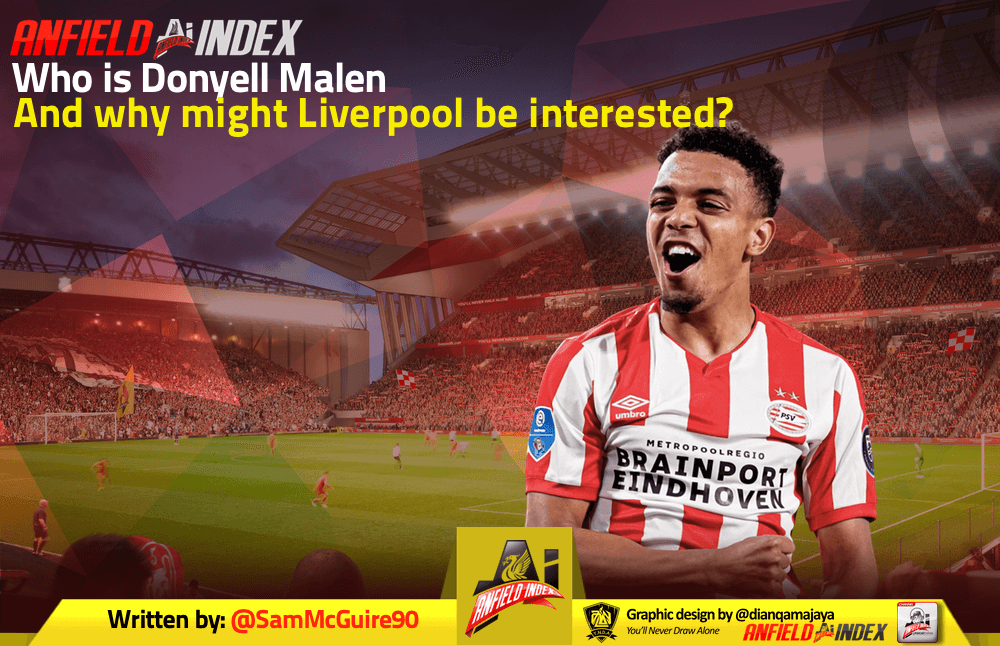 Who is Donyell Malen and why might Liverpool be interested?
For a team reportedly not in a position to add an attacker this summer, Liverpool are being linked with a lot of forwards. 
The most persistent one seems to be to Donyell Malen. The 22-year-old is having the season of his career with 24 goals and seven assists across the Eredivisie and Europa League for PSV. 
According to reports, his form hasn't gone unnoticed and a host of clubs from across Europe are keeping tabs on the former Arsenal youngster. It is believed that a fee of £25million would be enough to pry him away from the Philips Stadion this summer, and the Reds are allegedly the side leading the way ahead of Juventus and Barcelona. 

At surface level, Malen ticks plenty of the boxes required by Liverpool when looking to acquire a new forward. 
The PSV forward is a good age, he has experience of playing in England, he's got a proven track record in terms of quantifiable output and there's plenty of scope for him to improve. 
When it comes to attackers, the recruitment team at Anfield tend to like those with scalable output. This is why I wasn't entirely sold on Patson Daka. Though he was tearing up the Austrian Bundesliga, the 22-year-old was reliant on far too much volume. For him to replicate those numbers for Liverpool, Jurgen Klopp would have to shape the team around him and others would suffer. 
If you didn't do that and you couldn't almost guarantee Daka similar levels, he'd essentially be an unknown quantity in a new system playing in a different league. Even at £20million, he'd be a risk.  
Malen does share some traits with Daka. For starters, his shot volume is ridiculous. At the time of writing a feature a couple of weeks back for Twenty3, the former Ajax academy player ranked first for shots taken by players aged 24 or under. 
Yes, Malen had taken more shots than Kylian Mbappe and Erling Haaland. His average of 4.03 shots per 90 is clear of every player in the Liverpool squad this season. In fact, for added context, that is the average posted by peak Mohamed Salah during the 2017/18 campaign. 
It is highly unlikely that the PSV No9 will get close to that average if he were to move, at least not in the first season here. 
However, what works in Malen's favour is just how versatile he is. Though he's played primarily as a centre-forward, he's adept on either flank. The 22-year-old is a competent dribbler, attempting over six per 90 and completing close to 50% of those. 
He's composed when in wide areas, but he really comes to life when surrounded by opponents in the penalty area. His average of 6.5 touches in the box per 90 would rank him in the top ten in the Premier League. If he isn't in a position to shoot, he's looking to tempt players into making risky challenges. 
Malen is the perfect final third player in that regard. Even if he isn't scoring, he's occupying the opposition. Exactly what Salah and Diogo Jota do and Sadio Mane and Roberto Firmino did. 
If Liverpool have a limited budget this summer, they'll struggle to find a better value for money option. There are no guarantees, there never are, but without forking out £40million, you'll struggle to find a better fit with as much potential.