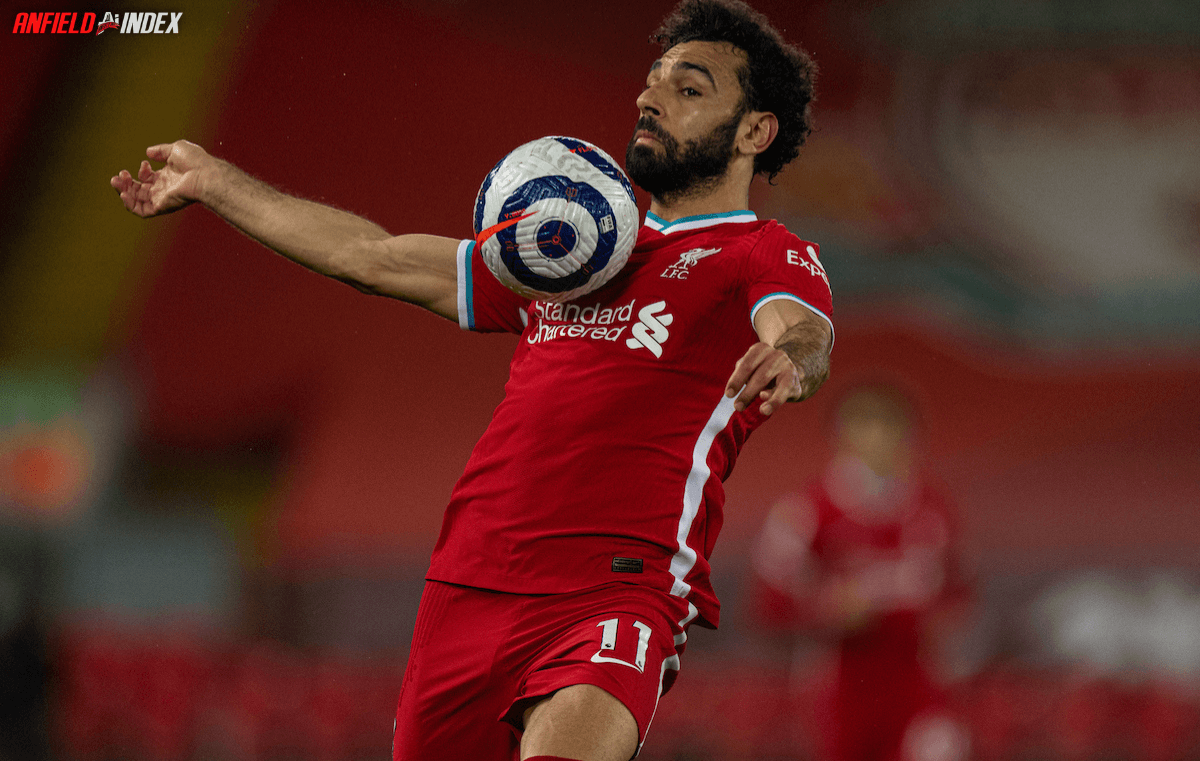 Mo Salah - What Next...?
Mohamed Salah, a player with two stints to his name within the Premier League, stands as a genuine world class player in the modern game. His personal goal record is phenomenal, his under-appreciation outside of Anfield equally so.
A player brought in to add firepower to the reds, with pace and goals from wide, delivered from the second he arrived. With a power shift of Christiano Ronaldo & Lionel Messi afoot, there are few players of Salah's level on the world stage to take on the their long serving mantle. Erling Haaland, Kylian Mbappe & Joao Felix are the young princes in waiting for sure, but if Salah were to leave, the stampede for his signature would be utterly rampant.
In a COVID-19 disrupted season, Salah will once again post brilliant individual numbers, not bad at all for a so called one season wonder. Predominantly deployed from a wide position, his goal tally for the reds is absurd, even with the general move of wide men to inside forwards. For Salah to maintain such levels is testament to the player & his desire to be the divisions premier forward.

At 28 years of age, Salah now sits firmly within his prime years. The lack of any real career disrupting injury, and thus near constant availability is an undervalued attribute that cannot be ignored. Luis Suarez was of similar type, a player that could be relied upon – when not on suspension for biting – in becoming a near ever present ingredient in the reds attack.
With Bruno Fernandes at Old Trafford, his own impact across his career shows remarkable levels of both form and availability. Frank Lampard at Chelsea was much the same, and managers adhere themselves to these players that can be constantly relied upon, especially as match winners.
The next stage of Mo Salah's career may see a shift in team strategy, as well as his own. With many sides now successfully adopting the low block, counter attacks are very rare for him to exploit space. His pace and direct nature when in this space is frightening, and thus this avenue has been all but closed off, game by game as a result.
With teams consistently overloading defensive areas, doubling up on Mo Salah has become common place in wide areas, outside to in. The evolving nature of the game may well see Liverpool start their own tactical shift, of which Salah should play a vital part.
At limited times, Mo has has been used in the point of the attack, something his strength and ability can cope with, but may not suit him perfectly. In recent months we have seen Leicester City adopt a two man attack, with both Jamie Vardy and Kelechi Ineanacho leading the line to remarkable effect.
Kelechi Ineanacho was once heralded as the heir to Sergio Aguero's thrown – a massive job in itself – when employed by Manchester City. But where Aguero will go down as an all time Premier League legend, his unique skill set still needed time to mould to Pep Guardiola's specific style of play. Time was never afforded Inneachao to fully integrate himself into the City machine with such a wealth of competition, and a smart move to Leicester seemed logical for a young, talented striker.
The evergreen Jamie Vardy – still playing to an incredible level, even now – has always worked best alone, in a counter attacking system, and thus it took a Brendan Rodgers strategy shift for Ineanacho to finally shine.
Some players are quite simply not suited to the lone striker role. Daniel Sturridge always seemed less effective without a dance partner, and Inneacho has thrived sensationally whilst working in tandem. Where Fernando Torres could play lone at Liverpool – with a roaming Steven Gerrard behind – he simply could not adapt to Chelsea's version of play. Certain types, fierce competitors like Jamie Vardy or even Didier Drogba can work the lone role with ease, and this is an ability not afforded to all forwards.
Sometimes players are signed having played a specific role, and shoehorned into a new system after arriving. The specific scouting and analytical study of players and their attributes, make Liverpool signings often perfect for the role desired. West Ham, in attaining the services of Sebastian Haller, had pulled off a brilliant transfer coup. The issue was, Haller was a striker that performed brilliantly in a pair with Luka Jovic. Despite his physical attributes and assumed ability to perform a lone role, his form prior to the move was based upon working in a two, and therefore no real evidence was available to suggest he could adapt.
Moyes structure did not adapt to the nee player, and the door eventually opened for the talented Michail Antonio, a player proven able to adapt to many a role. It would have been interesting to see the pair deployed together, however West Ham's rise through the league proves their current strategy sound.
It is this idea of adjusting the forward line, or means of adopting a new strike pair that may some sometimes be a necessity. Mo Salah can flourish further with a move inside with a strike partner, and here lies the potential positive shift for the Egyptian.
Where the Liverpool central striker of past has often needed to be selfless in Klopp's tenure, Salah may indeed need that foil to help unlock stubborn back lines even more so. Currently all the Liverpool forwards can play across the front line to some degree, but no one player has truly established themselves as an out and out striker, a prolific fox in the box. A shrewd summer signing could change this and bring the best out of a stuttering reds attack.
Mo Salah is a shot monster for the reds, historically, though teams willing to overload on him often leaves shooting to acute angles, or with too many bodies to overcome. With a little more central freedom – and the right partner – a lethal strike partnership could be moulded to add much needed variation to Liverpool's attack. The full backs have struggled with changes in the back line, but alterations ahead of them may ignite their crossing potential also.
The injuries have disrupted to the highest degree this season, but a change in the middle & final third was surely in the mind of Klopp with the Thiago summer signing. Thiago, Keita & Fabinho where signed as double pivot central midfielders, that would allow more flexibility ahead of them. This idea, would allow the less rigid three man midfield to dominate as a two, with a 10 & 9 working ahead of them. This is pure theory of course, but the logic appears sound given the recruitment of certain players.
Mo has an unbelievable ability – which he is not credited for – to bring others into play. This notion is proven, with a solid assist record. A permanent move inside into a central attacking role, alongside a second forward would surely unleash his vision further. With wingers employed either side in a 4-4-2 or 4-2-2-2, he would no longer be the final pass target, but could prove the inventive component, able to pivot with his partner.
At times, Daniel Sturridge would provide excellent service for his dance partner Luis Suarez, that the Uruguayan'sgoal tally would be made that bit easier as a result. Stan Collymore, an ultra talented striker was able to form a formidable partnership with Robbie Fowler before both found difficulties within their respective careers. It was always the deficiencies in other parts of the field that would let down these incredible strike partnerships, and leave them short any their title races.
With the world greatest defender VVD returning, potential summer recruit Konate being brought in to compete with Gomez and others, that defensive deficiency should not be repeated. Fabinho once more adding steel to midfield, instead of deputising at the back, will enhance further to the reds core strength. And finally, with Thiago, – one of the worlds greatest controlling midfielders – able to dictate play in a less disrupted side, the reds can afford to explore this forward evolution. Whether it be a new wide man, a new striker or a shift with Bobby playing the 10, the shape change may reinvent many a player in a rut.
With regards to the Egyptian King, Mo Salah, the next chapter could be sensational.