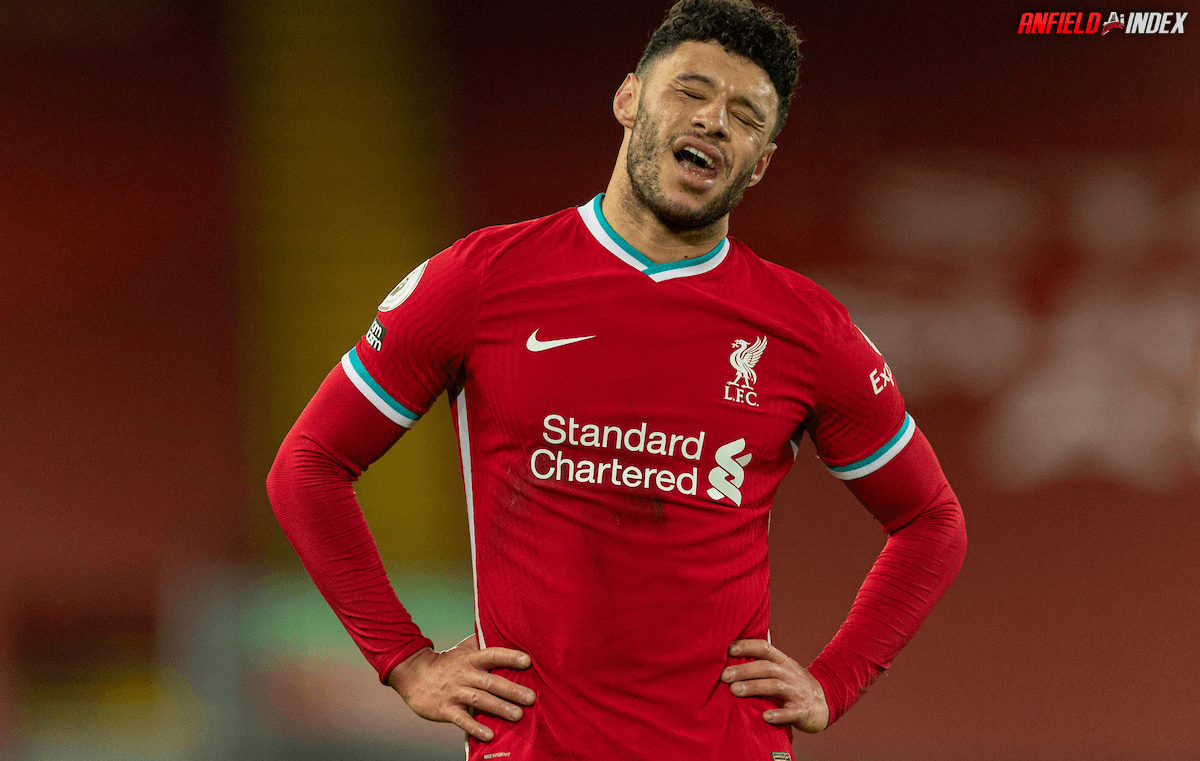 How To Deploy The Ox

Where now for Alex Oxlade-Chamberlain? When Jurgen Klopp paid the money for Ox, it was an investment in vast talent, adaptability and potentially his passport that made the move logical.
Unfortunately, the player arrived with a somewhat problematic injury record, and this has not ceased during his spell as a red. The fans, for the most part, appear to be willing to give him as much time as possible to reestablish himself. Squads that wish to compete at elite levels, are built on multi functional players as well as world beaters. They are also built on players that can spend large portions of their career on the bench, and the ex Southampton & Arsenal player seems to fall into this criteria, sadly.
As Ox approaches his prime years, it's still not set in stone where his best position lies. The player himself, sees the central midfield as his best position, but his wide instincts and recent minutes within the forward line have been encouraging. Though his hope to play in the center this may be true, this would only be in a 3 man midfield, with an operating holding player (such as Fab), to cover the frequent bursts of the two outside 8's.
This, which has been evident on many an occasions, is where Oxlade-Chamberlain cemented his place in the reds' fan base. A willing runner, built for gegenpressing at will, the Ox should compliment those around him.
The undeniable truth though, is that Klopp clearly places him within a bracket occupied by both Xherdan Shaqiri & Naby Keita. The bracket is made up of exceptionally talented, often injured, and rarely trusted forward thinking midfielders.
Rhythm is often overlooked by inpatient followers of any sport, the need to find ones feet and thus form is not granted its due respect. Injuries cause spells away from the training group, spells away from the required training matches and creates fewer opportunities to impress. It's a problem, needless to say.
Those mentioned above are all game changers,  Players that would walk into half of the Premier League elevens, given their talent. The issue with Liverpool, is the system employed has raised the bar very very high. Oxlade-Chamberlain is competing to break into areas occupied by serious high level footballers, that have won titles and earned the undying trust of the Manager.
Should James Milner be afforded the amount of playing time he's currently enjoying? Possibly not, certainly given the wealth of talent within the squad. But leadership sits strong within Jurgen Klopp's needs, and the injuries to both Jordan Henderson & Virgil Van Dijk have perhaps increased the desire to have one of his lieutenants on the pitch, as much as possible. Where Milner and Gini can offer great balance, assured positional play and an air of dependency, Ox maybe offers that more dynamic output. We have seen the way in which Manchester City can unleash attacking assets to great effect, in a fluid and interchangeable system, though at Anfield, this is far from the case.
Liverpool appear stuck in a somewhat rigid funk. With centre backs of the required level unavailable, it's difficult to employ drastic change without creating more issues. The balance is unsteady, and the Ox has suffered as a result. He is no longer injured, and been available for selection again and again, he's simply not selected that often. The assurance & safety net that primary defenders, VVD, Joe Gomez & Joel Matip create allows invention & adjustment ahead. The trust of Klopp extends vastly when he has a solid base, and regresses into James Milner starting territory when not. It is now a case of whether it is too late to turn the tide for Oxlade-Chamberlain.
With a child on the way, a summer where he will not be selected for international duty, and a potential move in the window to replace Gini Wijnaldum may force Oxlade-Chamberlain's hand. With a short career in football, and so many injuries maybe lessening that further, the current red may choose to venture elsewhere for more game time.
In a post covid world, it's difficult to place a price on any players head, as valuable assets can no longer be afforded by cash strapped clubs. A muted move to Dortmund was rumoured, possibly as some kind of makeweight within a larger deal, but this is more than likely speculation.
I believe the move to a more attacking set up, with two central midfielders controlling the park would unleash Ox further up field. I believe his best years are ahead of him, and with a proper preseason for him and certain others, the nee season could propel him into a more consistent starting role. There are places up for grabs, and players like Ox, Curtis Jones and maybe even young Harvey Elliott should look to force Klopp's hand with some standout minutes over the summer.
The Ox has something to his game that can help Liverpool in their potential formation shift. A 4-4-2, 4-2-2-2 or 4-2-3-1 would allow Oxlade-Chamberlain an opening on the right of all three systems. His ability to move inside at ease may suit Klopp desire to condense space off ball, and more importantly, free Mo Salah to move inside. Ox, with he running, direct style and eye for goal could refine his game and cement a place, he just needs luck with injuries, and a run o games.
With a strategy change next season, certain players moved on, and with key players recruited, the reds could ascend the league once more. Alex Oxlade-Chamberlain should hang fast, and look to grab his chance as part of the mini re-build.
His patience could well turn that great faith, into great form.