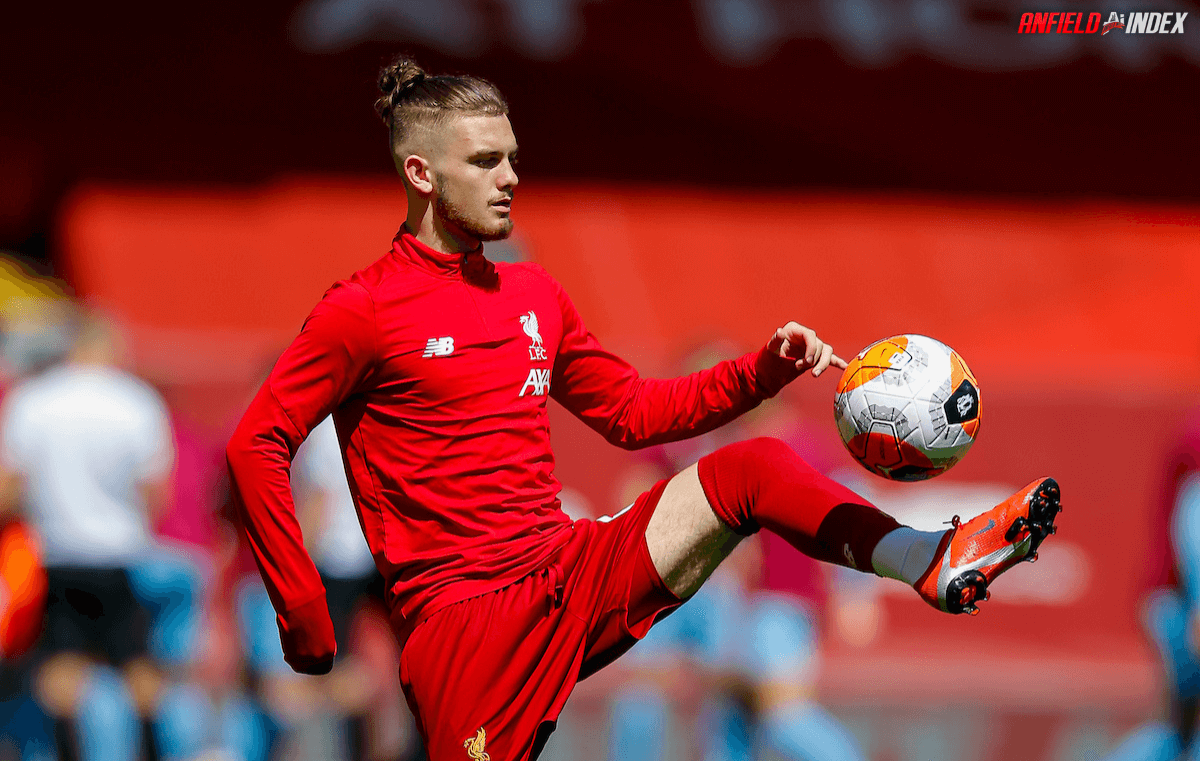 Squad role for Harvey Elliott at Liverpool next season?

Many football fans are guilty of getting carried away about young players, particularly English individuals who play for their own team.

It's only natural, in fairness, with the thought of a young homegrown talent eventually becoming a superstar one of the most appealing stories in the game.
We have seen it firsthand with Steven Gerrard and Trent Alexander-Arnold, but they are still in the huge minority, with so many not making the grade.
Liverpool supporters have been guilty of over-hyping a number of emerging players in the past – those who ended up failing to kick on and back up their youth team promise – with Ben Woodburn and Rhian Brewster two names who immediately spring of mind.
Both players were tipped to mature into future heroes at Anfield, particularly the latter, but it never materialised.
While injuries have played a part in Brewster's struggles, his season of woes at Sheffield United suggests he was never quite the striking sensation so many of us thought he was.
For this reason, it is understandable why there should be some caution surrounding Harvey Elliott – an 18-year-old with immense potential, possessing all the tools to eventually make it at the very top.
Despite this trepidation, the boyhood Reds supporter really is one of the most special English talents to emerge in years, already making huge strides in his career.
I'm well aware that this bold prediction could look horribly foolish one day.
Signed by Liverpool at 16, Elliott caught the eye sporadically in his first season on Merseyside – one cameo away to MK Dons was particularly memorable – before Jurgen Klopp decided a temporary move away made sense.
He joined Blackburn Rovers back in October, but while some youngsters can end up being suffocated by the physical, old-school nature of the Championship, where there are seasoned professionals everywhere you look, Elliott excelled.
The silky forward finished the season with seven goals and 11 assists in the Championship, with the latter tally only beaten by Norwich City's Emiliano Buendia (16) and Reading's Michael Olise (12).
For an 18-year-old still learning his trade, that is a highly impressive feat.
Elliott's brilliance in a Blackburn shirt didn't go unnoticed with his teammates, either, with club captain Elliott Bennett describing him as 'certified special', highlighting the impression he has made.
As another season reaches its conclusion and the summer approaches, Klopp has a big decision to make with Elliott: keep him in the squad or loan him out again?
While the idea of guaranteeing the Englishman another year of regular starts makes sense, there is a feeling that he is ready to make the step up and be a genuinely reliable squad player for Liverpool.
He has a fearlessness and healthy arrogance that immediate makes you confident that he wouldn't shrink for the Reds next season, and he has already shown he can handle it in a physical sense in the Championship.
Gerrard and Alexander-Arnold were both 18 when they were drafted into the first-team by Gerard Houllier and Klopp, respectively, and there is no reason why Elliott cannot follow suit.
With Xherdan Shaqiri expected to leave at the end of the season, the left-footed prodigy can take the Swiss' place in the squad, starting domestic cup games – potentially Europa League matches, too! – as well as picking up a solid number of league appearances.
It would be going overboard to claim that Elliott will suddenly be a key man who can battle the likes of Mohamed Salah, Sadio Mane and Diogo Jota for a starting berth, but he also wouldn't be out of his depth, if used sensibly.
The truly special young footballers have that sprinkling of magic about them, as Gerrard and Alexander-Arnold prove, and as Phil Foden is showing at Man City, to use a non-Liverpool example.
Elliott has precisely that, proving to be similar to Foden in terms of style, using his wand of a left foot to beat opponents, play defence splitting-passes and curl beautiful efforts into the net.
In fact, the City's midfielder's career trajectory is something Elliott can use as inspiration, with the England international three years his senior and slowly becoming a vital performer.
It is hard to predict anything in football, and Elliott could end up going the same way as the Woodburns and Brewsters of this world, but it would be a major shock if that happened, serious injury aside.
Now is the time to keep him in the squad and see him gradually turn into the superstar his talent promises.