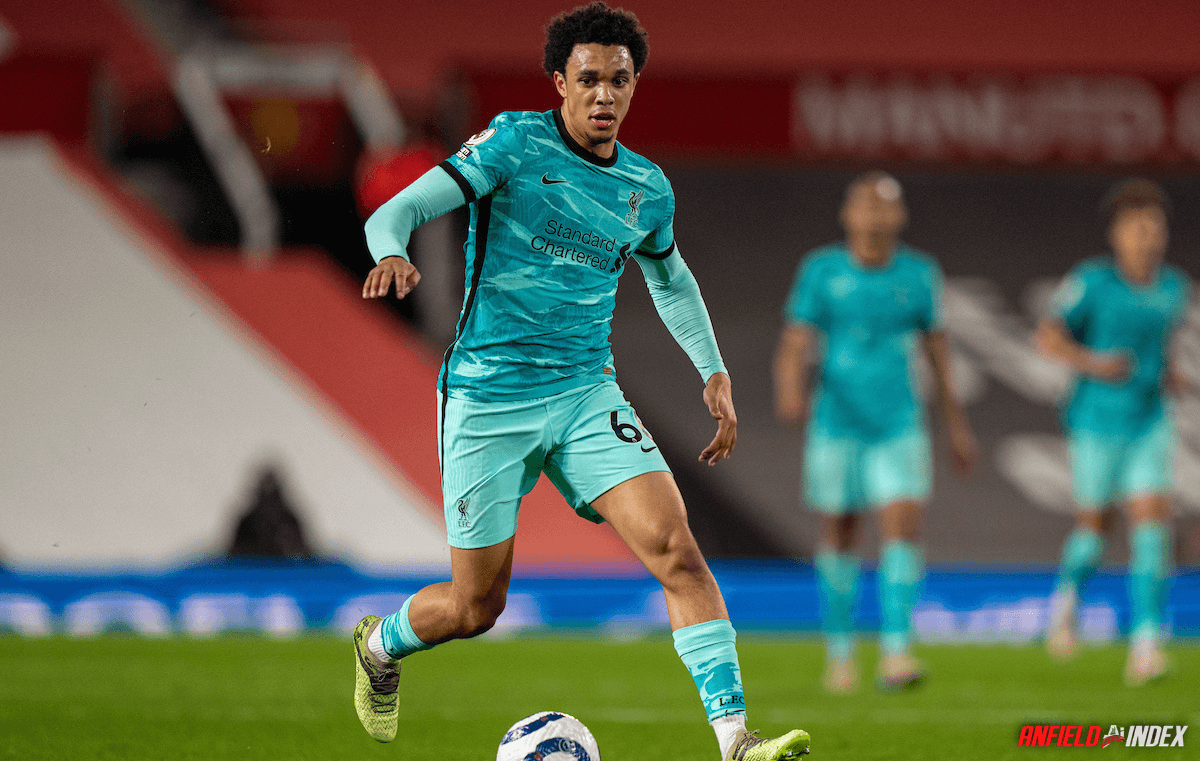 Trent Alexander-Arnold's influence on this Liverpool team
Trent Alexander-Arnold has made eight appearances for Liverpool since he was dropped from the England squad. He's been my Man-of-the-Match in half of them. With the Reds needing big performances, the right-back has stepped up. The 22-year-old isn't getting the plaudits he deserves and it is partly because he's the victim of his own success. 
What he does is just taken for granted. 
It is easy to understand why. Not only does he make everything look ridiculously easy, he does so on a regular basis. It is now just the norm. 

Jonathan Liew said it best in his post-match report: "For 90 minutes plus change, Old Trafford was Alexander‑Arnold's playground."
He finished with an assist, though in truth he could've easily had another two. As Omar said on Twitter, Alexander-Arnold looks to play the killer pass, not the easy one.  
This is what spliced the hosts open inside of three minutes. The No66 cut out Luke  Shaw's pass, carried the ball forward and threaded between the centre-backs for Roberto Firmino to latch onto. Had that been a more selfish striker, that could've resulted in a goal. At worst, it would've been a shot on target. 
Alexander-Arnold then sent a laser guided free-kick into the area. It was so inviting that even Firmino couldn't pass up the opportunity to put it into the back of the net. 
The right-footed maestro was heavily involved in the third goal, too. His initial cross was blocked and this was when Luke Shaw tried to dribble his way out of trouble. The ball ended up back at the feet of the Liverpool right-back and his shot was parried out by Dean Henderson, straight into the path of Firmino. 
His best pass of the game was arguably the one he played to Sadio Mane. It didn't result in a goal and Mane might've been offside, but it was just an outrageous spot. 
He also went on an uncharacteristic slaloming run in the second half, breezing past Paul Pogba as Liverpool really started to flex their dominance. 
If anyone ever questions why Jurgen Klopp and his coaching team build their system around Alexander-Arnold, just show them clips from this game. 
But this is just the latest in a long line of world-class performances. 
He is slowly adding a touch of Steven Gerrard to his game in the sense he's grabbing the game by the scruff of the neck and carrying Liverpool forward. 
Alexander-Arnold is taking on the responsibility to make something happen and, more often than not, he's actually changing the game. 
If he has a good game, the team tends to win. If he's on form, attackers score goals. 
The only loss Liverpool have suffered since the international break was in Madrid and that just so happens to be his worst game for a good few months now. It is no coincidence that results are closely tied to his performances. 
People will point at that horror show against Real Madrid and overlook his showing in the second leg. He was everywhere and he was making things happen. It's just unfortunate that others weren't on his level that day. 
In his last six Premier League outings, he's racked up three assists and a goal. He's running the show and this is comfortably Liverpool's best run of form in 2021. The scary thing for rival teams is that he's only going to improve after this rocky season.