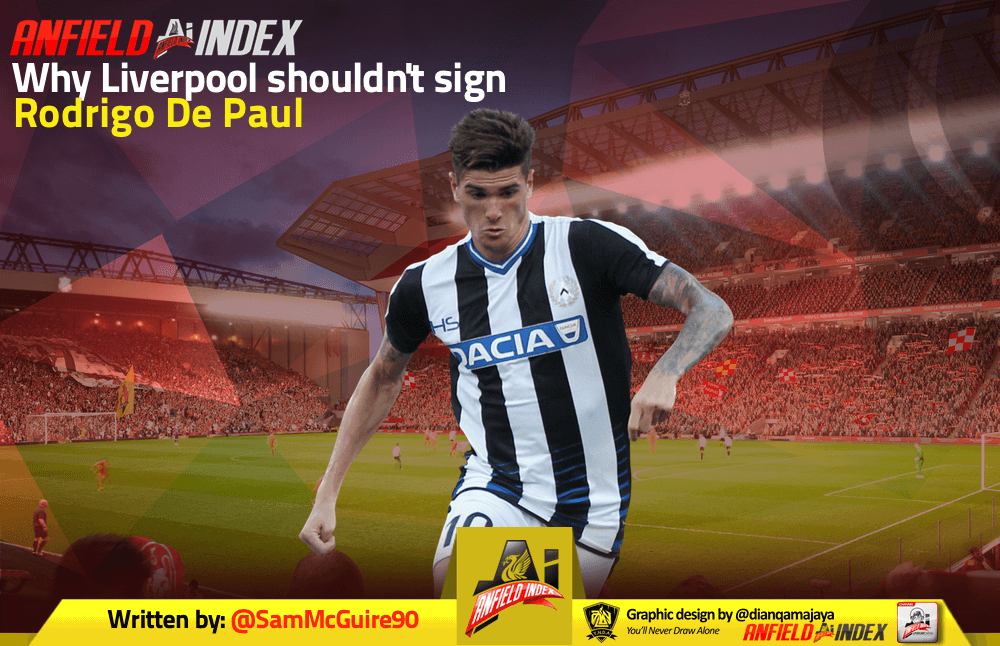 Why Liverpool shouldn't sign Rodrigo De Paul
Liverpool's leading scorer from midfield this season is Gini Wijnaldum and he's found the back of the net just twice in the Premier League. 
The lack of goals from those in the middle third is the primary reason so many fans want the Reds to add an attacking midfielder to their ranks this summer. Houssem Aouar has been perpetually linked with a move to Anfield, though multiple reports have also named him as a target for half of Europe. 
Despite these links, the Frenchman doesn't appear to be the top target for Jurgen Klopp's side. If you believe Italian media, Liverpool are fond of Rodrigo De Paul. The Argentine maestro has been in superb form for Udinese this season, involving himself in 18 goals split evenly between goals and assists. 

He's a one-man creative hub for the Serie A side and a lot of fans, at least on Twitter, seem to think he'd be a good addition. 
I'm not necessarily against signing him, I just don't think he makes sense as a target. 
For starters, he's 27 this month. Liverpool tend to sign players around the ages of 24 or 25. There are exceptions to this rule, but generally speaking, the Reds have a particular profile when it comes to transfers. 
Now, 27 isn't exactly old but he'd have to adapt to a new country, a new league and a new team. Klopp usually gives them a six-month bedding in period, though this can sometimes be a little longer. If De Paul doesn't hit the ground running, he could be 28 before he's found his groove at Anfield. That is even if he even manages to adapt. 
Serie A is a slower-paced league and isn't anywhere near as physical as the Premier League. There are zero guarantees he'd be able to influence games like he does now. Jorginho bossed things in Italy and it has taken him two seasons to show some consistency. It's only really since Thomas Tuchel arrived that the Brazlian-born Italy international has been good for a prolonged period, and even then he's had a few shockers. 
When you look beyond his surface-level numbers, per FBref, he really doesn't scream Liverpool player. 
He's in the bottom 20% across Europe's top five for pressures, interceptions, tackles and aerial duels per 90.
Rodrigo de Paul has been linked with a number of Premier League clubs. He's definitely a creative outlet for Udinese. pic.twitter.com/xIpdXzMg5Z

— Twenty3 (@Twenty3sport) February 24, 2021
Defensively, he's lacking. That doesn't mean he can't put in a shift, just that he's not having to for Udinese. It is very unlikely that he'd be afforded such freedom in a Klopp midfield and it is something you just can't ignore. 
He will have to adjust his game. You're then getting a completely different player to the one you're seeing in Italy. 
Look at how Thiago has had to adapt. Yes, there have been a glut of injuries, but he's having to do a lot more off the ball work than he did at Bayern. The Spanish playmaker is having to cover larger spaces and this has exposed his lack of pace. 
Right, get Fabinho back into midfield so Thiago isn't having to do as much defensive work. pic.twitter.com/lPIfZsLWnA

— Sam McGuire (@SamMcGuire90) March 5, 2021
Curtis Jones and Naby Keita both had to tweak their style to strip away some of the risk of their natural game. Gini Wijnaldum went from goalscoring midfielder to a safety blanket. 
The same will happen with De Paul. You then have to wonder if it is worth the risk. 
There is an argument that signing the 26-year-old could see Liverpool shift to a 4-2-3-1 long-term. The Argentine maestro could play behind the striker. Tasked with pulling the strings, he could thrive in this sort of free role. 
However, if you're going to change the system, do you want to do it to accommodate De Paul? Adding a new system to a new country, league and team makes a move even more of a gamble. If the plan is to move away from the 4-3-3, you ideally want a younger player coming in. It allows them time to develop and they're often more malleable. T here are better-suited players out there.