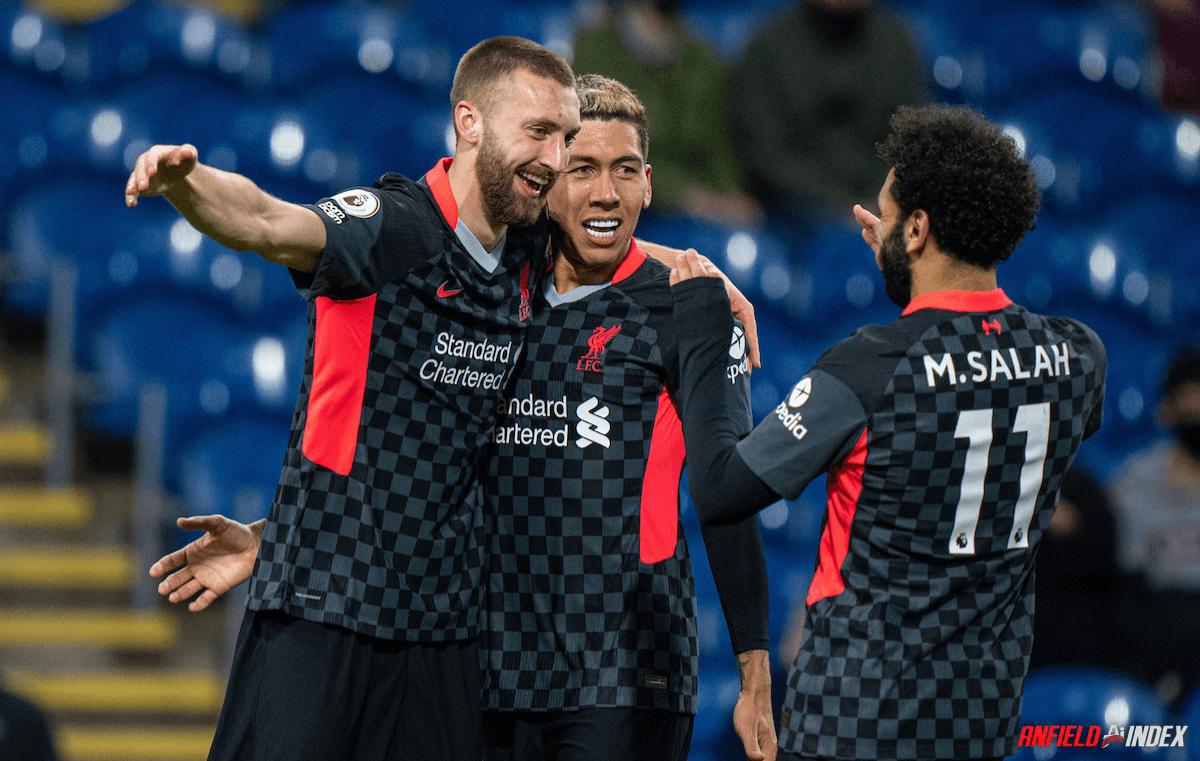 Burnley 0-3 Liverpool: Observations as Reds close in on commendable salvage job
Tuesday night's undesirable scoreline at Stamford Bridge raised the prospect of goal difference proving decisive, yet that seemed like a problem for Sunday.
For this fixture – a midweek trip to Burnley, whose reputation as feather-ruffling traditionalists precedes them and who were sure to be buoyed by the return of spectators – the assignment was to win by any means.
I joked in the build-up that Nat Phillips might have to channel the energy of Ragnar Klavan and come up with the scrappiest of winners in the dying seconds at Turf Moor. As it transpired, the quintessentially Bolton centre-half did score his first Liverpool goal, but in a far more comfortable victory.

If Liverpool were fans were nerve-ridden, it was probably down to the circumstances rather than the match before them. After Phillips doubles the Reds' lead, it was a second-half mercifully short of heart-in-mouth moments (aside from the goal-line clearance).
For the Reds, it was better than just 'job done'. A three-goal margin was a bonus. It means a 1-0 victory on the final day will force Leicester to conjure up a 5-0 rout against Spurs.
There'll be an unfamiliar air of confidence ahead of Sunday with 10,000 fans set to return. Yes, there's a narrative around Roy Hodgson, and yes Spurs have shipped five on the final day in recent history, but ultimately Liverpool have wrestled back control of their destiny and stand on the verge of a commendable salvage job.
The creativity has very much returned
In the darkest period of the season, Jamie Carragher often found himself repeated one phrase as he watched his former club from the gantry: 'They've created nothing'
Often, the xG stats didn't paint a pretty picture: 0.32 in the 1-0 loss against Chelsea, 0.94 against Brighton, 0.7 against Fulham.
As the Reds fell to six consecutive home defeats, it was said that low blocks were their undoing, that they were blunted unless the opposition left space in behind.
But more recently, the Reds have, for the most part, been able to slice their lowly opponents open.
Against Newcastle, when points were inexplicably dropped, they posted an xG of 2.98. It was 2.36 at Big Sam F.C. on Sunday and it climbed to 3.04 tonight.
The problem, of course, has been taking the opportunities. Liverpool fired four excellent chances off target in the first half here before Roberto Firmino was rewarded for actually working the goalkeeper.
And then they put the game to bed after the break.
Robertson ends five-month wait
I'm going to try really hard not to use the phrase 'London bus' here, but after a lengthy assist drought, two came along at once for Andrew Robertson.
Before Firmino converted the Scot's low cross, he'd last set-up a goal in the 7-0 win at Crystal Palace pre-Christmas. That was Matchday 14, and this was Matchday 37.
Alex Oxlade-Chamberlain certainly did the hard part after receiving Robertson's ball late on, but the left-back had earned his reward.
Early in the game, he'd slipped Salah in-behind with a well-weighted pass, and then the Egyptian really should have scored later in the half after collecting Robertson's long ball.
It was a really good attacking display from the 27-year-old.
Hats off to Phillips & Williams
Nat Phillips was Sky Sports' man of the match after a trademark catalogue of clearances.
He'll have one more outing at the heart of the Reds' backline this season before he's likely presented with a choice between a fifth-choice cup role and regular Premier League football lower down the league.
Rhys Williams won't be thinking about the future right now. He described this as the 'biggest week of his life' and he's entitled to relish every moment of it.
This was a mixed display from the former Kidderminster loanee, in the team after Kabak's injury cruelly disrupted what was looking an increasingly solid partnership.
In terms of 'defensive actions', Williams did well – eight clearances, five out of six successful aerial duels and two important blocks. Where he's been struggling is the unquantifiable department of reading the game.
He only turned 20 years old in February and I reckon a Championship loan spell in 21/22 could sharpen those defensive instincts.
But the most important point is this – Liverpool could not have asked for any more from Nathaniel Phillips or Rhys Williams. Nobody on the Earth and not even the Lord God himself could have predicted they'd be in this situation, and they can both be proud.
Finally, a few words on the attack
There were signs of encouragement in Oxlade-Chamberlain's false-nine cameo against Wolves in March and he offered more here with a superbly-taken goal that, as noted in commentary, underlined his unique skillset. Well, unique among our midfielders at least. It's an experiment worth pursuing.
Mohamed Salah will have left the field privately frustrated not to have put distance between himself and Golden Boot rival Harry Kane ahead of the final day after a number of presentable opportunities. His near-post attempt when Charlie Taylor covered off the cross-goal curler was clever, but just a little imprecise.
Credit to Sadio Mane, who's still finding ways to contribute in what he confesses is the most difficult season of his career. He deserves plaudits for the piece of play that crafted Phillips' goal and took him to six direct goal involvements in his last six starts.
And I've been among the many Roberto Firmino critics this season, but I will point out that he bagged his ninth Premier League goal of the season here, levelling his 2019/20 tally with four fewer appearances and 242 fewer minutes.
He's come up with three vital strikes in the last week and, in the process, complicated the decline narrative.