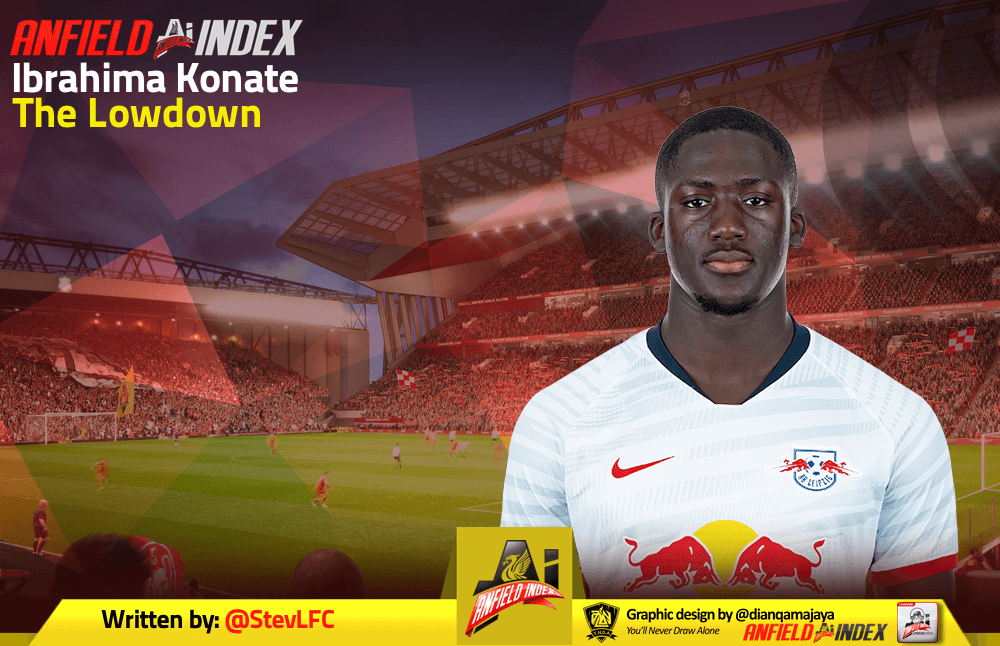 Ibrahima Konate - The Lowdown
At 22 years old, and 6 feet 4 inches tall, the towering French centre back comprises much of what Jurgen Klopp looks for in a central defender. His potential signing could offer some much needed assurance next season. If reports are to be believed.
Since Jurgen Koop took over at Liverpool, he has signed two starting central defenders in his tenure. Joel Matip was signed on a Bosman free from Schalke, and Virgil Van Dijk for a record fee from Southampton. Both giant defenders have been a success, overall, and in VVD lies the best defender in the world. Both have been sorely missed this season, along with the gifted Joe Gomez. The decision not to replace Dejan Lovren, for depth, now looks foolish. Ragnar Klavan and even Steven Caulker (on loan), were once brought in for that added depth, and the choice to go with less was an error, in hindsight.
Liverpool's sporting director, Michael Edwards, will have no doubt been tasked with ensuring an outstanding defender was signed at the seasons end. With this season now at that end, and a 3rd place position secured, we could now see Ibrahima Konate sign for the reds. The deal is supposedly in place, and the closing of the relevant campaigns was all that needed for the deal to be completed.

With COVID-19 causing mass disruption to transfers and monies available last summer, Ibrahima Konate being signed for around the £32m mark seems great business. A buyout clause has kept the fee reasonable, though all monies should be paid up front, as required with all buy outs. Ozan Kabak, currently on loan, sits in limbo awaiting Klopp's decision on him. He must now wait to see whether that move will be made permanent. As a young and promising defender that has played well, he would have thought he had one foot in the door. However, with Ibrahima Konate possibly about to barrel through that door, the race to partner VVD at the heart of the reds defense next term could get heated.
Nat Phillips and Rhys Williams represented themselves fantastically in the final weeks of the season, and should be commended. The reality will be though that chances may become limited for both next season. Williams would benefit from a loan, given his tender his years, and Nat Phillips should be offered the chance to stay with the first team squad. A man of his talents is sometimes very useful on a 7 man bench, especially against a certain style of opposition. With Joe Gomez, so unfortunate with his long term injury, needing time to come back, and defensive numbers will surely count. It could be that both defenders are signed, and Joel Matip is moved on, given is numerous injury issues.
The system that Klopp employs, the gegenpresssing and high line dictate a certain mould of defender is needed for the team structure. Joe Gomez and VVD formed a near impenetrable backline in their run to the title in 2019/20, with Matip offering outstanding backup. The need of these types of players, that can dominate a backline both on the half way line and within their own box, points to the need for Konate. The added threat from set pieces will be an added bonus, another point that was sorely missed this year. The abilities of Trent Alexander Arnold and his precise delivery on set pieces, will no doubt be aided by such a dominant presence in Konate.
RB Leipzig are a brilliant step for players primed for a move to an elite club, and with Liverpool suffering multiple defensive issues this term, the move would suit both player and club alike. To play with VVD, in the Dutchman's prime years could propel Konate to his high ceiling. Both Joe Gomez & Joel Matip levels rose immediately upon playing with Virgil, and Ozan Kabak will be hoping to join the permanent roster and prosper also.
Julian Nagglesman (the man set to replace Hansi Flick as Bayern Munich's next manager), was Konate's coach last term. His style of play, and willingness to play that often controversial high line, will have allowed Klopp to view Ibrahima in a system close to his own. A man comfortable on the turn, and utterly dominant in the air, he ticks all boxes required as a commanding defender. The hip injury, now some time back, is what would have worried Micheal Edwards & Jurgen Klopp the most. However, with due diligence & thorough medicals showing no fears, the signing may now be imminent.
Champions League qualification was secured on the final day, and a season of unrest is behind the reds. Klopp & Edwards will surely be looking to launch another title bid, and targets will now be pursued with knowledge of next seasons European status. The failure of Klopp's first Liverpool Champions League final saw the reds invest heavily in both Fabinho & Allison Becker. The need to strengthen is clear with what has happened, and Gini Wijnaldum leaving will surely mean a busy summer of recruitment. The door should see many a fringe player moving on, and thus hopefully new blood arriving.
However the summer dealings unfold, the reds recent dealings should be trusted thoroughly. If it were to happen, the early summer signing of one Ibrahima Konate would be a massive first step, one that will be part of the plan to challenge once more.