For an emergency centre-half, Nat Phillips has become surprisingly divisive. At least that's the impression I get from my Twitter feed.
There are those who believe he's performed well enough in a time of crisis to merit a place in Liverpool's centre-back rotation moving forward.
And then there are those who acknowledge the contribution he's made but argue that he's ultimately too limited a defender to figure long-term.

Liverpool should be back up to a full complement of centre-halves next season, with the incoming Ibrahima Konate bolstering their ranks.
But Konate, Gomez and Joel Matip are all, to varying degrees, susceptible to injuries over the course of the campaign.
So Phillips' involvement could conceivably exceed the fifth-choice role he might occupy on paper.
This debate, then, is pretty important. Using the data and using our eyes, let's come to a balanced verdict.
The numbers
To establish a frame of reference, I've compared Phillips' stats with those of Joe Gomez, Joel Matip and, controversially perhaps, Dejan Lovren in his final season at Liverpool.
Lovren, to my mind, was a reasonably good fourth-choice centre-back. Over 10 given games, he'd give you seven good performances, a couple of unconvincing ones and, admittedly, a clanger.
Realistically, though, you can't expect too much more from a player occupying that role in the squad.
In theory, if Phillips' numbers fall only slightly short of Gomez and Matip (let's leave the best defender in the world out of the conversation) and more or less match that of Lovren, then there's cause for encouragement.
We begin with ground duels. Phillips struggles here compared to his current and former team-mates. His success rate is 49.2%, only slightly behind Gomez (52%) but some way short of Lovren's impressive 70%.
He's also been dribbled past 0.8 times per game on average, compared to 0.5 for Lovren, 0.4 for Gomez and a commendable 0.1 for Matip.
Relatively speaking, his one-against-one defending is a weakness.
In terms of aerial duels, his numbers are much more competitive. This is hardly a surprise. After all, Nat Phillips heads balls.
On sheer volume, Phillips far and away topped the Liverpool rankings. He won 5.6 aerial duels per game, with Rhys Williams his nearest challenger on 3.3.
A portion of the Liverpool fanbase fell in love with Phillips because he cleared everything in what you might call an 'old-fashioned' or 'no-nonsense' sort of way. It felt like the cut-the-bullshit approach every football fan relishes to some degree.
Importantly, Phillips' aerial dominance is also reflected in his success rate. He won 65.75% last season, fewer than Matip (67.65%) but more than Lovren (64.5%) and of course the smaller Gomez (53.9%).
Liverpool's defenders also have to be adept on the ball, of course. Phillips' overall passing accuracy of 84.1% ranks him a respectable third, ahead of Lovren (83.2%), and he's second for long passing accuracy at 41.3% (albeit well behind the excellent Gomez on 57.4%).
But it's also true that he attempts the fewest passes per game (69.1), so perhaps lacks the same confidence with the ball at his feet.
The fact that he props up the ranking for total passing distance per 90 (1,231 yards) attests to his more conservative approach. But overall, he's passably decent in this department.
What about progressing the ball through dribbling? Again, he's less ambitious.
Predictably, Joel 'takes matters into his own hands' Matip excels here, carrying the ball 168.3 yards per 90.
Lovren (163 yards) and Gomez (152.4) are in the same bracket, but Phillips is a long way back at 115.4 yards.
He only attempts 0.06 dribbles per game, half Lovren's figure and less than 10% of Gomez's tally.
It should be stressed here that Phillips has had to adapt to the expectations placed upon defenders in Jurgen Klopp's system. This is far from instinctive.
Klopp held him back and persevered with Fabinho, resisting calls to restore the Brazilian to his midfield berth at first, because Phillips needed to develop his game on the training ground.
And as it turned out, he got the timing of the switch more or less right.
The eye test
Let's consider now the issues that might not be reflected in the freely-available data.
One stand-out and oft-cited 'weakness' of Phillips is his lack of pace. Clearly, this isn't something he can do all that much about.
But we've seen that, no matter the personnel, Klopp will persist with a high line because aggression is part of his team's identity.
So it is problematic, as these examples demonstrate.
The first comes from the early stages of the goalless draw with Newcastle before Christmas.
Matty Longstaff picks up the ball inside his own half. You could argue that James Milner should be closer to him, preventing him from playing the pass.
But look at Phillips on the far left of the image. He's virtually level with Wilson, and their body shapes are more or less the same, so they're essentially about to have a race.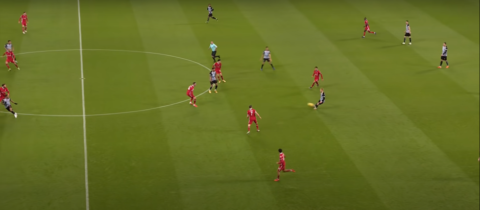 Wilson out-paces Phillips to such a degree that he's able to literally circumvent him, taking him out of the game completely. It gives him a sight of goal, albeit from a tight angle.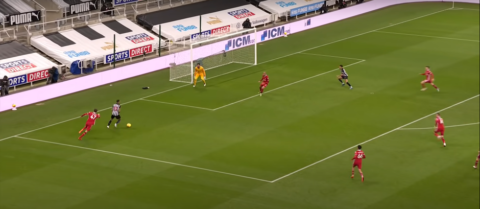 Example number two comes from the 3-1 defeat away to Real Madrid. This time, there's no argument – the pressure on the ball is totally inadequate and Liverpool have left their defence exposed. It's Toni Kroos, for Christ sake.
But Phillips knows what's coming and turns to sets off, looking to reach the ball before Vinicius Junior.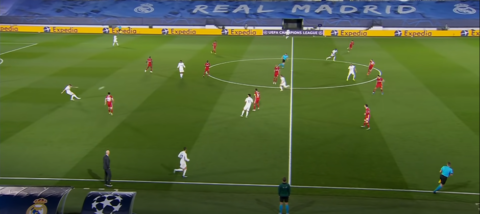 It's no doubt a sublime pass, but Vinicius was able to burst through a gap between Phillips and Alexander-Arnold, and when you watch the goal back, you feel as if a Gomez, a Konate, or even Matip with his grass-gobbling strides, would have cut it out.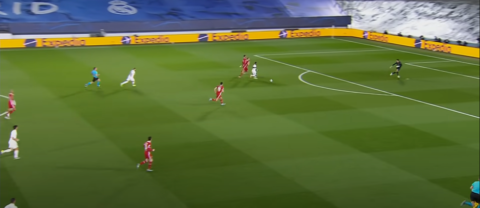 The last example is a better one. Southampton's Theo Walcott has threaded this pass in behind Rhys Williams and Nathan Tella is off down the right.
You can see Phillips in the centre of the picture. He's probably marginally ahead of Che Adams, who's making a back-post run.
But the Saints pair were able to pull clear, with Alisson mercifully on hand to smother Adams' effort following a low ball across goal.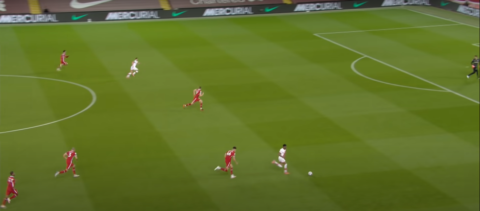 But let's move away from pace to something Phillips can be expected to improve. He has a tendency to step-up too eagerly, to get dragged towards the ball.
Consider this Leipzig attack in the second leg of the Champions League Round of 16 tie. Look where Phillips is, well behind the play. Trent Alexander-Arnold has to come over to cover for him, and that clearly leaves Christopher Nkunku free on the left-hand side. The move ends in Emil Forsberg firing narrowly wide.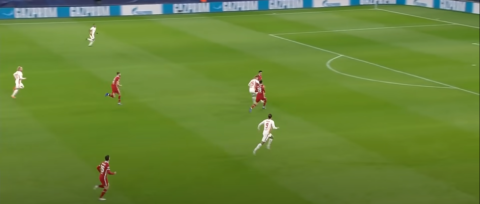 The replay illustrates how this happened. Phillips, stood on the centre circle, stepped up to try to win a header but misjudged it and saw it sail over his head. Just like that he's out of the equation and Liverpool are outnumbered.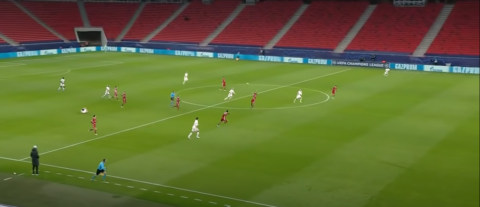 Skip ahead to that game where the goalkeeper scored, and something unsettlingly similar happens. At 1-1, Phillips commits to a header he can't win…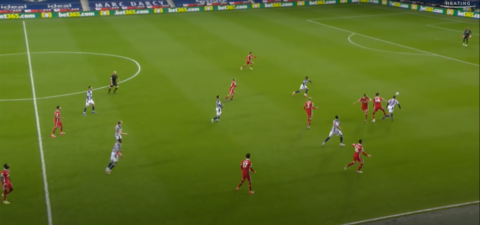 … and this is where he ends up. Trent bails him out by blocking Hal Robson-Kanu's shot behind for a corner.
A few days earlier at Old Trafford, we'd seen the most obvious illustration of Phillips' slight rashness.
Third from the right in this picture, the 24-year-old had followed Bruno Fernandes almost to the halfway line. Bruno saw that Phillips was coming and simply let the ball run to Rashford.
After combining with Cavani, he went through and set-up a nerve-rattling finish by pulling United back to 3-2. Phillips, I'd argue, was mostly culpable.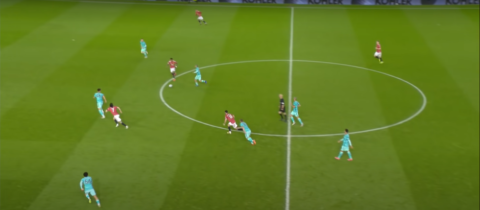 The verdict
Finally, then, onto that balanced judgement I promised.
I'm reluctant to label Phillips simply as one of the defenders who 'does the basics well'. Yes, he's mighty in the air and he relentlessly clears the ball, but he can be beaten too easily when the ball is on the ground and, as we've seen, is sometimes guilty of over-committing himself.
Phillips may be inexperienced in top-flight football but he is 24 now, so I would anticipate only incremental progress from here on in.
On the plus side, I think he deserves credit for his improvement on the ball. He looked increasingly comfortable in possession, and when he saw an opening he'd bring it out before fizzing it forward to the feet of a team-mate. It can look slightly awkward at times, but it was good enough.
And to address another concern, Klopp may feel that the issue of pace will only rear its ugly head if there are failings further up the pitch.
It should also be said that Liverpool – the fans, the manager, his fellow players – couldn't really have asked for any more from a defender who was very nearly loaned to Swansea City at the start of the campaign.
Indeed, the Reds won 11 of the 15 matches he started this season, conceding only nine goals and keeping seven clean sheets.
For me, he's a Premier League calibre centre-back, marginally inferior to predecessor Dejan Lovren but still a viable squad option.
In a standard season, I'd be more than happy deploying him in the cup competitions and in dead-rubber European games, and I wouldn't be overly concerned if injuries opened the door to occasional league starts.
Amidst this debate, though, there's one thing we shouldn't lose sight of. After raking in the plaudits during his unexpected spell in the spotlight, there's no guarantee that he'll settle back into a peripheral role.
He'll rightly believe that he's good enough to be playing consistent top-flight football for a mid-table outfit. And if his involvement at Anfield is going to be largely restricted to domestic cups, then he might well seek a move.
The Athletic reported this week that Liverpool have yet to make a decision on his future, but perhaps it will be Phillips himself who makes the final call.
(Statistics sourced through Squakwa, FBRef and WhoScored).