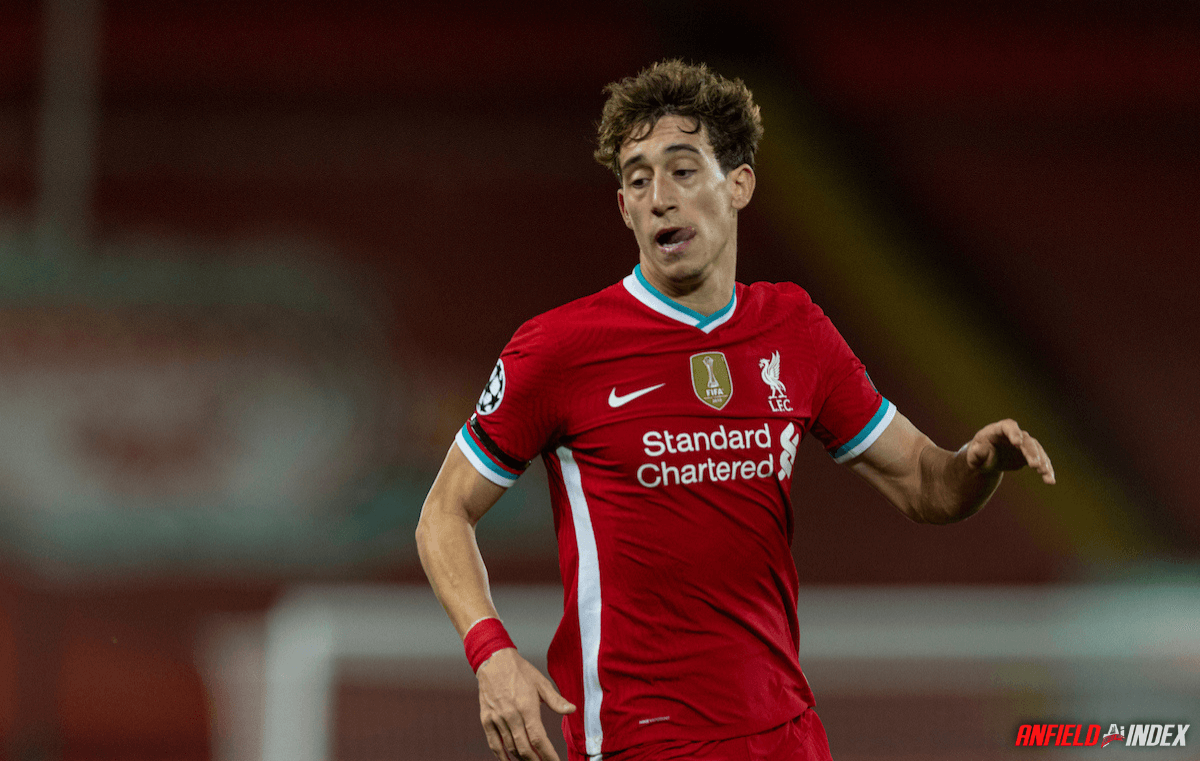 Second Season Tsimikas To Enjoy Further Responsibility
On the surface, the signing of Kostas Tsimikas really hasn't worked out for Liverpool.
Signed from Olympiacos in the summer of 2020, the Greek left-back — whose acquisition was aimed at giving Andy Robertson the opportunity to rest — only made seven appearances in all competitions in his first season on Merseyside.
Meanwhile, Robertson played in every single Premier League fixture, clocking up an energy-sapping 3,368 minutes in the process of the most condensed season of all time. The Scotland captain's performances — through sheer exhaustion — visibly dipped off and there are legitimate concerns that representing his country in this summer's European Championship will further hamper the Liverpool number 26.

Baring that in mind, the Reds will surely look to rest their left-back as often as possible next season, for fear of burning him out and risking losing the world-class levels of an elite full-back. Their options are to externally source a replacement or to — a year after his signing — place more trust in Tsimikas.
The Greece international's lack of appearances isn't a good look for him, in and of itself. But taking a deeper dive and looking at Klopp's persistent use of Robertson in context, it is understandable and not necessarily a poor reflection on Tsimikas himself.
Liverpool's central defensive issues last season have been well highlighted. The Reds, owing to their massive injury toll, used twenty different combinations in the heart of their defence and at times — excluding Fabinho's stint in the role — had to rely on midfielder Jordan Henderson, who had never played there in his life, to plug the gap.
Such flux in the backline is far from the ideal scenario in which to blood a player into not only your tactical system but also — in the case of Tsimikas — into a new league and culture, all in a COVID impacted season.
As it was, Klopp could only make so many changes and it made entire sense that he would rely on Trent Alexander Arnold and Robertson — players both integral to the team in an attacking and defensive sense — in order to preserve some continuity and minimise the amount of flux in a team who had the pressures of qualifying for Champions League on their shoulders.
Now, though, the landscape has changed. Virgil van Dijk, who was injured in the October Merseyside derby, will return to pre-season training in July and, all going well, will be available to play, if not from the start, soon into the beginning of the new campaign.
The imperious Dutchman not only brings demonstrable physical and technical qualities but his leadership credentials — he is audibly loud during games and can be heard, especially in empty stadiums, organising the team — could be key in helping Tsimikas settle into the team on the occasions when he plays.
Joel Matip and Joe Gomez — who were ruled out of the rest of the season from January and November respectively — will also return and the defensive stock, it appears, will also be bolstered by the addition of RB Leipzig's French centre half Ibrahima Konate.
Should the injury gods finally smile on Liverpool — which would be long overdue — then the Reds will be equipped with a far better calibre of centre halves, with due respect to Nat Phillips and Rhys Williams whose role in helping the club finish third in the table cannot be underestimated, to which they finished last season with.
This will make it far easier for Tsimikas — or possibly even Neco Williams on the other side of the defence with Alexander Arnold — to slot in and give Robertson the opportunity to sit games out and minimise the chance of injuries and dips in form.
The option to dip into the market will be tempting, but in a summer where Liverpool — at the least — need to sign a forward, a Georginio Wijnaldum replacement and a centre half, it may be more prudent to work with what they already have.
Besides, with two Klopp pre-seasons under his belt and a replenished defensive line that will lend itself to acclimating into a system, the Reds could well be better off trusting in their Greek left-back to play an important, if peripheral, role.