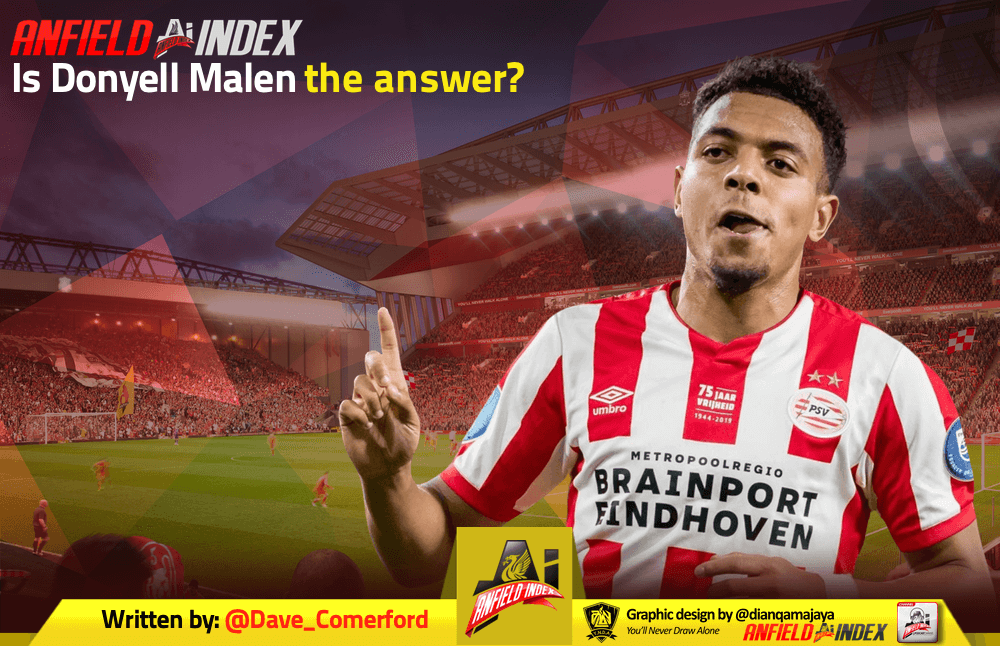 Is Donyell Malen the answer?

Liverpool have already addressed a key deficiency in their squad depth with the signing of Ibrahima Konate from RB Leipzig.
But their next priority, even ahead of a replacement for Georginio Wijnaldum, must be recruiting a quality, versatile forward.
With the Africa Cup of Nations set to begin on 9 January 2022, the Reds could be without Mohamed Salah and Sadio Mane for a full month of the season.
Liverpool can't hope to simply 'survive' that period by assembling a Xherdan Shaqiri, Roberto Firmino, Diogo Jota front three. Manchester City and Chelsea would surely capitalise.
Ultimately, a high-calibre addition to the attacking ranks is critical to Liverpool's hopes of regaining the Premier League title.
One realistic candidate is 22-year-old PSV star Donyell Malen, who's coming off the back of a 27-goal season in Eindhoven.
Malen, a former Arsenal youth, is one of the most exciting young players in European football, but is he the right fit for Liverpool?
For every Suarez, a Janssen
Let's start by addressing the hit-and-miss track record of Eredivisie forwards.
There are a number of notable success stories, of course, with Luis Suarez the standout example.
After a slow start at Napoli, Hirving Lozano (who moved to Italy on the back of posting 34 direct goal contributions for PSV in 2018/19) has had a very impressive 2020/21 with 15 goals and five assists. Steven Bergwijn will hope for a similar uptick under new management at Tottenham Hotspur.
Memphis Depay probably lies somewhere between the two extremes, having struggled at Manchester United before thriving at Lyon, so much so that a move to FC Barcelona now beckons.
A lesser-discussed export is Arkadiusz Milik, once of Ajax, who's gone to become a very solid goalscorer for first Napoli and then Marseilles.
But on the other hand you have the likes of Vincent Janssen, who joined Spurs in 2016 following a 32-goal season at AZ Alkmaar but managed to net only six goals in 42 outings for the club before being loaned to Fenerbahce.
In 2018, Brighton looked to have pulled off a real coup with the signing of Alireza Jahanbakhsh, top-scorer in the Dutch top flight the previous year. But it's safe to say he's underwhelmed with just four goals in 61 appearances.
Admittedly, then, whilst there's always an element of risk with transfers, it's particularly pronounced when recruiting players from this league.
Profiling Malen: The stats
Let's start with goalscoring and shooting. The good news straight off the bat is that Malen has out-performed his expected goals in the last two seasons.
In the league, he scored 11 from 8.91 xG in 19/20 and 19 from 17.26 xG last season.
Malen is reasonably clinical, then, and his movement is also a strength.
His expected goals per 90 minutes last season was 0.61 – compare that to 0.49 for Diogo Jota, 0.48 for Salah and 0.43 for Mane. Yes, he's up against lower-quality defenders, but that's still an impressive number, especially in direct comparison to two world-class players and another who's headed down that path.
He also takes 4.01 shots per game (considerably more than the three Liverpool forwards mentioned) and his overall total of 111 was the second-highest in the league.
15 of his goals came from his preferred right foot, but he also netted four with his left. That's a greater balance than Salah, who only scored one right-footed goal in the Premier League last season.
Malen scored three headers in 19/20, one of which saw him climb above and overpower the defender, but didn't bag one in the league last season. Salah and Mane posted two apiece.
And the last minor detail to note here is that the Dutchman hit the woodwork on five occasions last season, meaning he's unlucky not to have had a few more goals to his name.
What about creativity? Well, Malen impressively provided eight league assists last season (10 in all competitions) off an xA of 5.66.
He ranks behind Mane (7.03) and Salah (5.91) in that metric, as well as chances created and shot-creating actions per 90 minutes, but still set up more goals than both.
The explanation seems to be the wastefulness that dogged Liverpool in 2020/21.
Next to dribbling. Malen completes 1.47 per 90 minutes, a fraction ahead of Salah but down on Jota (1.82) and, predictably, Mane (2.5).
But his volume isn't a reflection of his ability in this respect. Indeed, his two-thirds take-on success rate comfortably beats that of Mane (59.9%) and Salah (42.9%).
And finally, to defensive contribution. This is probably the main concern arising from the data.
Malen has recorded 9.88 pressures per 90, a league below Jota (20.2), Salah (15.4) and Mane (14.2).
There are caveats here, though. Different teams place different pressing demands on their forwards, and you'd imagine that Malen would be keen to adapt his game to meet Klopp's expectations.
Liverpool wouldn't pursue the move if they didn't think his work-rate was sufficient.
Playing across the frontline
Earlier I mentioned the need for this signing to be versatile and Malen certainly ticks that box.
He's predominantly a central striker (with 104 appearances in that position during his career) but he's also been used on the left (45 times) and the right (24).
Importantly, he maintains a healthy end-product in those wide roles. Sometimes players can nominally play in different positions but their efficacy tails off to the extent that it's not really worth it.
Malen's G/A per appearance unsurprisingly falls as a winger, but only from 0.8 to a respectable 0.5.
Fitness record
One area that will no doubt be especially scrutinised this summer when targets are mentioned is injuries. Indeed, it's no use bringing players in as depth if they're not going to be available when called upon.
Malen did miss 24 matches in 19/20; first there was a five-game spell out with an ankle problem, and then he missed a 19-game stretch after undergoing knee surgery.
Encouragingly, though, he was injury-free last season.
Watching Donyell Malen
You can only glean so much from this information, so I went and watched all of Malen's goals over the past two seasons to learn more.
If there's a trademark Malen goal, it's a low, right-footed finish after a run between the opposition right-back and centre-back into his favoured left channel.
He's also profited from a number of low balls from the right edge of the penalty area – Trent Alexander-Arnold territory.
It should be said that, in many of the clips, the defending was charitable. Markers would often lose focus on Malen and instead be drawn to the ball. He probably wouldn't be afforded that luxury in the Premier League, but his movement was nonetheless predatorial.
He also has a tendency to catch the goalkeeper out, often sneaking the ball in at the near post when the 'keeper has shaped to guard the more conventional cross-goal finish or getting a shot away quickly before the goalie can set himself.
Again, it's difficult to determine to what extent this is down to the quality of the opposition, but you still get the impression that Malen is a cunning forward. His penchant for capitalising on rebounds and ricochets attests to that.
His finishing is just as good as his figures suggest. He generates plenty of power on his low, driven efforts but he can also provide moments of satisfying subtlety.
In the more recent clips in particular, his close control was on show. He's capable of gracefully evading challenges before he shoots, and he can also come up with fearsome bursts of pace to take away from challengers.
One slight concern is his tendency to play right on the edge of offside. Often when the defender's eyes are drawn towards the ball, he'll edge into the space behind them.
A number of the goals were very tight calls, which is fine in a league where the concept of 'level' exists. Sadly that's not the case anymore in the Premier League.
You can watch a cinematic montage of his first 50 strikes for PSV below.
How much would he cost?
For Liverpool, price tags may prove to be less important than payment structures, but the fee for Malen still looks favourable.
Even though he's a very highly-rated youngster with three years left on his contract, reports have suggested he could be available for as little as £25million as PSV look to raise money from sales.
Getting a player of his quality for that kind of money has the hallmarks of very strong business.
You wouldn't expect wages to prove an issue, but recruiting Malen would mean dealing with his agent, Mino Raiola. That will be a consideration for Liverpool.
The verdict
The perfect candidate doesn't exist, but Malen is certainly one of the best available. I can confidently say he fits the most important criteria: ability, versatility and feasibility.
At first, he'd be taking up a squad role, with Klopp preparing him in the first half of the season for a sustained spell in the limelight at the turn of the year.
But like Patson Daka (22) or Raphinha (24), he'd also be viewed as a potential starter in the long term.
Liverpool fans keen to catch a glimpse of Malen can see him in action at the European Championships.
He may be behind Depay and Wout Weghorst in the strikers' pecking order, but he'll get minutes off the bench or, if Frank de Boer goes with a 4-2-3-1, on the left-hand side.
If it's not to be Anfield, then you can be sure another European heavyweight will swoop in for a player who, frankly, has shown he's too good for the Eredivisie.