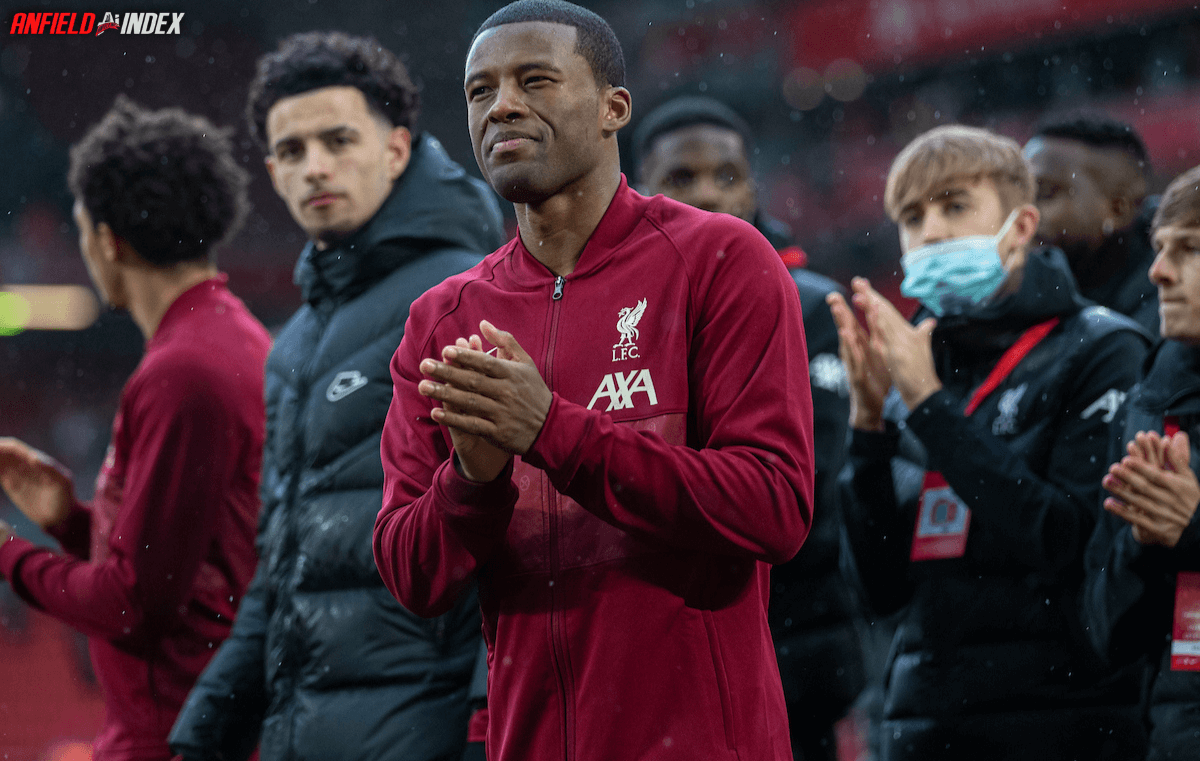 Liverpool must sign a Gini Wijnaldum replacement
So here we are, in a post-Gini Wijnaldum Liverpool world.
The Dutchman was a wonderful servant for the Reds during five hugely successful seasons and will forever go down as a modern-day legend at Anfield.
Much like Ronnie Whelan in the 1980s, he rarely made the headlines – both had a penchant for scoring big goals, though – but he was vital to everything Liverpool did.

He knitted the midfield together beautifully, did endless unsung off-the-ball work and was a far more elite technical footballer than he often received credit for, as proven more at international level with the Netherlands.
Ask Wijnaldum's Reds teammates how much they valued him and it will tell you all you need to know about his class as a player.
The 30-year-old seemed like an almost ever-present during his five years on Merseyside – 237 appearances in that time proves he was rarely unavailable – and whether you thought he was great, good, average (really?) or bad (come on now!), a Liverpool team didn't feel right without him in it.
All of a sudden, Wijnaldum is gone, though, with PSG or Barcelona snapping him up and another chapter in his career getting underway.
It is only natural that many supporters will now immediately begin thinking about potential replacements for him, but the current consensus seems to be that that won't be the case.
Reliable reports have stated that other areas of the pitch will be addressed and that no new additions are expected in the middle of the park.
Liverpool's past transfer business under Jurgen Klopp has admittedly shown that we shouldn't always believe even the most reliable sources – moves for Fabinho and Diogo Jota came from nowhere, for example – but if this is true, it is negligence of the highest order.
This isn't Naby Keita or Alex Oxlade-Chamberlain who the Reds have got rid of – two midfielders who can barely stay fit and who aren't undisputed key men – they have lost both a top-quality player and someone who could be relied up fitness-wise week in, week out.
In fact, for much of Wijnaldum's time at Liverpool, he felt like the only midfielder who Klopp could always bank on, which makes this update even more perplexing.
On the face of it, the Reds still look nicely-stocked in the middle, with a first-choice trio of Fabinho, Thiago and Jordan Henderson arguably better and more balanced than any midfield Wijnaldum featured in.
If those three were guaranteed to stay fit for the whole of next season, Liverpool would stand a great chance of mounting a Premier League title challenge.
But both Thiago and Henderson have been known for their injury problems in the past and are now both in their 30s, which surely only heightens their chances of missing more playing time moving forward.
Even Fabinho has been far from perfect in the fitness department, missing sizeable chunks of the last two seasons.
Curtis Jones is a player who looks to have a huge future in the game, but at 20, he isn't yet ready to be starting most weeks for a side looking to win the title back from Man City.
The youngster could enjoy a Phil Foden-esque rise in the next 12 months, jumping from big emerging talent to elite top-level player, but there is no guarantee of it.
James Milner is still plodding along admirably at 35, but he cannot be viewed as someone who can fill the Wijnaldum-shaped void regularly.
This will surely be his last season at Anfield – one that hopefully sees him feature sporadically, with all due respect to a brilliant player with an outstanding career behind him.
The aforementioned duo of Keita and Oxlade-Chamberlain are as unreliable as they come, and while both possess undeniable quality when they are available, it would make no sense to assume their fortunes will suddenly change.
They are now luxury players who flitter in and out of the team and if a big bid comes in for either this summer, Klopp's head will surely be turned.
That is a midfield that looks extremely light, in terms of youth and availability, and all it takes is a long-term injury to Fabinho, Thiago or Henderson for it to already look a big issue next season.
Quite why Liverpool wouldn't bring in someone of Yves Bissouma or Youri Tielemans' ilk remains to be seen, but it does once again point towards a cautious approach financially.
It's one thing missing Wijnaldum because his replacement fails to reach his heights, but his absence is going to be felt even more if he isn't replaced.
Liverpool opting not to tackle that issue makes no sense.