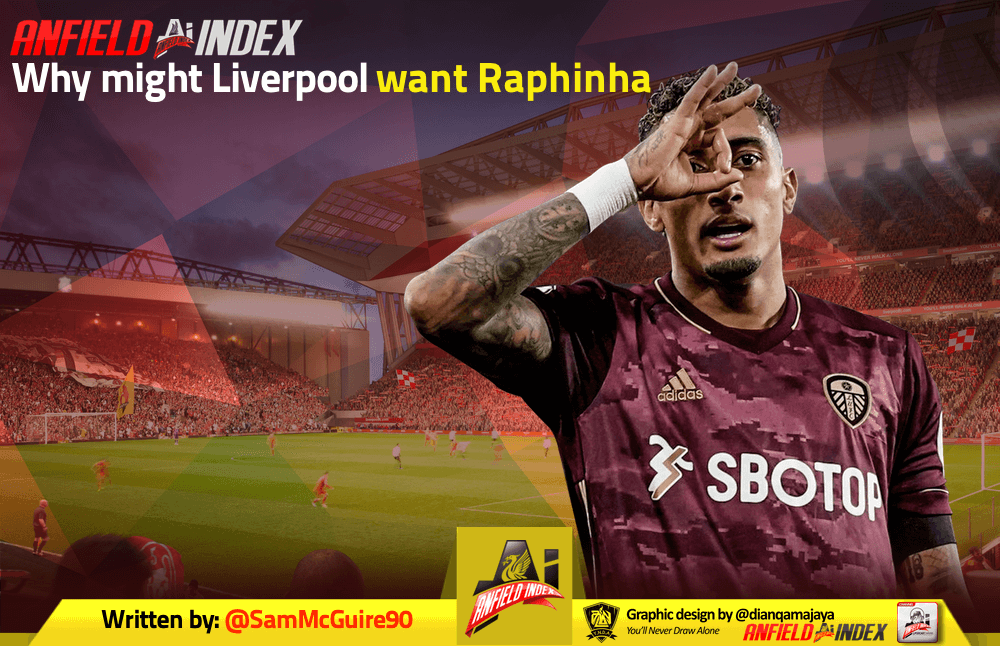 Why might Liverpool want Raphinha
There's been a lot of talk recently linking Liverpool with a move for Raphinha. Italian journalist Gianluigi Longari recently claimed the Reds were 'leading the race' ahead of Manchester United and Manchester City. 
A lot of people have taken that with a pinch of salt. Why wouldn't you? After all, why would an Italian journalist have inside information on a Brazilian potentially moving from one Premier League club to another? 
However, Longari was one of the first to tweet about Raphinha's move from Rennes to Leeds. So maybe he should be taken a little more seriously. 
We've also have journalists who cover Leeds talking about Liverpool, too. Graham Smyth of the Yorkshire Post claims Jurgen Klopp's side "will definitely have interest" in the Brazilian. Joe Donnohue of Leeds Live posted a thread last week explaining why the Reds might be interested, but went on to say Leeds aren't in any rush to sell. 
I'm sure this wasn't their intention, but it did give me flashbacks to when Barcelona wanted Philippe Coutinho and those covering the Anfield club made a big song and dance about him not being for sale and the club not needing to sell. They then dedicated features lauding Michael Edwards and the recruitment team for getting ridiculous money for the wantaway attacker. 
We aren't in the same scenario yet. For starters, Raphinha hasn't agitated for a move away from Elland Road. But if Liverpool do end up moving for the fleet-footed winger and Leeds do agree to a deal, it'll likely be praised by the media, especially if they pocket, for example, triple what they paid for him in October. Even double the £17m would represent good business for the Yorkshire club. It'd also be a good case study for their project. 
Come to Leeds, perform well and we'll not stand in your way if a big club comes knocking. It makes them even more of a desirable destination for players. They're a stepping stone club with one of the most talented managers around. 
Start pricing players out of moves, though, and that hurts them. So that is why I feel as though Leeds could well sell Raphinha this summer. 
But why might Liverpool want him? 
I remember the Merseysiders first being linked with the former Rennes man when he was impressing for Vitória Guimarães in 2017. He then moved to Sporting before the switch to Ligue 1. It's safe to assume that he's been on the club's radar for a while and having seen how he's adapted to life in England, he's probably jumped a few places on their wishlist. 
Liverpool are believed to be interested in Raphinha. We have to admit, he does profile like one of their signings. #LFC pic.twitter.com/sm8YbVUAw9

— Twenty3 (@Twenty3sport) June 4, 2021
As detailed in my newsletter a few months back, Raphinha just profiles like a Liverpool player prior to their move to Anfield. 
Unlike so many others who impress in the Premier League, the 24-year-old has that end product that the Reds look for. The likes of Allan Saint-Maximin and Pedro Neto are more creators than they are goalscorers. In the Liverpool system, the wide forwards need to be goal threats. 
The primary role of a Liverpool wide forward is to be a goal threat. Raphinha has that side to his game already, Neto doesn't. pic.twitter.com/seqVpkUx38

— Sam McGuire (@SamMcGuire90) February 23, 2021
Furthermore, his output does appear to be scalable. 
As explained in the Matheus Cunha article, scalability is a key aspect of the profiling process for Liverpool. If they're to be viewed as an underrated asset with the potential to double in price, they need to have that ability to improve. Granted, all players can improve. Those in charge of player identification for Klopp seem to want players who only need a subtle tweak to take their game to the next level. With Sadio Mane it was shot placement. With Mohamed Salah and Diogo Jota it was shot volume. 
Raphinha's return of six goals for Leeds might not seem like anything special, but he was par for his underlying numbers. He's reliable and consistent. Improve the value of his efforts and his goal return will spike. In this Liverpool team, he could easily be a ten goal per season attacker who chips in with another ten assists. 
With him in the squad, Klopp could use the 4-2-3-1 he's flirted with for a while now. Salah could lead the line, too, with Raphinha on the right. The Brazilian also has the ability to play as a No10 if required. He just gives Liverpool a better balance and more options moving forward. The left-footed maestro adds unpredictability and, as a result, he can be a match-winner.