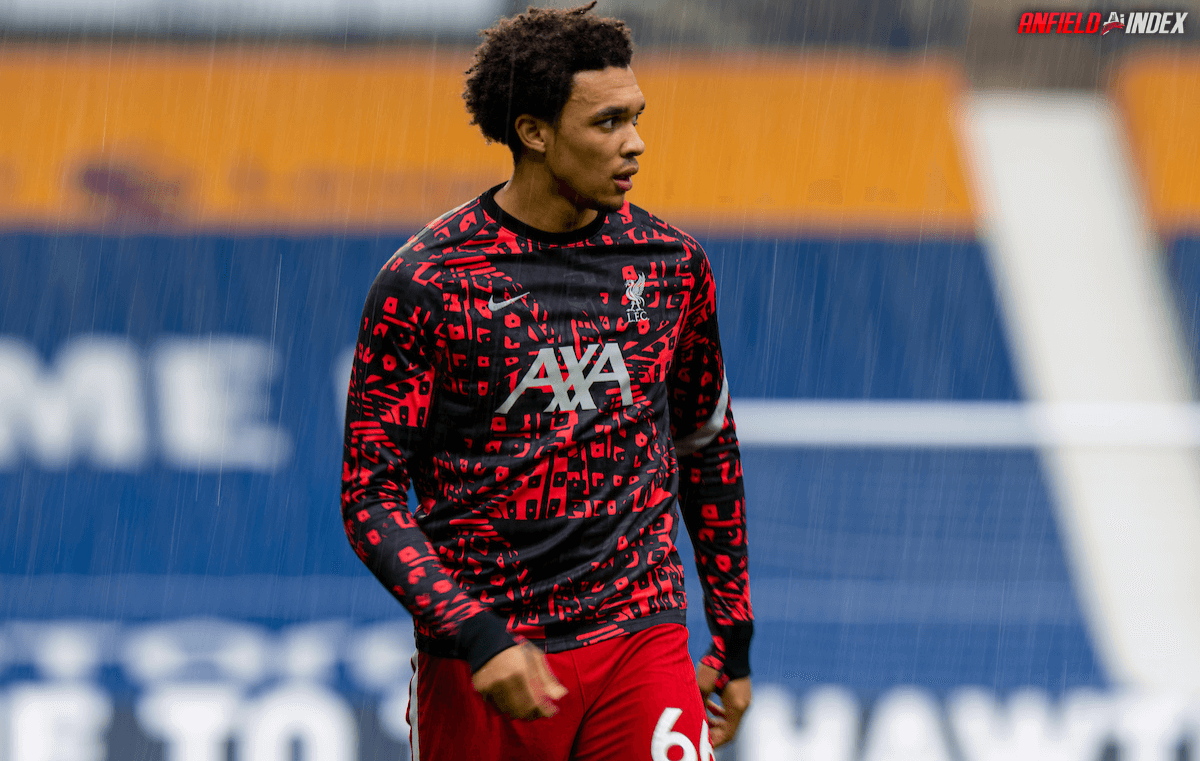 Trent Alexander-Arnold - Next Season Awaits
To even consider that Trent Alexander-Arnold was to be omitted from England's summer competition, is quite astounding. There are few players in the world football that can deliver a ball with his precision and assist in such audacious ways. Gareth Southgate inevitably saw sense, though that tournament was taken away by a cruel injury this last week, to England's and Trents bad fortune.
Trent Alexander-Arnold has for the most part (in his short career), been a sensation under Jurgen Klopp. He has become the playmaker and instigator for much of Liverpool's recent success with his undeniable ability and skill. In recent years, full backs have become more and more important to certain teams pattern of play. Where once full backs were seen as pure defenders, players like Trent have evolved the position to new heights. Inside forwards are the popular trait now, and the channel has been opened up for those able to exploit when freedom is granted.
The nearest comparison for a playmaker right back, may be Javier Zanetti. Zanetti would control games at will, from a position that only certain continental teams would dare explore. His ability to see the game in front of him, dictate play and control tempo made him an astonishing footballer for Inter Milan, perhaps the greatest ever attacking full back. Trent has many of the same characteristics, however the insane ability that he has so often shows, can sometimes lead pundits to unfairly highlight even minor mistakes. Though certainly not the greatest defender, Trent is rarely beaten and carries out the majority of his defensive duties impressively. In rare talents (especially those as gifted as Trent), minor errors will lead to analysis of his defensive game, unfairly. It is his attacking play that has been taken for granted, even with his abilities on the ball are hard to replicate anywhere in the world. Where full backs throughout the league are guilty of multiple mishaps, these are very rarely highlighted in the same manner as Trent, which must be testament to his standing and expectancy.

In this Covid-19 ravaged season of no fans, Liverpool have suffered an unprecedented number of injuries to all their senior central defenders. Van Van Dijk (the world's leading defender), lost nearly the whole year due to injury. Joe Gomez, succumbed to a season ending injury to strip the reds of their first choice pairing shortly after. With Joel Matip often out, and their world class holding midfield destroyer, Fabinho, having to slot in, the team's defensive shape lost its way.
As an attacking full back, Trent must always take on his required defensive responsibilities in the Klopp system. His energy and the usual strength at in central defense, has often allowed a freedom on his flank. This season, there was more need for him to cover his right centre-back due to the enormity of the injuries, and mistakes across the entire backline were common. Having played alongside Fabinho, Jordan Henderson, Rhys Williams and Nat Phillips for spells, Trent has had to adjust accordingly in order to ensure more of a safety net, with levels far below those previous set. The first half of the season saw him infected with coronavirus after an irregular pre season, neither of which could not have aided him, in the early part of the year. When the injuries started to mount, his form dipped alongside many others, and he briefly lost his place in the England squad.
To understand the importance of TAA is to see what he brings the team. He is often the out ball for Virgil Van Dijk when pressed, and is a provider of chances for all ahead of him. With a defensive line having to drop deeper due to a lack of pace and positioning, the 19 different centre-back partnerships have left Trent little continuity to impact the team further up. Only once Klopp chose to fully reinstate Fabinho to his preferred role, and cement Philips into the RCB position did Trent start to dictate once more. The balance of the team returned some what, and a swagger quickly followed.
As a mere 22 year old, to have so much respect, attention and responsibility within a European giant, is testament to his game. Without Trent, much of the success would not have been possible. The goals that had so regularly flowed for Mo Salah and Sadio Mane would not have been as frequent if not for Trent's relentless threat from wide. He stands as the games best attacking weapon from full back, and no manager in world football would turn down the chance to instil him into their team, apart from maybe Gareth Southgate.
At inter Milan, Acraf Hakimi has been tremendous in their run to the Scudetto, Kyle Walker has been reliable for City and others have done good jobs for their teams this year. In the final third of the season, Thiago Alcantaro and Trent Alexander-Arnold produced sensational controlling performances to push Liverpool into a previously unlikely Champions League spot. Trent, once more working within a system in which he matured, showed that he was a world class operator, that simply suffered a slump due to multiple circumstances.
This summer represents a period where Trent can reflect on knowing he would have been involved for his country, if not injured. He can rehabilitate and come back stronger alongside Virgil Van Dijk, Joel Matip, Ibrahima Konate and later Joe Gomez. With this, Liverpool could be fielding a near world class back line that will also include the immense talents of Allison Becker and Andy Robertson. His renowned set piece deliveries will be aimed towards the towering VVD and Konate, and will further enhance his and Liverpool final third threat.
A glimpse of what could be was shown in the run in. With a Fabinho and Thiago double pivot, this allowed greater attacking play, and Trent to be fully unleashed once more. To assume others have caught up, or that Liverpool have fallen way is merely grasping. To have finished 3rd (with such untested and under qualified central defenders for most of the year), is strangely overlooked by pundits. As Liverpool were putting 4 goals past Manchester United late in the season, the rhetoric seemed to focus on the missing Harry Maguire. Little was made of the fact that Nat Phillips was playing in the German second tier last term, and that Rhys Williams was playing in the national league north, for Kidderminster Harriers. The fact that Manchester United did not finish further ahead is a worrying sign for them, not least all those that finished below the reds.
To re-introduce a truly world class player, such as Van Dijk, to play alongside the enormously talented Ibrahima Konate will enable the reds to dominate and shut teams down at will. Having an abundance of depth in that position next term, seems a priority with the Konate deal all but confirmed. Klopp will not take any more chances, and will look to have a full squad available for the awaiting and returning Anfield crowd.
With so many Liverpool players earning a rest this summer, the season already looks bright for a once unstoppable reds. The added players and ability to impose consistent line ups will surely bring Liverpool and key players back to their very best. The path to get to the top under Klopp was both swift and ruthless, and I feel that ruthless nature could see Trent Alexander-Arnold rise to the top of his game, in the coming season.
Next term should be an intriguing battle, with Pep in the midst of a mini rebuild, Chelsea looking to challenge for the league once more and United no doubt adding to their lavish squad. Trent will have a point to prove, and doubters will be waiting for that first inevitable mistake. If Liverpool start this next season the way in which they finished their last, Trent Alexander-Arnold will be amongst the key members, perhaps ending the season with both team and personal accolades.