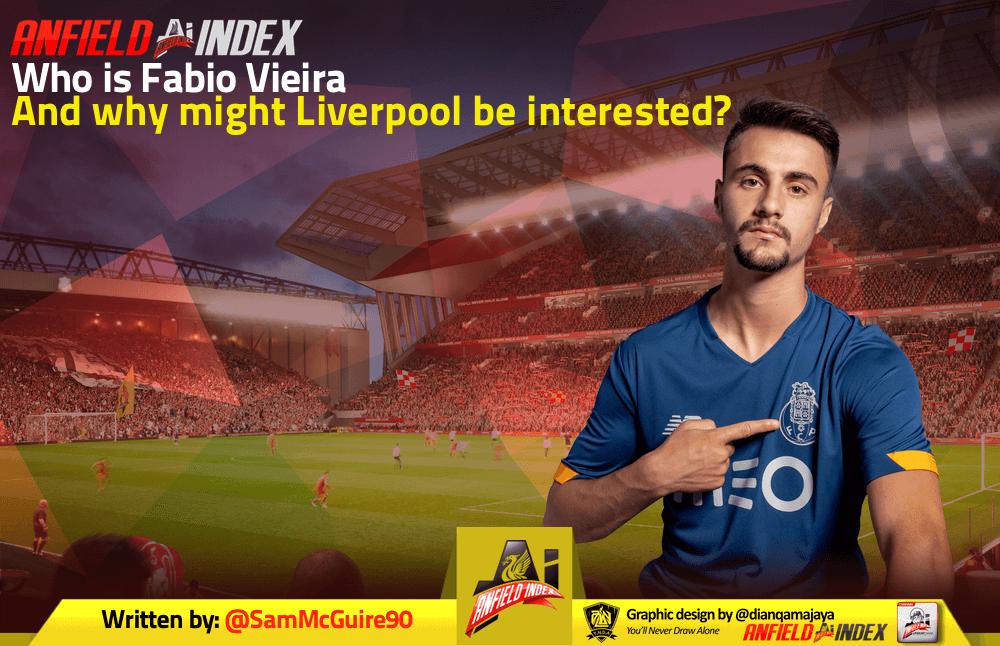 Who is Fabio Vieira and why might Liverpool be interested?

Liverpool seem to be linked with players plying their trade in Portugal every summer. Most of the time, though, there's a feeling that agents are using the club's name to ramp up interest. 
Anderson Talisca was one who was reportedly on the club's radar for quite some time. Rafa Soares was another player mentioned in 2017 along with Ruben Neves before his move to Wolves. Then there was Diogo Leite, a Porto youngster back in 2018. Gelson Martins was named as an alternative to Mohamed Salah. 
Bruno Fernandes was named by Portuguese press as a target for Liverpool. His successor, Pedro Goncalves has been tentatively linked with a move to Anfield, too. There was David Carmo during the January window, with the 21-year-old seemingly identified as a man to fill in for Virgil van Dijk. 
I've probably missed a few names off. 
The latest player to be linked with a move to Merseyside is Fabio Vieira. The 21-year-old was recently named as the Player of the Tournament at the under-21 Championship. Reports claim the Reds are weighing up a cut-price deal for the left-footed maestro, making the most of the fact he has just a year left on his contract. 
Liverpool are always in the market for undervalued players and Vieira would certainly tick that box. Even if he wasn't viewed as a long-term project by the club, there's potential there for the club to make a profit on the Porto midfielder. 
They did exactly that with Dominic Solanke. They'll do the same with Marko Grujic, Takumi Minamino and Ben Davies, with all three expected to fetch a profit if/when they're sold having arrived for relatively low fees.  
Vieira certainly caught the eye for the Portugal under-21 side. 
Dusan Fitzel, a member of UEFA's team of technical observers, explained their reasoning for giving him the coveted award: "During the tournament, he was a key player for Portugal. A playmaker who creates a lot of chances. An excellent link between midfield and attack."
Given he's barely played any first-team football for Porto, his performances for the national team are the only way to really judge him as a player. 
In fact, he's featured in just 739 minutes for Sergio Conceiçao's side across the last two seasons in Liga NOS, despite being highly rated. That is more a reflection on the manager, though, and not the player. He's been accused of mismanaging a number of youngsters at the Estadio Dragao, including Leite and Romario Baro. 
With that in mind, I'd not read too much into the fact he's barely played for the Dragoes.
There's not much data available for him either so it is difficult to do a deep dive on the midfield maestro. 
When watching him play, it is easy to understand why Liverpool might be interested in him. 
For starters, the 21-year-old is versatile. He's played on the right side of the attack, as an attacking midfielder and as an attacking eight. Vieira also has a number of traits that would see him suit a playmaking No6 role. 
While there's been a lot of focus on his on-ball technical ability, his off-ball movement is something that many clubs will find appealing. An example of this can be seen below.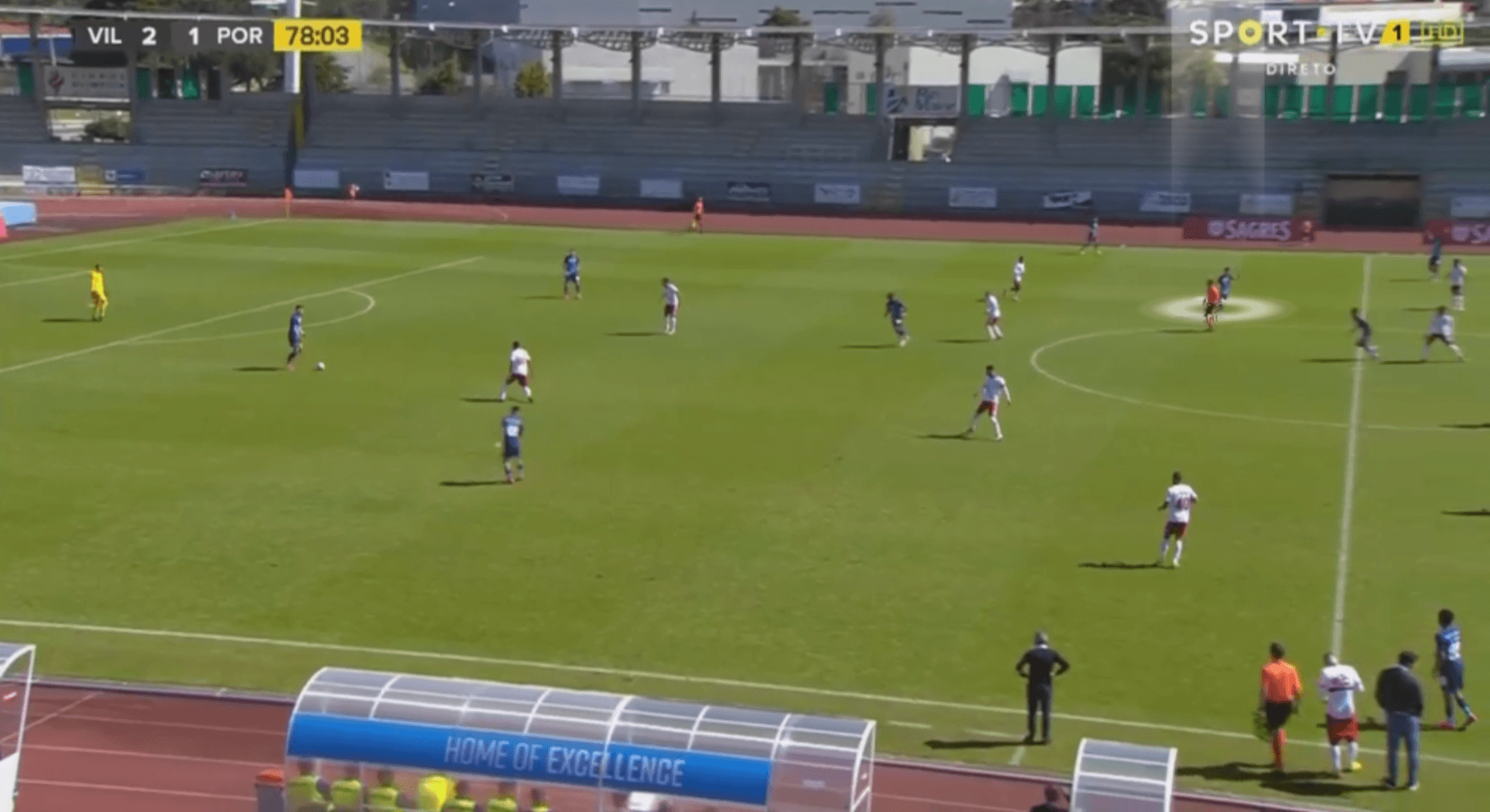 Viera is highlighted in the middle of the pitch. Porto are pressed fairly high by the opposition and there isn't really an easy pass on.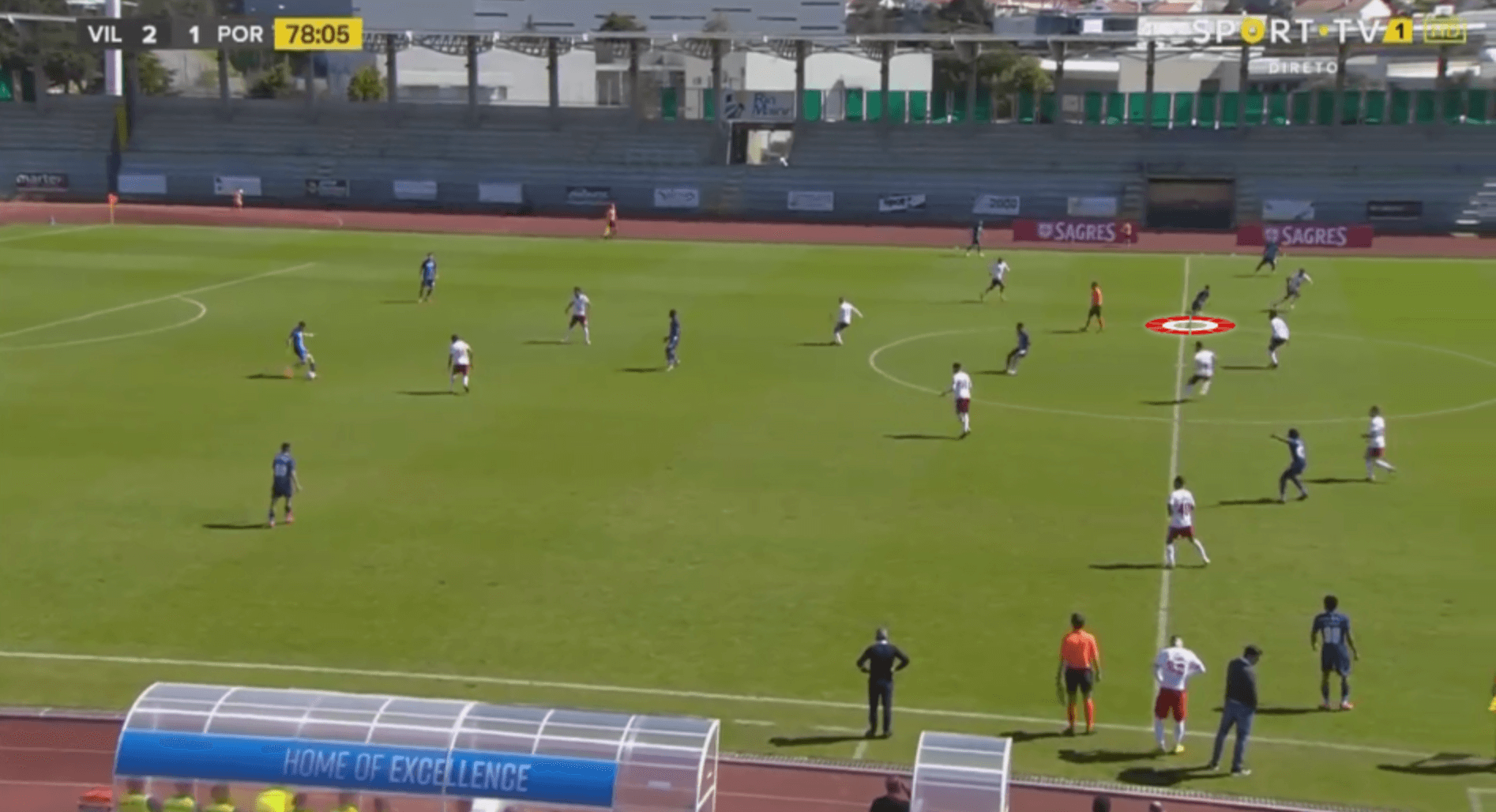 Recognising that the centre-forward has dropped deep to provide a potential passing option, Viera looks to attack the space in behind. The staggered defensive line means he'll be onside and he just looks to get in between centre-back and full-back.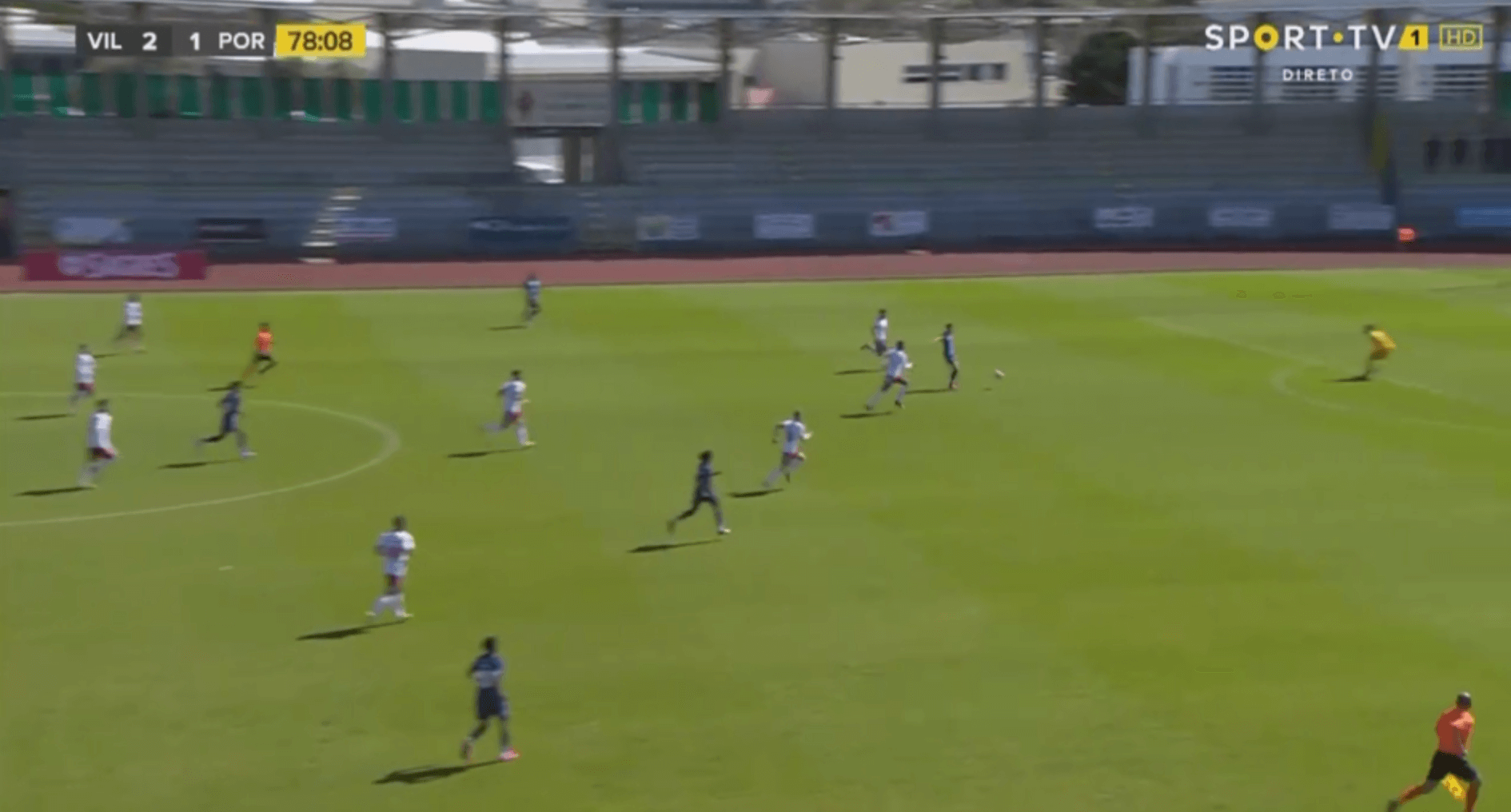 Given he has a running advantage on those tracking him from a standstill, he's able to get to the ball first. Vieira's touch is perfect and he nonchalantly lofts the ball over the advancing goalkeeper to equalise. 
He's by no means prolific and his team-mates regularly look to play the ball to feet, but he does have that side to his game and it can be a handy trait if utilised properly. 
Vieira excels when in possession and there's no escaping that fact. He plays those neat, incisive passes between defenders, ones that other players wouldn't even contemplate.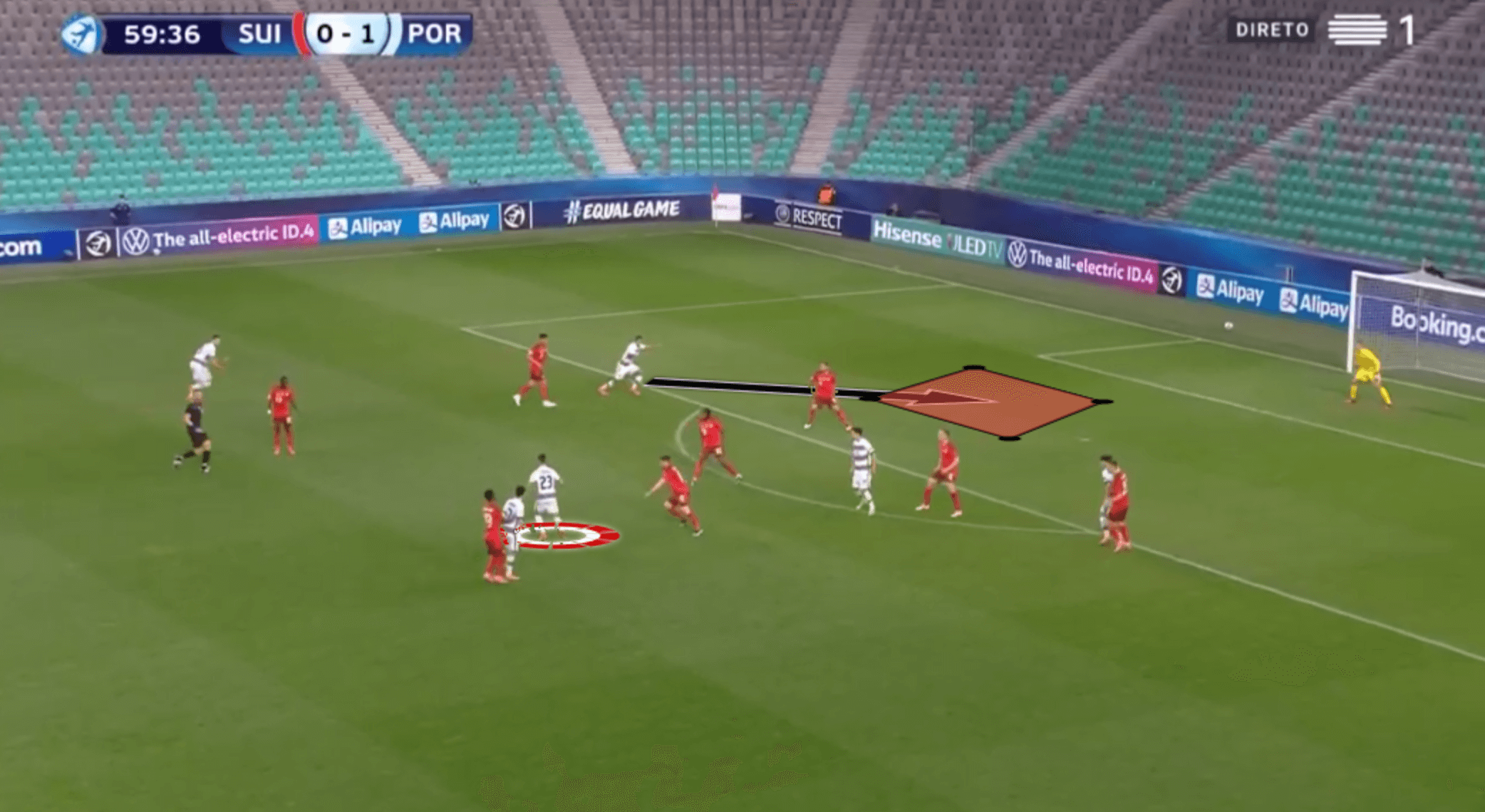 Above, he's the man on the ball. In this situation, most would look to play a pass to the left with there being space on that side of the pitch. 
Instead, he spots Francisco Trincao's run and the space he can hit with a pass. He chips the ball into that zone and Portugal are able to double their lead. 
There's a touch of Thiago to his game in the way he punches passes to players.
With some players, you can wonder where and who the pass was meant for, with Thaigo, you always know the intended target. It's the same with Vieira. 
If he's available for around £10million, he's maybe worth a gamble this summer. Especially when you factor in this is very much a seller's market and bargains will be hard to come by, even for Liverpool.