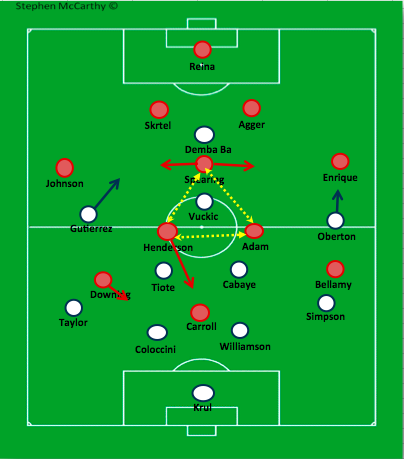 Liverpool V Newcastle | Tactical & Stats Report - Prodigal Son Returns
The return of the prodigal son. What more can you say about Steven Gerrard. Back from a long term injury, comes on with 38 minutes left in the game, with the score at 1-1, and inspires the team to a 3-1 win. Steven Gerrard makes other players play well. To tweak a line from a very well known movie; he makes me want to be a better player. Simple. But more about Gerrard later.
The game started with Liverpool setting up with a 4-3-3 formation and reverted to a 4-5-1 as quickly as possible during the transition phase when we lost possession. Bellamy played on the left of the three providing some width, with Downing on the right as an inverted winger, and Andy Carroll the fulcrum/battering ram through the centre. Liverpool's set-up in the centre was quite interesting in that they played with an inverted triangle. Jay Spearing came in, back from his 3 game suspension for 'that' tackle at Craven Cottage, and played at the base of that inverted triangle and acted as the pivot, breaking up Newcastle attacks and generally being a destructive midfielder. Adam, played slightly further forward but held his position just behind our attacking players, whilst Jordan Henderson was tasked with providing the runs into the box and trying to provide a link with Carroll, Downing and Bellamy. Our back four was unchanged again, with Johnson, Enrique, Skrtel and Agger all starting and looking to keep their good defensive run going.

Newcastle (surprisingly – thought they'd be more offensive) started the game with a 4-5-1 or 4-4-1-1 when they had the ball with Vuckic the player tasked with trying to get forward and support Demba Ba up front on his own. Obertan provided Newcastle with width on the right hand side of midfield and Gutierrez played on the left slightly tucked in. Newcastle had their own triangle in midfield, however, it was not inverted like Liverpool's, they played more with a double pivot at the base of that triangle which normally is a more defensive system to play. Vuckic played at the point in the triangle but dropped deep to make up a five man midfield when Newcastle didn't have possession of the ball.
The game started with Liverpool on the front foot and keeping & dominating possession quite well, but without the high tempo you would expect from us playing at home. In fact we completed 131 out of 167 (78.4%) passes in the first 25 minutes compared to Newcastle who completed 88 out of 115 at 76.6%. Which amounts to 43 more passes completed than Newcastle. See StatZone graphic above. This resulted in us having 4 shots, 1 blocked, 2 off target and 1 on target in this opening period. Not the worst stat by any means, but having said that not our most thrilling start to a game. With the floodlights on and the fervent backing of the home crowd you would expect us to come flying out of blocks and be all over Newcastle like a cheap suit. However, the play was quite laboured and with a slow build up. This continued until the 25th minute when, against the run of play, Newcastle went 1-0 up due to an unfortunate own goal by Daniel Agger. Not for the first time this season has conceding a goal kicked us into gear, and we duly obliged with an equalizer from Craig Bellamy only 4 minutes later.  It was a well worked goal, with Enrique and Adam doing well, the ball was cleared by Newcastle only to Bellamy who rifled it into the corner of the net from just inside the 18 yard box. A goal we more than deserved at that stage of the match.
We dominated the rest of the half, having 4 shots, 2 off target and 2 blocked, and limiting Newcastle to only 1 shot which was off target. You can see from the StatZone graphic above that we attempted 25 passes more than Newcastle between the 30 and 47 minutes, however, it's the position of those passes that tells the story. Notice the origin of the Newcastle passes; most inside their own half with very few in the attacking third. In fact in that period they only had 3 successful attacking third passes from an attempted 10. Again though, our play wasn't as urgent as it should have been and it followed the theme of a lot of our games this season. At half time I don't think I would have been the only one thinking that the game wasn't going our way and could end up in a draw or defeat for us.
Not to worry. Enter captain fantastic Steven Gerrard in the 59th minute for Charlie Adam. Tactically, Gerrard played in Henderson's role just behind Carroll and dropping back into midfield when we lost possession. We Henderson taking up Adam's role and dropping a little deeper slightly ahead of Spearing. And with half an hour to play it was Stevie who turned the game and pushed us on to a win. I know it's been said before but you really run out of superlatives when trying to describe the sheer brilliance of Gerrard. In the period he was on the pitch he dragged Andy Carroll from being on the periphery of the game to being the fulcrum of our attack, and if not for a bit more luck and confidence Carroll could have scored a hat-trick. We created 4 chances in the second half, 3 of those were created when Gerrard was on the pitch. Out of 4 of the 4 crosses that Gerrard attempted, with no dis-respect to our other players, 3 of those were better than any cross I've seen from any of our players all season. He was that good. You can see from the dashboard of his StatZone graphic; his range of passing really stands out. Something we've really been lacking this season.
In the 67th minute we took the lead when Agger went on one of his trademark dribbles out of defence and won a free kick 30 yards from goal. Up stepped Bellamy to take it and after a calamitous mix up between Simpson and Krul in the Newcastle goal the ball ended up in the back of the net.
From then on there only looked like one winner and with Gerrard pulling the strings in midfield another goal became inevitable. And so it was, the return of the prodigal son. Spearing with a tremendous angled ball to Henderson on the edge of the box, Henderson turned on a sixpence, he released a clever little ball through the Newcastle defence into the path of a surging Gerrard run. Stevie done the rest with a deft finish from a tight angle with his left foot pushing the ball between Krul's legs and into the Newcastle net. 3-1. Game; well and truly over.
Sandwiched in between those 2 goals though a special mention must go out to Martin Skrtel who pulled off a quite wonderful goal line clearance from an exquisite Demba Ba effort. If Demba Ba's masterful flick over Pepe Reina had of went in then we could be talking about a different score today. Quite literally, a massive turning point in the game.
So how did the team's statistics in this game stack up with our other games this season? Apart from our good friend 'Shot Conversion', statistically the game wasn't one of our best this season. In fact it was quite middle of the road for a lot of the stats. Which stats stood out though? Well we attempted 13 aerial duels in the game, the lowest of any game this season, however, we won 12 of those, which was 92% of them, our highest aerial duel win percentage in any game this season.  We attempted 77 ground duels, our lowest of any game this season; however, we won 51 of those, which was 66%, which was the highest ground duel win percentage in any game by a distance this season (Arsenal game second at 59%). Pepe Reina had to make 0 saves in the game, the only other game that happened in this season was Stoke away. We attempted a total of 8 clearances against Newcastle, only Blackburn at home did we attempt less clearances (5).  It's clear from these defensive minded stats that we weren't under a great deal of pressure and we pretty much dominated the game. Which made the stats low but the win percentages high.
 Finally how did our old friend shot conversion get on? Well we had our best game of the season. Not surprisingly considering we scored 3 goals. In terms of our totals for the season, take a look at the chart below.
You can see that the only other game that came close was the game against Chelsea away when we had a shot conversion rate of 22%. The closest game to that came against Bolton at home when we had a 15% conversion rate. In fact when you study the chart closely you can notice that for 13 games this season we had a shot conversion rate of 7% or lower. Very poor indeed.
Our home games have been a big source of frustration this season. So how did the Newcastle game compare to our other home games?
Well as you can see from the chart at 23% our shot conversion rate against Newcastle was by far our best stat of the year. Bolton was the next closest with 15% and in the other remaining 8 games on the chart we had a chance conversion rate of 7% or lower. If we can keep that shot conversion rate up then we will obviously win more games this season. Here's to 3 points and a win against City.