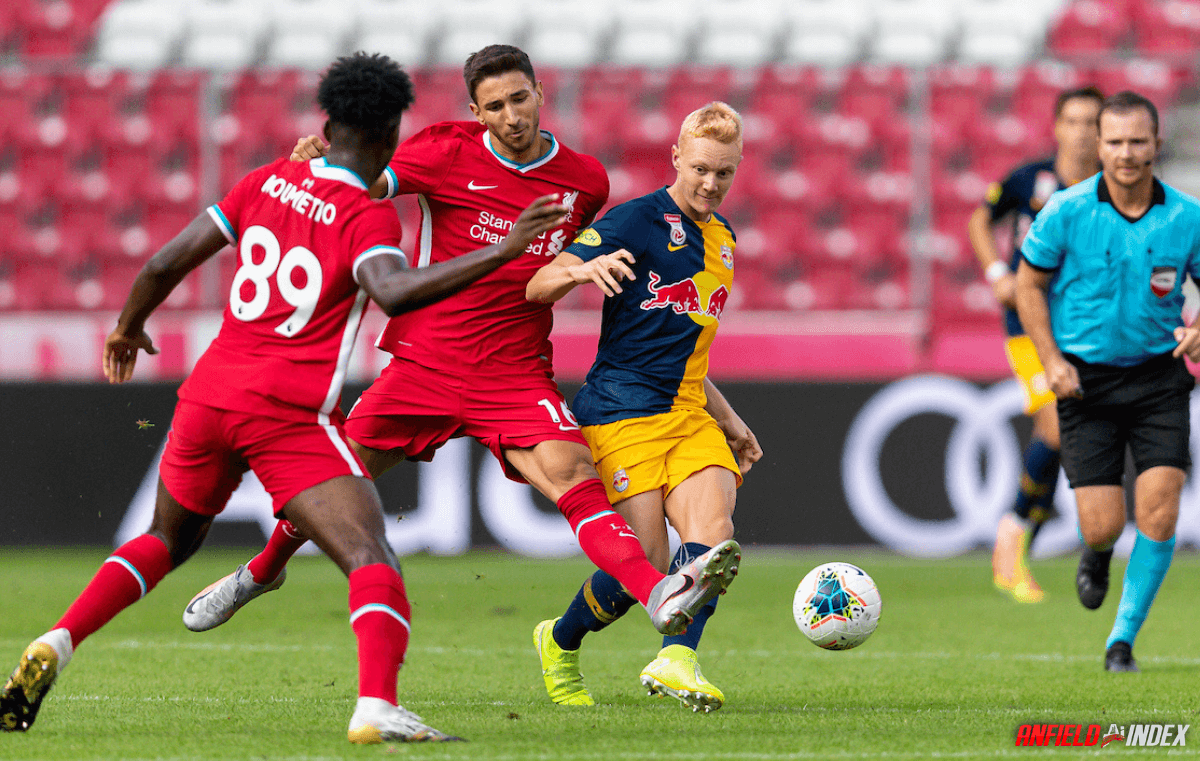 Marko Grujic's Likely Departure Shows Transfer Policy Bearing Fruit
After five years of nominally being a Liverpool player, it appears as if Marko Grujic will permanently leave the club this summer.
Despite being Jurgen Klopp's first signing with the Reds, the Serbian has only made eight appearances for the club and has been on loan on five separate occasions, with Red Star Belgrade — his first club — Cardiff City, Hertha Berlin (twice), and FC Porto.
And now, according to reports in Portugal, the 25-year-old appears set to end his nomadic run of loans and join Porto on a permanent basis. With Sergio Oliviera close to joining Fiorentina, the Liga NOS outfit will be equipped with the money that Liverpool want for Grujic, reportedly €20M.

Although the Serbian international has barely kicked a ball in anger for the Reds, if his sale to Porto — or indeed any other club, with Hertha and a host of Italian clubs rumoured to be interested — goes ahead then the transfer could reasonably be deemed a success and a justification of the clubs' transfer policy.
Costing an initial £5M, Liverpool have likely recouped the fee in loan payments alone over the course of the last five seasons and, given the rumoured prices bandied around, will make a handsome profit if and when Grujic's switch to the Dragão goes ahead.
Perhaps the Reds had genuine aspirations of the Serb making the grade at the club, but either way their policy of buying young — which gives the club the insurance policy of the player having resale value — has paid dividends, regardless of the player failing to make an impact at the club.
For a number of years, Chelsea — with Michy Batshuayi, who has also had four loan spells away from Stamford Bridge, the prime example — have followed a similar route and it has given them a renewable source of income as well as likely winning political favour with other clubs which could be to their advantage in transfer negotiations.
It may seem cynical, but many clubs don't sign all their players with the idea of playing them. Often, clubs will opportunistically take advantage of certain situations — for example, a player with a dwindling contract or signing a homegrown player because of the value they hold to domestic clubs — and acquire players to sell them on for profit down the line.
Arguably, Liverpool have done this on a regular basis in the recent past. Dominic Solanke and Kevin Stewart, English players whose homegrown status meant they held an increased value in the era of quotas, both arrived on free transfers from domestic rivals — Chelsea and Spurs respectively — and were quickly sold on for inflated prices.
Ben Davies, who arrived from Preston North End for £400,000 in January, arguably falls into this category too. The Reds needed a centre half, due to their injury crisis in the position, but they also knew that a left-footed, ball-playing English centre half — even if he hasn't seen a second of action for the club — would be an attractive proposition to many clubs.
With Joe Gomez, Virgil van Dijk and Joel Matip returning from injury — not to mention the impending arrival of Ibrahima Konate from RB Leipzig — Davies' chances of significant playing time for the club are even more remote now, but he will highly likely, when the time comes to move on, fetch Liverpool a significant return on their investment.
From a players' perspective, it also makes sense to accept such a transfer. There is the off chance that they can make the grade and play a role at Liverpool, but — if not — it is still an attractive proposition to train under Klopp, comfortably one of the best coaches in the world, and improve next to world-class players on the training pitch.
Being associated with the Reds holds a currency in and of itself and if Davies — for example — moves on, he will join a club at a higher level than Preston, all the while having the experience of representing a global giant of world football, plus the associated payrise, under his belt. There is even the chance of winning medals, as peripheral players like Rhian Brewster did in 2019 with Liverpool's Champions League win.
Takumi Minamino, who was prized away from RB Salzburg in January 2020 after his £7m release clause was triggered, is unlikely to ever be more than a bit-part player with the Reds. But he has shown — during his spell in Austria and sporadically during his loan stint at Southampton last season — that he is a capable player and, should a sale materialise, Liverpool would reasonably expect to make double what they paid for the Japanese international.
The Reds are known to pay among the highest agent fees in football and being alerted to Minamino's release clause when other clubs — reportedly Manchester United — didn't know about it, is justification for being generous in remunerating intermediaries.  After all, the old adage goes that you have to spend money to make money.
Recent links to Fabio Vieira, whose contract only has a year remaining, of Porto — a club he has barely featured for at adult level — point to the Anfield club looking to strategically sign a player who they can sell for profit down the line, if, as predicted for a player who still hasn't established himself in the Portuguese league, he doesn't make the grade at the six times European champions.
When assessing Liverpool's targets this summer, bear in mind that not every linked player will be earmarked to play a big part for the club, but — as proven time and time again — whether you agree with it or not, this transfer strategy works.