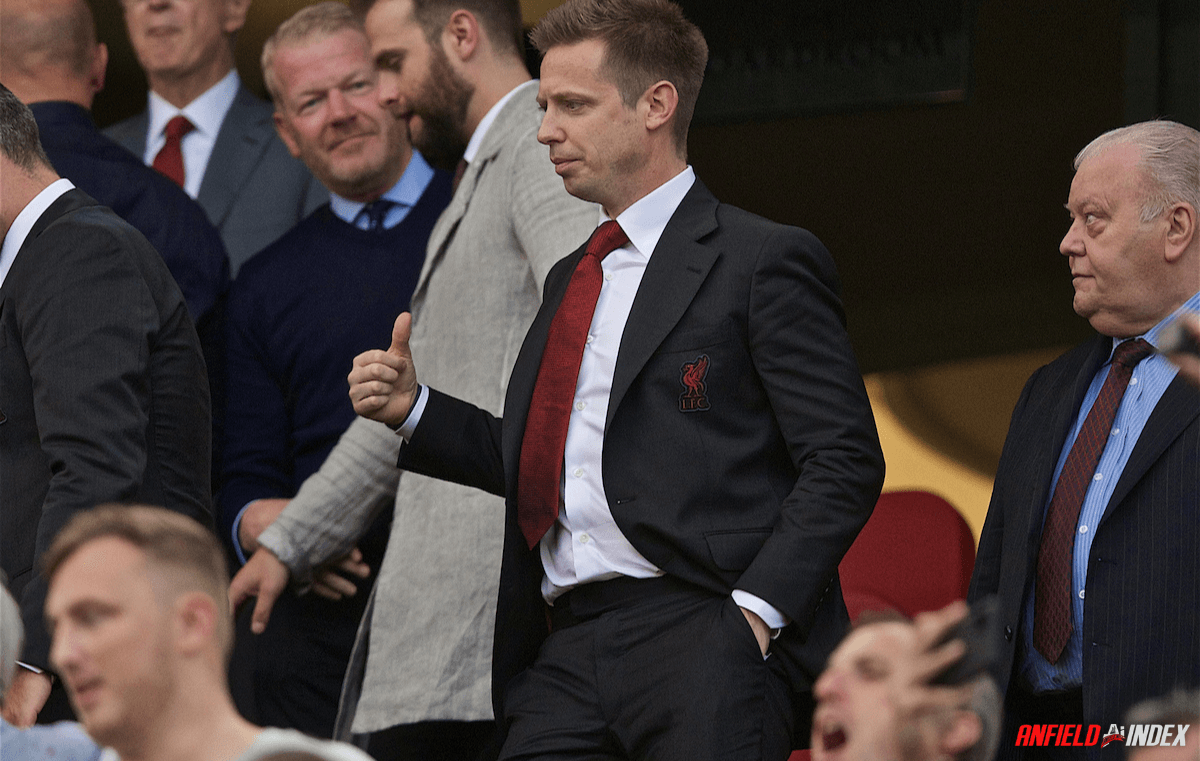 Michael Edwards - The Regeneration
For years, the director of football was a nuisance, an obstacle and a hinderance to most managers throughout the Premier League. The mere thought that any old school manager would need either help, guidance or another body to aid the club football was sneered upon, and often dismissed.
FSG have had their failings, that is not in doubt , yet it is the overall process from their tenure that should be applauded. They have learned, progressed, installed a working structure and have now found a trusted formula to help regenerate this once failing Liverpool side.
When John W Henry and co took over Liverpool, they were a fallen giant, a team that could be beaten regularly. There was of course Steven Gerrard carrying the weight of the side, but so much of the previous regime had left the club in utter peril, until FSG arrived.
A revitalised structure and vision on & off of the pitch was needed, and the sporting expertise of the new owners (given time), allowed them to build the club back up. Commercially the club is as strong as the playing side, and both represent a tremendous turn around.
Michael Edwards sits within the hierarchy of Liverpool's staff, as a key and vital component of the club. He offers huge support to Jurgen Klopp that will have inevitably reduced the weight of pressure, that so many other managers must feel. Edwards' analytical and scouting abilities have allowed Klopp to work his magic on the pitch, with a significantly low net spend throughout their time together. Having been promoted to a Sporting Director role in 2016, his job became to identify what both suited the club and the manager, based upon the teams new gegenpressing style.
Included in his duties are to negotiate sales of all surplus Liverpool players, and this has been done to astounding levels. This list of his sales are shown below, with some truly outrageous figures.
Sergi Canos – £2.5m
Jordon Ibe – £16m
Martin Skrtel – £5m
Joe Allen – £14m
Brad Smith – £3m
Christian Benteke – £28m
Luis Alberto – £4m
Tiago Illori – £4m
Lucas Leiva – £5m
Kevin Stewart – £8m
Mamdou Sakho – £25m
Philippe Coutinho – £142m
Danny Ward – £12.5m
Dominic Solanke – £20m
Ragnar Klavan – £1m
Rafael Camacho – £5m
Danny Ings – £20m
Simon Mignolet – £6m
Ryan Kent – £6.5m
Dejan Lovren – £10.8m
Ovie Ejaria – £3.5m
The total in fees received is upwards of £340 milllion (with some variation on incentives). Where the club has always looked to to maintain FFP, it has only been possible to recruit such valuable and important players with strong negotiation on sales. Liverpool are neither state run or bankrolled by oil rich owners, and despite inevitable grumbling, Liverpool's strategy is both admirable, and sustainable.
This ability to move players on for such monies has allowed the opportunity to bring in what was required, since Klopp arrived. Huge outlays have come on certain individuals deemed critical to success, and where other teams in red are often preferring of a marquee signing, Liverpool prefer the right one that fits with the required, instead of desired. With Liverpool having finally regained the English League title, after a 6th Champions League win, this idea and policy is proof of success.
Below shows the list of players brought in under Edwards' watch, again with some fascinating figures, and very few players that haven't been successful.
Sadio Mane – £37m
Loris Karius – £4m
Joel Matip – FREE
Ragnar Klavan – £4m
Georginio Wijnaldum – £25m
Dominic Solanke – £4m
Mo Salah – £38m
Andy Robertson – £8m
Alex Oxlade-Chamberlain – £35m
Virgil Van Dijk – £75m
Naby Keita – £53m
Fabinho – £40m
Xherdan Shaqiri – £13m
Alisson Becker – £67m
Adrian – FREE
Takumi Minamino – £7.25m
Kostas Tsimikas – £11.75m
Thiago – £20m
With fees outgoing totalling approximately £440 million, a net spend of £100 milllion represents superb business from Edwards. The fact that so much success has been garnered, and the leap from then to recent times, in terms of success, is proof of the Sporting Directors worth. With other clubs consistently splurging money to create massive net spends, the role that Edwards has undertaken must surely be viewed with admiration across Europe.
To imagine that a coach such as Juergen Klopp has the time to identify players is plain silly. He has worked in a Borussia Dortmund machine that was equally impressive with its recruitment. Gone are the days of mass domestic business for English players, with the passport premium extraordinarily high. Michael Zorc (Dortmund's Sporting Director) worked miracles alongside Jurgen Klopp to bring in raft of previously unidentified talent, that would help lead them to two Bundesliga's, over a glittering period. If done correctly, the continent offers dozens of examples of Sporting Directors or Directors of Football being able to structure a roster of players designed to suit the club. The manager is often selected based upon those needs, where in England it is common for a compete overhaul every time a manager is appointed. The idea that a recruitment strategy be ripped up and refinanced every time a manager is appointed will often lead to long term issues. Massive contracts are handed to players, squads become bloated with players not to the next managers liking, and so the story repeats.
Sevilla, Dortmund, RB Leipzig, RB Salzburg, Atalanta, Lille, & Monaco are examples of this success.
These are just some of the teams that have exceeded expectation with a firm and working structure on both recruitment, sales & the team strategy. Sitting in leagues where others have the riches to consistently reinvest has to be tackled in a certain way, to achieve the desired success. Liverpool, and the owners to their credit, recognised this and found a means and method to compete with the free spending City, UTD & Chelsea. Though Klopp being in charge is also a vital and key factor, he still need the tools and assistance to reach his lofty goals.
Michael Edwards is the man in the background that Klopp clearly has the upmost faith in. FSG have allowed him to structure the scouting network and analytical work to fit Edwards' vision. This vision tallies perfectly with the world class coaching and managerial skills of Jurgen Klopp. The squad is balanced and when all players are fit, are arguably the worlds strongest footballing side.
As we enter what could be the final few seasons of Klopp's Liverpool stay, the future must be looked upon with a plan to regenerate this world class squad. With so many players in their peak years, it is the unfortunate reality that some must be phased out and replaced in order to maintain success and momentum. We have seen the wonderful Gini Wijnaldum depart for PSG, and with James Milner & Jordan Henderson into their thirties, more additions will be needed this summer in midfield.
The defence (with the Ibrahima Konate signing), will be the bedrock of Liverpool's rise back to the top in my opinion. A back up to TAA would be beneficial, and if Joel Matip were to leave, that would need attention. The return of Virgil will be met with utter relief across the club, and it could very lead to Liverpools most formidable defensive line up next season. The thought of a fully released Trent Alexander-Arnold, is a welcome thought.
With a midfield reshape imminent, there must also be massive consideration to the front line. With an expected shift to 4-2-3-1 alongside the common 4-3-3, there will need to be the players that can fit both systems. A Raphinha signing would make perfect sense, to allow Mo to move inside and fully embrace his scoring potential. Harvey Elliott could be potentially backing up that wide role upon his return, which would would then leave a replacement for Divock Origi. Where no huge signing to replace the (assumed) departing Divock is likely, it will make Michael Edwards job that bit more tricky to reshape the forward line.
Sadio Mane should hopefully regain that swagger, but it must be considered that maybe both he and Bobby could regress further this season. A smart signing to add to the impressive Diogo Jota will help ease the burden, and targets will surely be on Edwards' radar this summer.
With questions always floating around Oxlade-Chamberlain & Xherdan Shaqiri, it may turn out to be a busy summer or two as Trent squad evolves. The important thing to remember, is that Edwards is a master on identifying talent suited to the team, often undervalued talent. Whether it be from the continent or domestic leagues, it will prove to be a busy period after the Euros, with many potential targets playing for their countries. There will surely be far more leaving than arriving, but we may soon see a squad capable of retaining that which is lost. In order for Jurgen Klopp to challenge City once more, Michael Edwards summer job will most certainly be a busy one, as Liverpool's Sporting Director.